One of the major problems Westport Innovations Inc. (NASDAQ:WPRT) faces isn't whether or not natural gas is a good fuel to run vehicles, because it is. Rather, it's the challenge concerning the narrative that has changed from several years ago after huge quantities of oil have been found in the United States and other regions of the world.
That has altered the idea of living in a peak oil environment for many, and the result has been an outlook for the internal combustion engine to primarily be run by regular gas long into the future.
So while plentiful, inexpensive natural gas is a reality as well, the idea we must quickly switch to an alternative fuel source for American vehicles has weakened, as has the demand for natural gas-run vehicles.
That and continued improvement in gas mileage with cars and trucks, along with people driving less, has added to the reduction in concern over future fuel alternatives. In other words, the urgency is no longer near the level it was in the recent past.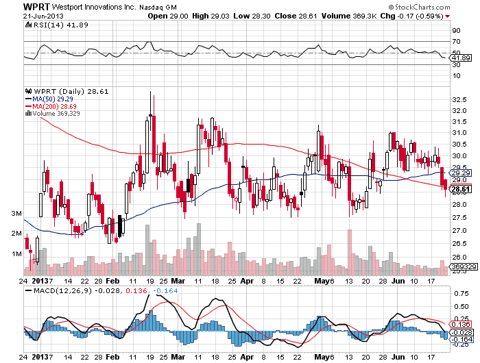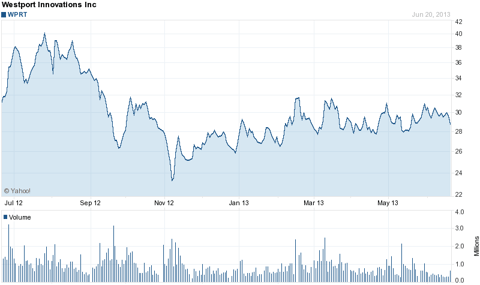 This of course has resulted in far less of a push to create natural gas infrastructure as well, of which the industry couldn't survive if it isn't in place. While there are efforts to develop natural gas infrastructure for trucks, the auto market is largely out of the picture for now.
According to the U.S. Energy Information Administration, in 2035 over 99 percent of all cars and trucks sold will have an internal combustion engine. That is of course a reference to the attempt to make electric vehicles a viable alternative, which according to the EIA, isn't going to make a dent in the market. As far as it relates to natural gas vehicles, the improvement in fuel efficiency in conventional engines and the discovery of huge amounts of oil has changed the macro outlook, and that's the challenge Westport Innovations faces now and in the future.
It's a challenge because the incentive to make wholesale changes in the auto industry has diminished in general, and the company faces huge headwinds because the improvement in the conventional car and truck industry guarantees good jobs for many years. There is nothing that will change that for decades, so Westport will have to create its own market if it has a chance to not only survive, but thrive.
With that in mind, let's look at the latest earnings report, and later break down the strategy and outlook for the company.
Latest Earnings Report
Consolidated revenue for the quarter ended March 31, 2013 was $30.1 million, down from the $36.0 million generated in the same quarter last year.
The company reported a net loss of $31.8 million, or $0.57 per share, plunging from the net loss of $22.6 million, or $0.44 per share year-over-year.
Gross margin for the quarter was $8.1 million, and gross margin percentage was 26.9 percent. That was in comparison to $8.9 million in gross margin and 24.7 in gross margin percentage in the same period in 2012. The improvement was attributed to service revenue during the quarter.
The total revenue breakdown looked like this: $23.3 million for Applied Technologies, $5.8 million for On-Road Systems business, $1 million for Corporate and Technology Investments; and then our joint ventures, $44.7 million for CWI and $105.9 million for Weichai Westport.

Performance by Segment
Next we'll look at the performance of each business unit of Westport.
The On Road Systems unit generated revenues of $5.8 million in the quarter, falling from $12.7 million year-over-year. The low performance was attributed to timing of orders and lower demand in the North American heavy duty truck market.
Weichai Westport orders for its bi-fuel system for the Volvo V70 cars were hindered by the uncertainty surrounding whether or not the Swedish government NGB credits were going to remain in place. Sweden recently announced it would extend the credits for three years. Consequently, sales in the current quarter have been picking up as a result of that decision.
While that is good news for Westport, it does point to the risk associated with reliance of a company on government support and decisions. It could have just as easily went the other way.
For its applied technologies unit, revenue for the quarter was $23.3 million, which was about the same as last year. The economic conditions in Europe and the weak exchange rate between the euro to U.S. dollar had a significant impact on why revenue remained level. Operating income in the quarter was a positive $1.9 million.
The corporate and technology investments unit generated $1 million in revenue during the reporting period, which was connected to development agreements in the quarter.
Natural Gas a Fleet Business
At this time what exactly is the natural gas vehicle market? As far as North America and most of the rest of the world, it's a fleet business. For example, mass transit, Ryder, and trash haulers are all transitioning vehicles to natural gas.
According to Littlefair, when trash haulers acquire new trucks, 65 percent of them choose those powered by natural gas. Trash haulers consume close to 2 billion gallons of gas annually. Approximately 30 percent of transit buses across the nation now run on the clean fuel.
And Ryder just took delivery of "39 light and medium duty compressed natural gas (CNG) vehicles, the first of their kind in North America available for lease or rent." Included in the 19 TranStarA trucks acquired are Cummins Westport ISL G engines.
Ryder will be interesting because customers will have a limited number of places to fuel up, although obviously it's going to limit the markets the trucks will be offered in.
With pressure mounting on Westport to deliver on the high promises and expectations, Westport asserts the market for natural gas as a fuel in the trucking market is "here and now," a reference to the idea that some think it may be as long as a decade away before major inroads are made in the sector. The high share price of the company demands results very soon, or this the stock could take a huge hit.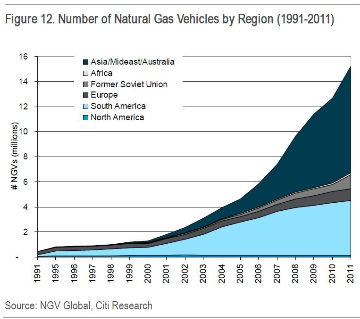 Infrastructure Challenges
As interesting and compelling as natural gas vehicles are, the bottom line will be whether or not there will be enough infrastructure to support them.
The U.S. Department of Energy say only 32 liquid natural gas (NYSEMKT:LNG) fueling stations are available in the United States, and 585 that offer compressed natgas (CNG). Contrast that with the approximate 121,000 traditional gas stations in the country, and you see the challenge.
As for capital expenditure, to construct a compressed-natural-gas filling station, according to the IEA, it'll cost anywhere from $400,000 to $1.7 million. For a liquefied-natural-gas station it would cost as high as $4 million each. A traditional gasoline station costs only about $50,000 to $150,000 to build. The upfront costs are high, and it's a risk because of the old catch-22 of not having enough cars run by natural gas to justify building stations, and not having enough stations to justify building cars. Someone will have to be willing to take the risk if natural gas is to extend beyond trucking in the United States.
Westport CEO David Demers has admitted it's hard getting infrastructure built for large fleets on the trucking side of the business as well, clarifying the uphill battle the company faces as it limits the amount of trucks ordered by customers.
Troubling Guidance
In the latest earnings report from the company it was troubling when an analyst challenged Demers about having to have orders in hand to confirm where sales are coming from in the near term, and he never really gave a direct answer except to say, "I think we can reiterate our guidance for the year ... which should give you some confidence that we think we are confident that those orders are there."
Continuing to press the issue after the unsatisfying response, the analyst asked for "assurance that these are not stretchables." Chief Financial Officer Bill Larkin responded saying, " I don't believe there are stretchables. We obviously wouldn't make the comment that we didn't believe in the confidence in our, the business we expect and have on hand today."
The point is it appears the company in fact, as far as its guidance goes, isn't basing some of it on orders in hand, but on assumptions the company is going to get those orders. I believe there's a strong chance the orders could be obtained, but it appears it's not a for sure thing. Yet both Demers and Larkin continued to point to guidance for the year of $180 million to $200 million.
It should be understood that part of that is related to timing issues, which can cause a quarter to underperform if expectations are in place and aren't met in the short term. Even so, it's not reassuring to hear the top executives in the company not give a straight answer to a direct question concerning whether or not they in fact have the orders in hand.
To me it looks like the guidance is being based on a gamble that the company will land orders that they have a good chance of receiving, but aren't a certainty at this time. To not achieve guidance for the year after saying so strongly that investors should be confidant in Westport reaching it, would put downward pressure on the shares.
Another factor to consider is if the engines Westport designs will have strong competition from other manufacturers. If they begin to develop their own, it'll take a big bite out of Westport, possibly to the end of making the company competitively irrelevant. That's a real possibility if the industry really starts to take off, although would be further down the line.
China
At the developmental stage China is at, building a fleet of natural gas vehicles in a variety of markets makes sense, as the traditional gasoline market isn't near the maturity levels those in North America are at.
The joint venture with Weichai resulted in over 8,500 engines delivered in the quarter, a gain of over 200 percent from the same quarter in 2012.
Westport is also selling direct into the Chinese market in 2013 as well, and expects with the an established market in place the products will generate strong demand.
China growth will be vital to the success of Westport, and it seems it will continue to expand share in that huge market.
Overall use of natural gas in buses, truck and cars in China is projected to triple to 39 billion cubic meters (NYSEARCA:BCM) a year by 2018, from 11 bcm in 2011, according to the IEA.
Conclusion
There is no doubt the engines designed by Westport to be powered by natural gas are among the most, if not the most advanced in the industry. But a good product doesn't ensure a market, and the continual expectations that the company is going to grow revenue is starting to concern investors, as failure to deliver on those expectations weighs on the firm.
Westport is starting to be under time constraints, as it can only say so many times how the time to break out is just around the corner. After so many corners being missed, questions start to rise as to the legitimate outlook of the company concerning its place in the industry, and the industry itself.
Another headwind is the failure of prior attempts to power cars using alternative energy sources like hydrogen, batteries and fuel cells. After a while, it's understood that if success is achieved at all, it is probably many decades into the future. Westport and its peers face that being in the back of the minds of those who have had hopes for success in those areas.
While I believe natural gas has a much better chance of being a legitimate fuel source for vehicles than any other alternative, the lack of managed expectations for a solution could bring extreme pressure on the market in general, Westport specifically.
It's highly probable that timing or lumpiness has been a factor in the recent poor performance of Westport, but having committed to that narrative, it's on the company to improve the sales and numbers in the very near future.
Consensus earnings estimate for 2013 of $177.6 million in overall sales, and a net loss of $1.90 a share, suggest analysts are also thinking there may be more cheerleading than substance to the outlook. If the company does reach its guidance, it will probably give it a nice short-term boost.
Balance Sheet

That said, Westport needs to surprise to the upside sometime over the next two or three quarters to keep shareholders and potential investors believing in it. There is a lot of uncertainty surrounding the company, and plentiful oil will play a factor in the urgency part of the equation, and that, more than anything, could cause some real problems for Westport, as it will run out of money if doesn't boost revenue significantly, and will need another big cash infusion to survive. Either way, it would be considered a negative because it would point to the company taking a much longer time to reach profitability than originally believed.
Everything considered, it appears the natural gas-powered vehicle industry is one that has legs, although it's not certain in most parts of the world whether it'll expand beyond the trucking and fleet business.
Westport is positioned with quality products to serve the market, which needs to expand quickly for the share price to be maintained at current levels.
There is the will to develop a viable natural gas vehicle industry in North America, but the current development of only about 25 to 30 fueling stations a month is going to really have a negative impact on Westport if that isn't improved.
The company needs to have some big players commit to transforming their fleets into being run be natural gas in order to grow beyond an incremental pace. Trading between $28.00 and $29.00 a share at this time, I see it possibly losing as much as 30 percent of that or more if the guidance of the company fails to meet expectations.
A lot of emotion is in this market, and a failure to meet expectations would cause a big downward price swing. On the other hand, since there is so much positive energy in the sector, a slight surprise on the upward side will probably cause the share price to easily jump above $30 a share.
When public fleets run by natural gas are more ubiquitous and a lot more fueling stations put in place, it is at that time we'll see a lot more private companies making a move towards vehicles run by natural gas.
At that time prices will come down, which will make it much less costly to enter the market. Westport will benefit from all of that. The question, again, is how long it'll take and how much more debt the company may have to take on to wait it out.
Buyer beware though, as there simply is no way to predictably know at this time where the market or Westport will be in the near or distant future.
Over the long term, Westport has extraordinary prospects, but they first have to make it through this slow transitional period to reap the benefits of it.
Disclosure: I have no positions in any stocks mentioned, and no plans to initiate any positions within the next 72 hours. I wrote this article myself, and it expresses my own opinions. I am not receiving compensation for it (other than from Seeking Alpha). I have no business relationship with any company whose stock is mentioned in this article.