Interactive Brokers (NASDAQ:IBKR) reported earnings late last week and although both revenue and EPS were both below levels from last year, the stock shot up 10% on Friday (Call Transcript). For the second quarter, revenue was $332.1 million compared to $395.5 million in the second quarter last year. But since analysts were only expecting $274 million, the number was considered impressive. On a similar note, EPS came in at 31 cents for the quarter compared to $0.44 last year. But the figure beat estimates by 2 cents. The move shows just how quickly stock prices can rally when depressed expectations are beat. Many CEOs have taken advantage of this phenomenon by employing the "under promise, over deliver" strategy.
Looking deeper into the numbers, IBKR has built an impressive business platform with an impressive market making segment as well as one of the most attractive brokerage platforms available to both individuals and institutions. The market making business saw income rise from the first quarter which makes sense given the rebound in equities and more predictable trading during the second quarter. Still, this business was lower than last year which is most likely a function of fewer market participants as many of the larger hedge funds and active traders are either dealing with smaller orders, or have been wiped out completely.
IBKR has stuck with a more traditional approach in this business, making markets in exchange traded products which are cleared products. This means that counterparty risk has been minimized and it is unlikely that the company could be caught in a situation where a trading partner would default on the other side of a trade. As markets have become more liquid, the bid / ask spread has contracted making profit per trade relatively low. But the risk for trades in this environment is also much lower.
The brokerage side of the business has performed very well due to strong growth in the number of accounts. As retail investors are taking more ownership of their investment process, the discount brokerage has attracted a good bit of capital which appears to be trading relatively actively. Compared to last year, the number of customer accounts has increased by 18%, and the number of Daily Average Revenue Trades [DARTs] was up 11% to 317,000. If the company is able to keep these trends in place, it certainly points to better profitability in coming quarters.
At this point, analysts are expecting 2009 earnings to come in at $1.27 for 2009 which is down 42% from earnings in 2008. While this is disappointing, many other brokerages are facing much larger challenges in posting profits, or have even closed up shop or been acquired. Next year earnings are expected to rebound to $1.88 per share although it is difficult to put too much confidence in these numbers. After all, who really knows what volatility will look like over the next 6 quarters or whether we will see another major disruption in the markets.
Still, at current prices, it appears investors are pricing in a worst case scenario and are paying little attention to the potential growth of this dynamic company. The fact that IBKR remains profitable and is growing customer accounts during this difficult period certainly points to strong potential for growth over the next several quarters. As long as the market making segment does not experience a sharp loss, we can expect the company to maintain current profitability levels as a worst case, and potentially grow by double (or even triple) digits.
The ZachStocks Growth Model took a position in the company too early, buying at $17.99 in January. Although the ride has been volatile, it now appears that the position will soon turn profitable and could lead to sharp gains. Interactive Brokers appears to be a "heads I win; tails we break even" kind of a position. With a multiple below 10 times next year's expectations, there is room for both the multiple as well as the earnings figures to expand. If both of these metrics are revised higher, it would have a significant effect on the stock price.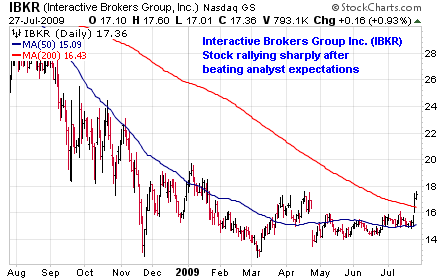 FD: Author has a long position in the ZachStocks Growth Model