The oil and gas industry in the U.S. will reach $957 billion by the end of 2014, an increase from $659 billion in 2009, due to the rising demand. Oil and gas companies are increasing production rates, and will need additional pipeline and storage facilities. This creates revenue opportunities for oil and gas pipeline companies like Inergy (NRGY). It is framing strategies to take advantage of the growing market and to secure revenue growth in years to come.
Company Overview
With its headquarters in Kansas City, Inergy is a limited partnership company. It offers storage and transportation services for natural gas and natural gas liquids, or NGLs, in the U.S. and Canada as well as producing and supplying salt products. Additionally, the company offers marketing and price risk management services to its customers. Inergy owns four natural gas storage plants in the U.S including Stagecoach, Thomas Corners, Steuben, and Seneca Lake in addition to a NGL storage facility in New York. Through its subsidiary, Inergy Midstream (NRGM), it engages in the production of natural gas and NGL storage. It also offers transportation service for natural gas in the Northeast region of the United States. Inergy, together with its subsidiary, offer a wide range of services through its divisions including:
· Operations and Transportation: Through this division the company offers NGL storage and transportation via railcar and tank trucks. The transport division functions under L&L Transportation, Inergy Services West, and Wholesale LP. It is transporting NGL's to many areas with use of more than 200 company owned trucks offering 24/7 service for the past 25 years.
· Supply and Marketing: This division is responsible for reliable product flow to more than 100 refiners and gas producers in North America. It ensures meeting customer supply needs through various service agreements. This includes supply planning agreements, index pricing agreements, and delivered pricing agreements.
· Risk Management: From this division, Inergy provides consulting services that help its customers negate price risks and achieve business goals. It offers customized price risk management services by providing a variety of financial instruments including forward contract, swap agreements, options and price caps.
· NGL Storage: Inergy has three strategically located storage facilities: Bath, Watkins Glen and Seymour. Bath and Watkins Glen are NGL storage facilities with a combined storage capacity of 3.6 million barrels. It is supported by an unloading capacity of 55 railcars and 62 truck transports per day. The Seymour facility is used for storing 22.2 million gallons of LPG with deliveries supported by the Teppco pipeline.
· Producer services: Inergy is one of the leading marketers of NGLs in North America. It has contracts with more than 100 gas producers to market their annual production.
What are the future prospects for this stock?
Forming new partnership
Recently, Inergy signed an agreement to enter into a partnership with Crestwood Midstream Partners (CMLP) to form a new $7 billion midstream enterprise. Midstream enterprises are companies involved in oil and gas storage and transportation. In this new enterprise Crestwood will hold 44% stake, and Inergy will hold the additional 56%. Through this partnership, Inergy will receive access to a broad range of midstream assets in premium oil and gas drilling areas in the U.S. These assets include more than 1,000 miles of pipeline, seven gas processing plants, and 80 billion cubic feet, or Bcf, of natural gas storage. It will have an additional 120,000 barrels per day, or Bpd, of crude oil rail loading capacity as well as 275 tractors and 531 trailers. These assets have 1,300 million cubic feet, or MMcf, per day in natural gas transportation capacity. These also have 2,000 MMcf per day of gas gathering capacity and 400 MMcf per day of gas processing capacity.
The premium oil and gas drilling areas include Marcellus Shale, Eagle Ford Shale, and Permian Basin will help Inergy to have a top shale portfolio in the industry. This partnership will also help both the companies meet the rising demand of shale field services in North America. By combining their assets and services, both the companies will benefit from each other's large customer base. The customer base of both the companies includes key customers like ConocoPhillips, Chevron, BP, and Total. This will help both Inergy and Crestwood to generate higher revenue and enjoy an increased presence in the market.
The partnership will be complete through a series of transactions by third-quarter of 2013. This partnership will generate $450 million of EBITDA in fiscal year 2013. Inergy is optimistic about the revenue generating opportunity based on the increased access to a wide range of assets and larger customer base. In addition, the complementary services offered by both the companies will create synergies of $15 million - $20 million annually in 2014 and 2015.
Inergy Midstream will also be able to gain 8% - 10% distribution growth. Inergy will enhance its fee-based cash flow as the combined enterprise will have an 84% gross margin for the fee-based contract. Amongst these fee-based contracts, 51% are ''take-or-pay'' contracts that will enhance Inergy's fee-based revenue. Under the take-or-pay contract the company has to take the product and services from Inergy. If it fails to do so, it has to pay a penalty.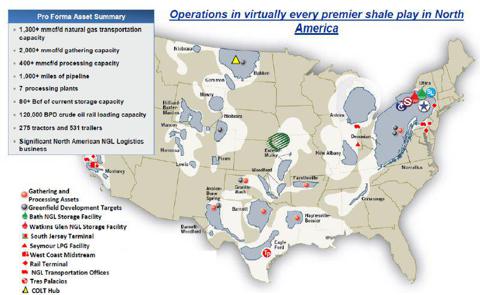 Source: Company data
Pipeline extension will bring additional revenue
Recently, Inergy completed its 20-mile pipeline extension project on its Tres Palacios facility. This extension will transport around 300 MMcf of natural gas per day. It will carry natural gas from Kinder Morgan Energy's (KMP) Houston Central gas processing plant in Texas, to the Tres Palacios gas storage facility. This 24-inch pipeline will also allow the gas producers to distribute natural gas from the Houston central plant to any of the 10 interstate and intrastate pipelines. These pipelines will be connected through the Tres Palacios header system. A header pipeline system is a pipe that acts as a central connection for two or more smaller pipes. This system will increase revenue opportunities for gas producing companies at Eagle Ford Shale as it will have direct access to various markets and storage facilities.
Moreover, the Houston Central plant, previously known as Copano Houston Central Plant, has a processing capacity of 700 MMcf per day and a fractional capacity of 22,000 barrels per day. Along with the pipeline expansion, the processing capacity of natural gas is being increased by 400 MMcf per day - 800 MMcf per day from the Eagle Ford Shale. The increased production capacity, with the help of the pipeline extension, will benefit the gas producers. It will enable greater market flexibility for the sale of gas produced from the Eagle Ford Shale. It will also bring additional storage opportunities to gas producers at the company's Tres Palacios gas storage facility.
Inergy's natural gas supply logistics and storage business reported EBITDA of $43 million in the first six months of its fiscal year 2013, beginning October 2012. It observed 43% increase in EBITDA for this business when compared with the first six months of its fiscal year 2012. Going forward, the company is optimistic about a further upsurge in the profits based on the new extension that will generate higher revenue in fiscal-year 2014.
Subsidiary making profitable acquisition
Inergy Midstream acquired Rangeland Energy, the owner and operator of the ''COLT," crude oil logistic hub, for $425 million in December 2012. The COLT hub is an integrated network of crude oil rail terminal, storage, and pipeline facilities. It is the largest rail terminal storage facility at Bakken shale, a premium oil producing area. The COLT hub provides customers access to various markets through rail loading and pipeline facilities. It offers outbound services through rail and pipelines and inbound services through pipes and trucks with 720,000 barrels of oil storage capacity and a rail loading capacity of 120,000 bpd.
This acquisition supports Inergy's expansion to existing refinery service platforms and access to one more premium oil producing area. It expects to gain EBITDA of $58 million due to the newly acquired business in fiscal year 2014. The company is looking forward to the gains, as 90% of the capacity is already under a long-term take-or-pay contract. Inergy will receive new contracts in the next 11 months that will lead to full utilization of the 120,000 rail loading capacity. This will create a strong base for the company to secure profits in fiscal year 2014.
THE COLT HUB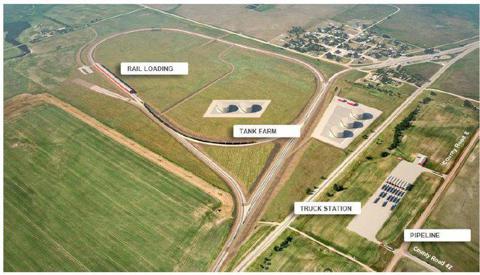 Source: Company data
Bottom line
As the oil and gas market grows rapidly, Inergy has strong future prospects and revenue-generating opportunities in the upcoming years. The company can achieve high revenue based on the assets it owns.
It is taking various measures, like the partnership with Crestwood, to form a new entity that will help Inergy to increase its asset base. It will help the company to secure profits through new orders, enhancing fee-based revenue.
The pipeline extension will increase carrying capacity and will benefit the company by increasing contracts. The acquisition of COLT hub will expand Inergy's operations in the crude oil sector and will have a positive impact on the company's bottom line.
Looking at the future prospect of this stock a buy is recommended.
Disclosure: I have no positions in any stocks mentioned, and no plans to initiate any positions within the next 72 hours. I wrote this article myself, and it expresses my own opinions. I am not receiving compensation for it (other than from Seeking Alpha). I have no business relationship with any company whose stock is mentioned in this article.