From a technical perspective, one of the most often cited pieces of evidence that this is a rally in a bear market has been the trend of declining volume during increasing prices. During the last 2 years, whenever equities have rallied, volumes have begun to drop off, while during price declines, the percent moves have been larger. Furthermore, volume has picked up drastically, confirming to many technicians that the conviction was on the sell side.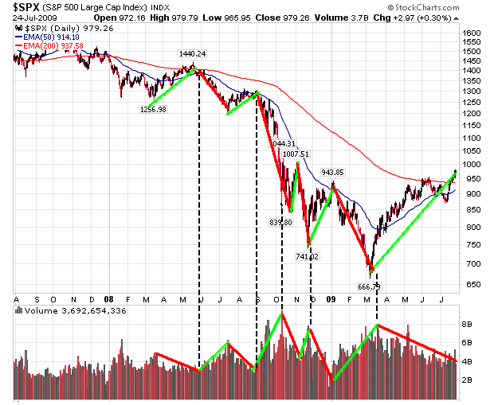 You can see here that every rally has been met with declining volume, while sell offs have been matched with large increases in volume. This rally, while the most impressive and long lasting in terms of duration and percent change, has been no different and has seen consistently falling volume. However, another observation is that volume peaked during last October's vicious week long collapse. Furthermore, post selling trends have also seen volume pick up, but not nearly to the extent of last year's slow motion crash.
Again, the most recent rally has low volume characteristics, with volume steadily trending lower as prices increase. But now, the market seems at an impasse. After an impressive rally, the market seemed poised to correct, marked with a failure to maintain and surpass previous highs, declining momentum, moving averages crossing to the downside, topped off with a classic head and shoulders pattern to boot. So what happened? The market has since melted up, putting a gain in the books for almost two weeks in a row.
The continued melt up, combined with the new highs, seems to be hinting that longer term trends are starting to turn. For example, many have pointed to the cross of the 50 day simple moving average above the 200 day simple moving average. I prefer the exponential version, or better still a weekly bow tie, and these signals have not yet crossed despite significant turn in direction.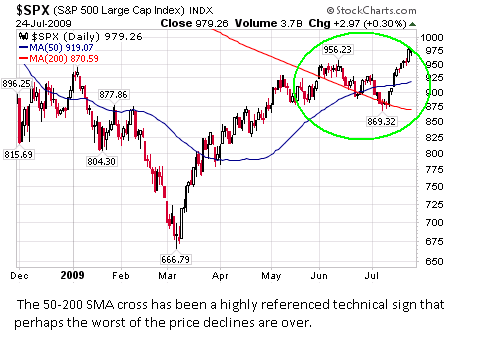 This all poses the question, where are the sellers? The market seemed set up to correct, many were even forecasting a test of the lows, yet the market steam rolled higher. While the volume on the up side is light, again, this is confusing. For if volume is so light, would it not then only take an equally small number of sellers to ban together and overwhelm buyers? Have sellers simply become exhausted?
Martin Pring describes a selling climax as,
prices advance following a long decline and then react to a level at slightly above, or marginally above the previous trough, it is a bullish sign if volume on the second trough is significantly lower than the volume of the first.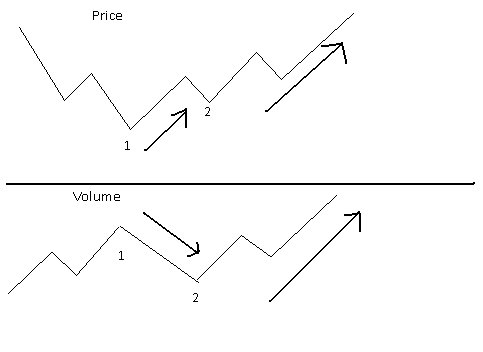 As the diagram illustrates, the second low should have substantially less volume. The largest spike in volume occurred last year between October and December , a spike that the subsequent sell off in March has not been able to match. While this only crudely fits the description, it does fit. Furthermore, it is common for the post rally to also have low volume, again fitting Pring's description of a selling climax.
I
n
conclusion
,
sellers have been unable to mount a offensive in the face of a low volume rally off marginal new lows. Down volume during the March lows has also been lower than previous spike, a bullish sign. It may be possible that the markets have experienced a climax in selling. Currently indexes seem to be in a broad formation, usually a bearish pattern. So while a pullback after such a large rally seems likely,
i
f
the correction is orderly,
long term trend signals clearly reverse,
and
future rallies see expanding volume, all this together is a very persuasive technical argument that long term direction may have changed.
Disclosure: Currently no position in the SPY.