AT&T's (NYSE:T) stock has been under severe pressure over the past few weeks. While some of the decline can be explained by the general market sell-off, most has come after AT&T reported sharply falling revenues last quarter. Since reporting its Q1 2013 earnings, AT&T's stock has fallen nearly 12%. AT&T currently offers a $0.45 quarterly dividend and yields about 5.20%.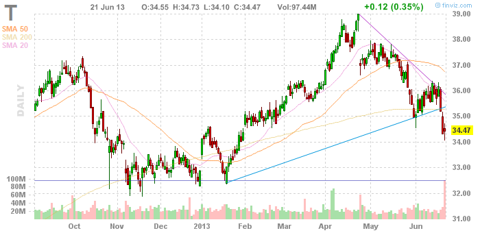 Wireline Business in Free-Fall
AT&T is clearly in need of growth. Its wireline business saw an utter collapse during Q1 2013. In the quarter, AT&T posted a 10% Quarter/Quarter revenue decline. Wireline revenues now make up less than 20% of AT&T overall revenues. AT&T cannot afford to lose wireline customers at this pace for long since this segment is one of the highest margin ones for the company.
Is Europe the Key for AT&T's Growth?
While it does need growth, one of the more puzzling moves made by AT&T has to be its multiple attempts to buy parts of foreign telecom companies. On June 21, Bloomberg reported that AT&T explored a deal to purchase as much as 29.9% of Telefonica (NYSE:TEF). For those not familiar with the stock, Telefonica is Spain's largest telecom company, with assets both in Europe and in Latin America. In addition to Telefonica, AT&T is also interested in assets owned by U.K. based Vodafone (NASDAQ:VOD) and France Telecom (FTE).
AT&T appears to be looking for growth overseas. This cannot be a good omen for AT&T's domestic assets. The company has already been seeing sluggish growth in the U.S. this year. Is AT&T now going to focus its resources on overseas growth to the determent of domestic expansion? Or can the company manage to do both?
How Can AT&T Afford Such a Purchase?
While it is always easy to take these matters out of proportion, one has to wonder how AT&T would be able to fund any of these potential overseas acquisitions. AT&T has little cash and mountains of debt. AT&T's debt-to-EBITDA ratio stood at 1.68X as of last quarter. AT&T's FCF was about $4B while dividend payments were $2.5B. AT&T bought back about $5.9B worth of stock last quarter, mostly paid with debt. While AT&T's dividend seems safe, the share buyback program seems to be an area that AT&T would have to cut back on if it were to take on an overseas expansion.
Buybacks have been important for AT&T
The only reason AT&T has showed any adjusted EPS growth for the past few quarters has been due to its share buybacks. Without them, AT&T would have reported Year/Year EPS declines during Q1 2013 and Q4 2014. AT&T's current share buyback program is anticipated to be completed in Q2 2013. However, a new 300M repurchase program was recently announced. If AT&T is truly looking to make a major overseas acquisition, then it would probably need to start looking at areas where it can cutback on cash outlays. The easiest area appears to be the stock buyback program. The reduction or suspension of the share buyback program would be a possible short-term negative catalyst for the company.
Will Prepaid Growth Hurt Postpaid?
Another example of AT&T looking for growth has been its recent foray into the 4G prepaid cellular market. AT&T has announced that it will be adding 4G LTE service to its prepaid plans (GoPhone and AIO). This marks a major shift in strategy for the company. This move is a major risk for AT&T as it risks cannibalizing its more profitable contract-based postpaid base. However, the prepaid market has been showing much faster growth and AT&T's previous prepaid efforts ran the risk of becoming irrelevant due to unattractive offerings. This move by AT&T will most likely lead to some market share growth at the expense of lower margins.
Q2 2013 Update
When looking at AT&T's mid-quarter update for Q2 2013, we can see several issues. AT&T expects about 500,000 postpaid wireless net adds in the quarter. This would be a large improvement from the negative 69,000 net adds posted in Q1 2013. However, AT&T also noted that is has used promotions to increase sales. As a result, AT&T will likely post similar margins Quarter/Quarter. AT&T also noted that its FCF would increase $1B Quarter/Quarter. However, $550M of this came from a one-time sale of shares of American Movil (NYSE:AMX), with the rest being a cash dividend from a non-operated holding.
Conclusion
AT&T appears to be desperate for growth. That AT&T is looking overseas for this growth worries me. The company instead should be focusing on capex here in the U.S., especially towards improvements in its 4G network, since it lags behind its main competitor Verizon (NYSE:VZ).
I have a feeling that AT&T is about to post another poor quarter. Note that its Q2 2013 update did not provide any guidance for its wireline segment. I suspect that this is due to that segment's poor performance. It would not surprise me if AT&T posts another sharp decline in wireline revenues Y/Y. Wireless adds have been due to aggressive marketing and promotions, which is not sustainable long term.

Disclosure: I have no positions in any stocks mentioned, and no plans to initiate any positions within the next 72 hours. I wrote this article myself, and it expresses my own opinions. I am not receiving compensation for it (other than from Seeking Alpha). I have no business relationship with any company whose stock is mentioned in this article.
Disclaimer: The opinions in this article are for informational purposes only and should not be construed as a recommendation to buy or sell the stocks mentioned. Please do your own due diligence before making any investment decision.