At the turn of the century, EMC Corporation (NYSE: EMC) was marked out as a company that would dominate the tech landscape thanks to its towering presence in storage networks.
It followed a model made successful by Cisco Systems (Nasdaq: CSCO): multiple tuck-in acquisitions in related areas and technologies to increase scale and addressable market size. It achieved considerable success over the last five to six years using that strategy.
Revenue and Operating Profits from 2003-08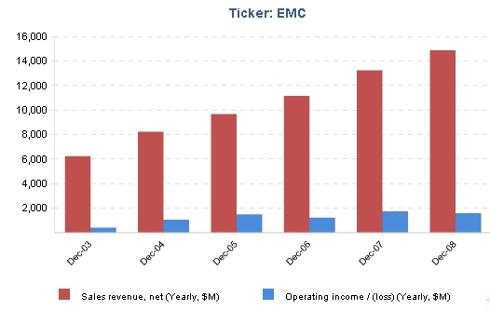 Source: Gridstone Research
As tech spending increased at a healthy pace, an increased addressable market meant better top-line and bottom-line growth thanks to operating leverage. But, as with any strategy, the true test is when the chips are down.
Revenue and Profits - Last Twelve Quarters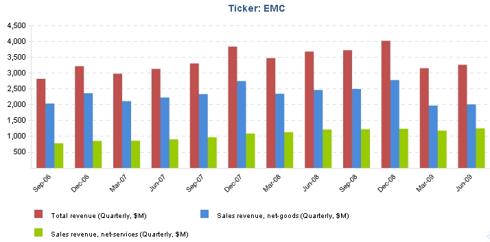 Source: Gridstone Research
Revenue in the last two quarters has been below or at 2007 levels and revenue growth has been hard to come by. The saving grace for EMC is that with its increased installed base of products, services revenue was growing despite a fall in product revenues over the last four quarters.
Revenue and Profit YOY Growth - Last Twelve Quarters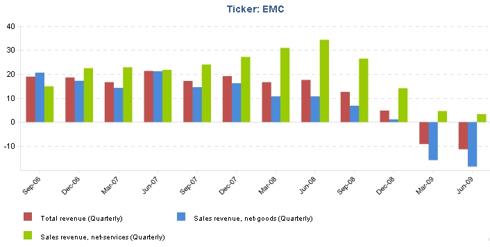 Source: Gridstone Research
This is not sustainable as only more product sales will beget more service revenues since EMC's service revenue streams - maintenance, installation fees etc. are not recurring revenue streams in the long-term.
In its defence, the acquisitions were to diversify revenue by not depending solely on storage box sales and related services. EMC's game plan was to move from only box sales to increasing its share of the dollars that went into managing storage networks that were becoming bigger and more complex.
It does sound nice on paper but this goal has also been only partially achieved as storage sales continue to be a dominant chunk (~70%) of revenues. All technologies and product areas which sounded promising a year or two back, like content management, faced growth pressures in the last two quarters.
Segment Revenues - Last Twelve Quarters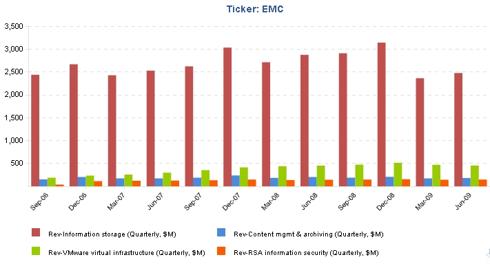 Source: Gridstone Research
As seen below, none of the segments have grown at an impressive pace in the last two quarters. In fact in June 2009, storage revenue had had better sequential growth than other segments.
Sequential Segment Revenue Growth -March 2007 Until June 2009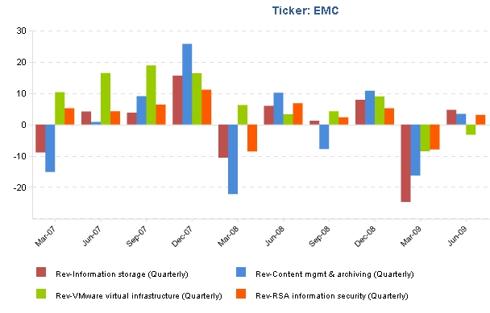 Source: Gridstone Research
Moreover, EPS has tracked operating income indicating that the product sales decline and resulting decline in net operating profits will have telling effect on EPS if things don't improve.
Operating Income and EPS -September 2006 Until June 2009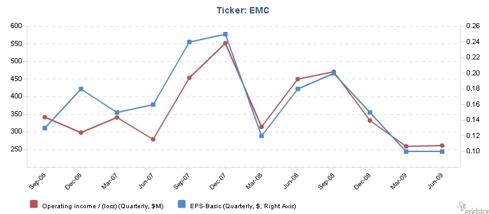 Source: Gridstone Research
It's not that only total profits have declined but margins have also declined consistently (on a YOY basis) over the last three quarters, showing that whatever expense reductions that EMC boasts of are still not helping at the EPS level.
Operating Margins: YOY Change in BPS - March 2007 Until June 2009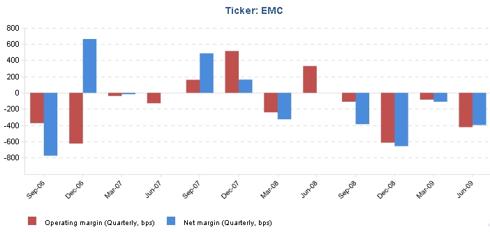 Source: Gridstone Research
From the above charts, it becomes evident that the only way EMC can please investors is to add more revenue streams and allow the after-effects to find its way to the operating income and EPS level. Margin/profit expansion on the same set of revenue streams seems a tough ask for EMC. Though the the past acquisitions have clearly fizzled out in helping EMC sustain profits, EMC has little options in this front but to acquire and grow.
But what is perplexing is the target - Data Domain (Nasdaq:DDUP) - and the lengths to which EMC has gone to acquire the target. At its offer price of $33 per share, the offer was seven times sales (revenue per share for DDUP was ~$4.9 in March 2009) and clearly on the expensive side. Also, EMC came into the fray post NetApp's (Nasdaq: NTAP) initial offer. The acquisition price seems even more ridiculous when we look at DDUP's margin profile in the last 5-6 quarters
DDUP - Revenue and Margins in Last Six Quarters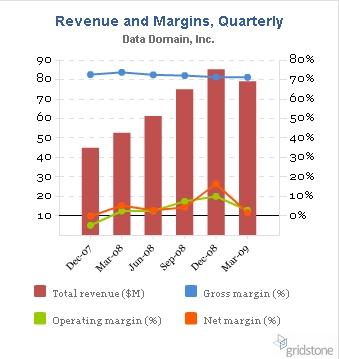 Source: Gridstone Research
While I do understand that the de-duplication technology that DDUP possesses has great potential, and don't disagree with EMC's claims that DDUP will help them to be leaders in "next-generation archiving", DDUP's recent quarter results do not promise scorching growth rates beyond a year or two.
Just to give a perspective, EMC paid ~$613M in January 2004 to acquire VMWare (VMW) which roughly added $387M of revenues and $131M of operating profits to EMC's kitty in 2005. In 2004 itself (the year of the acquisition), VMWare added $218M to EMC's topline - a acquisition price to sales multiple of ~3X. Compare that to the 7X multiple for DDUP, a company which churned out $16M in operating profits in 2008.
What is even more perplexing is that EMC trades at a P/E multiple of ~27 (as of the July 27 close price of $15.13) when there are question marks as to whether EMC can sustain long-term growth in EPS at even double digits. Add a pricey acquisition to that and it a clear sign that desperate times called for desperate measures from EMC.
Is the market expecting EMC to make more pricey acquisitions and then do a 'VMWare' (windfall profits through stake sale) to all these acquisitions? Other than that, there could be no justification for EMC's current market price
Disclosure: No positions