Call me crazy, but I like banks that grow tangible book value per share ("TBV-PS") over time. As TBV-PS grows, share price will too, at about the same rate unless the valuation multiple shrinks. While bank stock investors may like certain banks for other reasons, like a high dividend yield, they're still hoping that share price will increase.
So which banks have grown TBV-PS, and which haven't? The chart below shows growth in TBV-PS since the beginning of 2001 for three of the largest US banking institutions, Wells Fargo (NYSE:WFC), JPMorgan Chase (NYSE:JPM), Citigroup (NYSE:C) and a smaller one, People's United Financial, Inc. (NASDAQ:PBCT):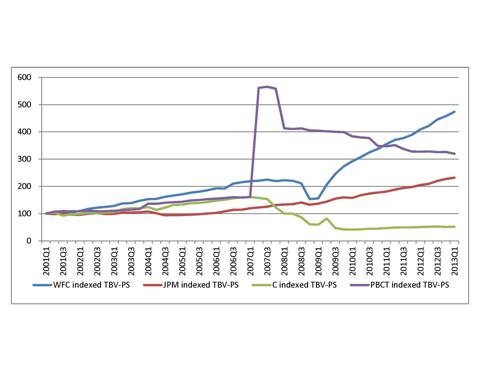 The data in the above chart was provided by SNL Financial LC. Starting values are indexed to 100. WFC (blue line) has delivered impressive TBV-PS growth (13.8% compounded annually). JPM (red line) has delivered good TBV-PS growth (7.2% compounded annually) but hardly "best in class." C's TBV-PS growth (green line) was better than JPM's but not quite as good as WFC's, until the financial crisis. C's losses necessitated dilutive share issuances, reducing TBV-PS below its starting value. Since these issuances stopped, C has struggled to grow TBV-PS meaningfully.
Why did I include PBCT (purple line), which is much smaller ($31 billion in assets, versus an average of $1.9 trillion for the other three institutions) and a thrift? Because it has the worst TBV-PS trajectory of any publicly traded banking institution with more than $1 billion in market value. TBV-PS has declined steadily from its peak of $14.72 in Q3 2007, a windfall caused by PBCT's second-stage conversion from mutual form. Reasons for the decline? While I've addressed this topic in detail in a prior article, the headline reasons are overpriced acquisitions paid for partially with cash, and overpriced buybacks.
How much should a bank stock investor pay for a given level of TBV-PS growth? What should he or she pay for negative growth?
Disclosure: I have no positions in any stocks mentioned, and no plans to initiate any positions within the next 72 hours. I wrote this article myself, and it expresses my own opinions. I am not receiving compensation for it (other than from Seeking Alpha). I have no business relationship with any company whose stock is mentioned in this article.