Harris Teeter Supermarkets (NYSE:HTSI) is a grocery store chain currently operating in 8 states in the eastern United States. At the end of FY2012, Harris Teeter operated over 200 stores, with over 65% of its store base found in North Carolina where the company is headquartered. The grocery business is one in a constant state of flux. Bankruptcies and buyouts are par for the course in this hyper competitive industry. Throw in the dynamic of the entrance of new competitors such as Whole Foods (WFM) targeting an upscale consumer, and Wal-Mart (NYSE:WMT) rapidly expanding its grocery presence, and the market dynamic seen today is evolving as much as ever. Harris Teeter warrants additional discussion as the company announced in February 2013 that it had hired JP Morgan to assist the company in discussions involving strategic alternatives. The lay man translation of the previous sentence is that the company is considering being acquired. The same press release noted that Harris Teeter has been approached by two private equity firms that were interested in purchasing the company. Almost four months later, the company has confirmed that it is still in discussions with potential suitors. However, the stock has rocketed higher during that time period as investors have jumped into the name hoping to ride a buyout higher. The question now turns to what potential price an acquisition might bring, and what the downside potential for the stock might be if an acquisition does not materialize.
Company Overview
At the end of 2012, the Company operated 208 supermarkets located in North Carolina (136), Virginia (38), South Carolina (14), Maryland (7), Tennessee (5), Delaware (3), District of Columbia (3), Florida (1) and Georgia (1). Harris Teeter is generally thought of as a more upscale grocer, as compared to a Winn Dixie or Food-Lion. It operates in that upper middle tier of grocery retailers, one step below the Whole Foods of the world. In a nod to the success seen by Whole Foods, Harris Teeter debuted two specialty stores in the last 12 months in an attempt to branch out beyond its core offering and compete with Whole Foods for those consumers looking for the a true "experience" when doing their grocery shopping.
Currently, the entire investment story around Harris Teeter centers on whether or not the company will be acquired. One impediment to a potential acquisition could be the reaction the stock has had in the time since Harris Teeter made the initial disclosure as seen in the chart below: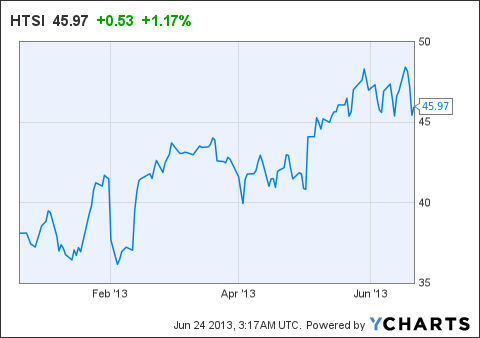 Shares are up over 25% since early February when the acquisition talks were announced. This has also driven the market capitalization from the company from $1.8B prior to the announcement to the ~$2.27B the company is currently valued at today. It is doubtful any potential acquirer is happy in the fact that its target has seen a more than ~$400M jump in market value. While a purchase price will not be driven by the premium to the current market price, the optics surrounding any purchase premium go a long way towards ensuring shareholder approval for any deal. Consider the deal just a few years ago where Bi-Lo acquired Winn Dixie at a 75% premium to the price it traded for immediately prior to the proposed acquisition being announced. From a valuation standpoint, the price paid was cheap on an EBIDTA multiple standpoint which reflected the operational struggles at Winn Dixie. The 75% premium went a long way towards convincing shareholders that this acquisition offer was in their best interests and to accept it.
Harris Teeter does not have the battle wounds that other companies such as Winn Dixie had when they were acquired. This is a growing, profitable, and in many ways very attractive company even without the spotlight of a potential acquisition.
Financial Overview
The following table from the FY2012 Annual Report provides an overview of the operating performance for the company over the last 5 years: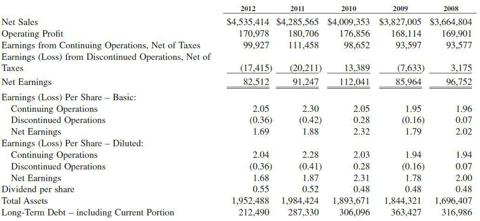 A quick glance at the top line shows a company with consistent revenue growth through a combination of store openings and increasing same-store sales. During 2012, the company saw reported EPS of $2.05 per share, which was a decrease from the prior year. The 2012 results were impacted by non-recurring costs associated with the company's acquisition of a competitor's stores in the Charlotte, NC area which negatively impacted EPS by $.37 a share. In FY2011, the company saw a non-recurring positive impact to EPS of $.21 per share related to the divestiture of its holdings in a foreign investment. When you back out the non-recurring items from 2012 and 2011, the adjusted EPS would be $2.42 and $2.09 respectively. This paints a much more favorable picture of the growth not only in revenue but in earnings per share for the company.
The company is practicing measured store growth while managing its capital and leverage wisely. The table below shows the store count growth over the last 3 years, and more importantly the growth in sales at existing stores:

The company has added a net of 4 to 5 stores each of the last few years, but has seen its existing stores grow their average sales at a rate far better than the industry average as seen in the results from 2012.
Turning to the balance sheet, the company has managed to fuel its organic expansion and acquisitions while maintaining a very reasonably leveraged balance sheet:

The company has paid down debt over the past few years through cash generated from operations, and currently only has ~$340M of long-term debt and capital lease obligations as of the end of 2012. The above table also gives an idea of the fixed obligations in addition to debt and capital leases for Harris Teeter. Putting these obligations into some context, is the amount of cash from operations that the company is currently generating: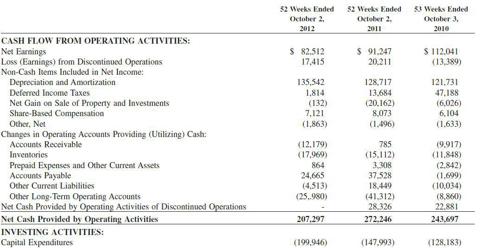 Harris Teeter generated ~$207M in cash from operations in 2012, which was enough to fund the ~200M in capital expenditures associated with store expansions and remodels. Combine the robust operating cash flow the company generates, along with the over ~$210M in cash on the balance sheet at the end of FY2012, and you begin to see why private equity firms are interested in acquiring this cash generating machine.
Divining An Acquisition Value
There are a few important tenants to any acquisition scenario surrounding Harris Teeter. First, this is a healthy and growing company that does not need an acquisition. This is critical because it puts the company in the position of strength compared to other grocery store acquisitions in the past, where the buyout served as a lifeline for the company. Harris Teeter could continue to grow and thrive as an independent company without question.
At the same time, as an independent company, Harris Teeter is now extremely expensive on a PE basis. The company currently trades at a 24x multiple of trailing twelve month earnings, compared to a less than 12x multiple for Kroger (NYSE:KR), one of the largest grocery chains in the US.
There could be a perpetual floor in the stock price of Harris Teeter even if a buyout does not materialize in the near term, as it may always be top of mind for investors going forward that this company is an attractive takeover candidate. However, I think if a buyout does not materialize, the shares should trade back down to where they were prior to the disclosure of a potential acquisition. Considering the downside could be over 25%, what potential upside is left for the company if an acquisition were to materialize?
Harris Teeter generated ~$305M in EBIDTA during 2012 (operating income + depreciation/amortization). With a market capitalization currently sitting just north of $2.25B, the company trades a 7.2x trailing EBIDTA multiple. For comparison sake, Kroger trades at a multiple slightly less than 4x its trailing EBIDTA. It is safe to say that Harris Teeter is currently being valued as if it is going to be acquired, that much is for sure. It is also hard to see how much room there is for shares to run further. For example if the company were to be acquired for $55, or 20% higher than it currently trades, it would represent an EBIDTA multiple of over 9x and be the highest multiple placed on any acquisition in this sector since 2007.
Investment Conclusion
The case for owning Harris Teeter is not very cut and dry. On the one hand, you know that private equity is kicking the tires and the company is exploring the opportunities enough that it needed to disclose it publicly. You can bet that other grocery chains, such as a Publix, are not going to sit idly by and let a private equity firm snatch up a growing and successful company without at least taking a look to see if it might be a strategic fit for them as well. Publix is an intriguing name outside of the private equity buyers, as the company could be looking to expand north out of its home base of Florida and the southeastern US.
On the other hand, you have the valuation multiple that any potential acquirer would have to pay. To pay an above market premium, an acquirer would be expecting to get a dominant force in its industry. An acquisition of Harris Teeter does not come without risks. For all its positive attributes, the company is somewhat of a one state retailer. Over 65% of the current stores are located in North Carolina, which presents both opportunity and risk that the brand does not perform well outside of its home state. There is Wal-Mart which is on a never ending campaign to expand its grocery offerings, with an aggressive advertising campaign it hopes will allow it to compete directly with the traditional grocers such as Harris Teeter. This competitive force should be enough to warrant serious discussion from any potential acquirer as consumers are notoriously fickle and competing on price with Wal-Mart is next to impossible.
With the valuation currently ascribed to shares of Harris Teeter, you will only see additional upside if the company is acquired. This clearly is a possibility, but for maybe 20% of additional upside, I am not sure this possibility warrants an investment at today's price. The better play might be to wait for the company to announce it is not going to be acquired, which will probably send the stock tumbling. At that point in time, step into a more reasonable valued retailer which should have its tires kicked by potential acquirers at some time again in the future.
Disclosure: I have no positions in any stocks mentioned, and no plans to initiate any positions within the next 72 hours. I wrote this article myself, and it expresses my own opinions. I am not receiving compensation for it (other than from Seeking Alpha). I have no business relationship with any company whose stock is mentioned in this article.