Despite a tough week for the market, given current valuations in market, finding bargains is no easy task. Setting up a rational stock screening process is the first step in finding bargain stocks in any market climate. I decided to screen my list of ~150 stocks identified to have a durable competitive advantage that are also in solid financial health for indications of undervaluation. Highly levered companies and companies with inefficient inventory and cash conversion metrics have been excluded.
The stocks were subsequently filtered by:
5-Year ROE greater than 10%
Based a three-stage DCF model for intrinsic value calculation, a price-to-fair-value ratio less than 90%
Subjective assessment of strong financial health
The output was as follows
Exelon Corp (NYSE:EXC), General Electric Corp (NYSE:GE), Qualcomm, Inc (NASDAQ:QCOM), Oracle Corp (NYSE:ORCL), Caterpillar (NYSE:CAT), Inc, and Baxter International (NYSE:BAX).
The list includes six companies with a 5-Year average ROE in the range of 11.5%-33.2%, indicative of a durable competitive advantage. Qualcomm, Oracle, and Caterpillar all appear to be trading at discounted valuations compared with the 5-year averages; this merits further exploration. Similarly, Caterpillar appears to be trading at a discount to its historical price/book ratio. With respect to measures of performance, all companies identified in this screen appear to be maintaining historical rates of return on equity, with the exception of Exelon.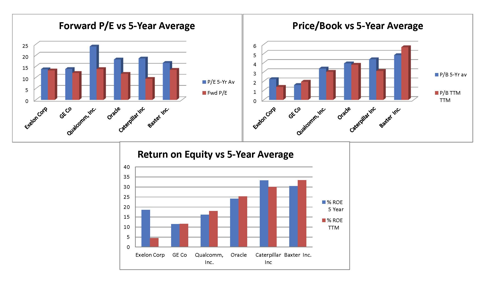 Let's look a bit closer at three of these companies to get a sense of whether these stocks are truly undervalued bargains worth purchasing.
General Electric: Dividend Yield 3.1%
The operations of General Electric are structured along Energy Infrastructure (products and technologies related to wind, oil and gas, and water), Aviation (manufacturing, sale, and services of jet an turbo engines), Healthcare (medical imaging, information technologies, diagnostics, monitoring, disease research, drug discovery, and biopharmaceutical manufacturing), Transportation (technology services for railroad, transit, mining, oil and gas, power generation and marine transport), Home and Business Solutions (Appliances and Lighting and Intelligent Platforms), and GE Capital (Commercial Lending and Leasing, Consumer, Real Estate, Energy Financial Services, and GE Capital Aviation Services). General Electric Company is the sixth-largest corporation in the U.S. with more than a century-long history behind it. Being among the first public corporations in the U.S., it had the advantage of being among the first in the market. This allowed it to create a brand name that still drives its value. Further, General Electric derives its durable competitive advantage from its diverse product portfolio, geographical reach, economies of scale, access to financial resources, R&D focus, and innovation.
GE has had a solid run and, at 3.1%, its dividend yield is attractive to income-oriented investors. At a price/fair value of ~85-86%, GE is not currently trading at enough of a discount to gain my interest; I'm looking to acquire at $18.50-19.00 and have set automatic notifications should the stock price dip appreciably.
Oracle: Dividend yield <1%.
Oracle has a leadership position in the rapidly-evolving software world. The external threat posed by cloud computing is concerning, however, Oracle's external acquisitions of late have served as both a defense against this threat, and raises customer switching costs by offering a path for technology and service upgrades.
Oracle's database and middleware business have high switching costs. Databases contain the business critical data for companies to manage their business and companies are sensitive to the cost and risk of switching out their database technology. This customer "stickiness" is the foundation for a durable competitive advantage. Dropping to the low-30s after a recent earnings miss, Oracle is beginning to look attractive and we will put it on a watch list and look to pick up in the high-20s range.
Caterpillar Inc.: Dividend Yield 2.33%
Caterpillar Inc is one of the world's largest manufacturers of construction and mining equipment, diesel and natural gas engines, industrial gas turbines, and diesel-electric locomotives. The company has a significant presence in other sectors also through its group services - Cat Financial, Caterpillar Remanufacturing Services, Caterpillar Logistics Services Inc. (Cat Logistics), and Progress Rail Services Corporation (Progress Rail). Earthmoving equipment form the biggest segment (15.3%) in terms of revenues, followed by excavation (13.8%), mining (12.0%) and turbines (10.0%).
The company operated as Caterpillar Tractor Co. since 1925, reorganizing as Caterpillar Inc. in 1986. It is currently headed by Doug Oberhelman, who serves as Chairman and CEO. Caterpillar faces competition across all of its business lines. The key competitors include Komatsu Ltd., Volvo Construction Equipment, CNH Global N.V., Deere & Co., Hitachi Construction Machinery Co., J.C.Bamford Ltd., Doosan Infracore Co., Ltd. and LiuGong Construction Machinery N.A., LLC.
Caterpillar has been hit lately by weakness in the mining segment along with a relatively frail global economy. Continued strength in its services delivered through its unmatched dealer network brings consistent revenues given the importance of minimizing equipment downtime. We are also wary of its secondary market position in China, after Komatsu. With a fair value in the high $90s, we'd be looking to acquire shares in the mid-low $60s.
Disclosure: I have no positions in any stocks mentioned, but may initiate a long position in GE over the next 72 hours. I wrote this article myself, and it expresses my own opinions. I am not receiving compensation for it (other than from Seeking Alpha). I have no business relationship with any company whose stock is mentioned in this article.