On Friday, Texas-based pipeline operator Enbridge Energy Partners LP (NYSE:EEP) reported second-quarter financial results for the period ending June 30, 2009. Earnings per limited partner unit, excluding non-cash items, came in at $0.74, well above our estimate of $0.52 and the Street's estimate of $0.51. The partnership's better-than-expected profit was driven by contribution from a new oil pipeline, cost saving initiatives and better results in the natural gas segment.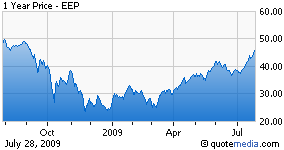 However, on a year-over-year basis, Enbridge's adjusted earnings per limited partner unit declined 21.3%, while revenue plunged 55.3% to $1.3 billion. The negative comparison from the year-ago quarter was due to less favorable natural gas and natural gas liquids prices.
Earnings per unit during the quarter were also adversely affected by increase in the number of weighted average units. The partnership declared an unchanged cash distribution of $0.99 per unit or $3.96 per unit annualized.
Volume in Enbridge's liquid systems rose 2.7% year over year to 1,959 MBbl/day due to an increase in crude oil supplies from upstream production facilities of the Alberta Oil Sands. All three of the partnership's liquid systems (Lakehead, Mid-Continent, and North Dakota) contributed to this increase. The Lakehead and the Mid-Continent systems accounted for 82% and 12% of total liquid volumes transported during the quarter, respectively, while the North Dakota system accounted for the remaining 6%.
Operating income in the Liquids segment increased 16.8% year over year to $104.8 million, primarily driven by transportation-rate hikes on all three of the partnership's major systems (effective July 1, 2008) as well as a tariff rise associated with the completion of a new oil pipeline (the second stage of the Southern Access Expansion project), effective April 1, 2009.
Natural gas volumes increased 2.3% from the year-earlier period to 2,549,000 MMBtu/day, driven mainly by a 7.8% rise in the partnership's East Texas system, which accounted for 61.5% of Enbridge's total natural gas production. Volumes in East Texas benefited from the expansion and extension of the system, completed during the fourth quarter of 2008.
Operating income for the segment fell 12.6% year over year to $52.9 million primarily due to lower margins from overall deterioration in prices of natural gas and natural gas liquids.
The Marketing segment reported operating income of $6.2 million during the quarter, compared to $4.4 million in the year-ago period. This increase was mainly on account of enhanced flexibility around Enbridge's existing pipeline and storage assets.
Despite the better-than-expected results, we maintain our Hold recommendation on Enbridge units due to its weak distribution growth prospects.