As a financial analyst I spend most of my time trying to figure out what publicly traded corporations are doing to make their financial statements appear better than they really are. Most CFOs are very bright and can bend numbers (in a legal way) to meet short term investor demands. For this reason, management credibility is one of my top priorities before investing in a security. I will discount my valuation models if this key ingredient is not present. So how does someone on the outside of the company truly get to know the credibility of a management team? It is no easy task, but after following a company for some time you begin to learn the language and style of each individual team.
Heico Corporation (NYSE:HEI), a small-cap company based in Hollywood, Florida, offers investors what I believe is a highly competent and credible management team in addition to attractive industry growth opportunities. Due to the fact that Heico is a small-cap industrial goods maker, it is likely you have never heard the name. However spending time understanding overlooked stocks not covered by major Wall Street firms has the potential to unlock the tremendous alpha we all seek.
Brief Overview
Other than original equipment manufacturers, Heico Corporation is the world's largest manufacturer of FAA-approved jet engine and aircraft component replacement parts. The company also believes it is a leading manufacturer in various types of electronic equipment for the aviation, defense, electronics, industrial, medical, space and telecommunications sectors. Although originally organized in 1957, the company became significantly larger during the 1990s when it began making strategic acquisitions into niche markets. To date, Heico has completed over 46 acquisitions and continues to actively pursue new takeover candidates.
I wrote a detailed piece of Heico's business which may be helpful to review in order to get a better understanding of the main operating segments of this company. Throughout the remainder of this article I will focus on highlighting management's successfully documented strategy of acquisitions and expectations for the remainder of the fiscal year.
Niche Market Acquisitions
"I think we have a structural advantage…we have these autonomous business units, which are each very close to their customers, understand their manufacturing processes and their financial results, and they don't feel like a cog in somebody else's big wheel." Co-President Eric A. Mendelson, Q2 Earnings Call
The quote above accurately sums up Heico's acquisition strategy. Rather than acquire a new company and bog them down with higher levels non-value added activities (corporate reporting, new rules and regulations), Heico lets them focus directly on what they do best. This allows top level talent the ability to spend a greater portion of their time creating relationships with customers and less doing ancillary corporate work. On the surface this may not appear to create value for shareholders, however it is in fact the lifeblood of the company. By acquiring small companies (most under $100 million), Heico can operate in many small markets which larger companies would not be interested in, allowing them access to underrepresented markets. When you think of all the individual components which go onto an aircraft, the number of suppliers is quite large. OEM parts makers like General Electric and Rolls Royce don't receive much value by acquiring such small businesses. Heico management estimates that for every 100 companies they evaluate, only one is likely to be purchased.
Mergers and acquisitions always appear to be great when the marriage begins, but often prove challenging to integrate two companies. The differing corporate structure, overlapping job titles and need to pay down acquisition costs make for a messy honeymoon period. This can create tremendous tension within the newly formed organization and the synergies once thought to be present can quickly disappear as top employees leave and a new corporate culture develops. While I am not saying Heico has a flawless track record in making acquisitions, their history has proven their superior ability to acquiring the right companies. Proof of this cannot only be seen through continued corporate growth, but their strong relationships with lenders who eagerly lend the company funds.
Financially Healthy
When evaluating a company which makes frequent acquisitions, the income statement can be a challenging financial document to evaluate. Given the restructuring costs, constantly changing depreciation and amortization expenses, and "one time" special items that are always popping up, finding what percentage of earnings are organic can be difficult. I prefer to focus on the statement of cash flows, more importantly on the cash flows from operating activities. This is the key ingredient for continuing to pay down debt and making new acquisitions. As you can see in the table below, Heico has been able to grow operating cash flows even in the most challenging economic environments (see 2009). If Heico continued to make poor acquisition choices we would likely see cash flows begin to shrink as money flowed from high performing subsidiaries to poorly performing subsidiaries. This consistent cash flow generation has earned them a positive reputation among lenders, allowing them further access to borrowing funds.
| | | | | | | | |
| --- | --- | --- | --- | --- | --- | --- | --- |
| | 2007 | 2008 | 2009 | 2010 | 2011 | 2012 | TTM |
| Cash Flow From Operations | $57,450,000 | $73,162,000 | $75,817,000 | $101,717,000 | $125,518,000 | $138,585,000 | $148,804,000 |
| OCF Growth Rate | | 27.35% | 3.63% | 34.16% | 23.40% | 10.41% | 7.37% |
Source: Heico SEC Filings
Many companies tend to hoard high levels of cash on the balance sheet and given the current interest rate environment, earning virtually zero percent on these assets. Although some may see this as saving for a "rainy day," the truth is that shareholders of the company could be earning a return on that money if it were paid out. Heico has historically not been a company which holds a large percentage of cash. Their financial strength, credibility and strong history with lenders has given them access to credit when necessary. While the company does pay a modest quarterly dividend of $0.07 per share (recently increased), most cash is deployed back into growing the business. In the chart below you can see cash as a percentage to total assets over the past few quarters.
A great example of Heico's process of acquiring a company is that of recently acquired Reinhold Industries. Reinhold Industries is a leading manufacturer of advanced niche components and complex composite assemblies for commercial aviation, defense and space applications. On May 6, 2013, Heico announced it would acquire all the outstanding stock of Reinhold for approximately $130 million (small acquisition size). The purchase is expected to be paid in cash from Heico's revolving credit facility (utilizing low interest rate environment to grow). The closing is expected to be completed at the end of the fiscal third quarter and earnings will be immediately accretive. As a result of this purchase, Heico increased earnings and revenue guidance for the reminder of the fiscal year (although Reinhold will provide minimal growth to EPS during the current fiscal year).
Future Estimates
During the most recent earnings announcement management increased its full year guidance and provided further clarity for future financial statements. Revenue estimates were increased from 6%-8% growth to 8%-10% growth. Diluted earnings per share estimates were increased from 9%-11% growth to 11%-13% growth. CFO Laurans Mendelson also hinted that more acquisitions are likely in fiscal year 2013, "As we look ahead to the remainder of fiscal '13, our financial flexibility will continue to allow us to aggressively pursue high-quality acquisition opportunities." Below are some other relevant points I factor into my estimates for the remainder of FY13:
Revenue growth of 9% (middle of management's guidance)
Slightly higher SG&A expense as a result of Reinhold acquisition
Higher interest expense as a result of increased borrowings at revolving credit facility
Tax rate of 33% (provided by management)
Please note that the estimates below are not guaranteeing any of the results will be met. These estimates are strictly based upon management's guidance, the company's SEC filings, press releases, historical data and my estimates.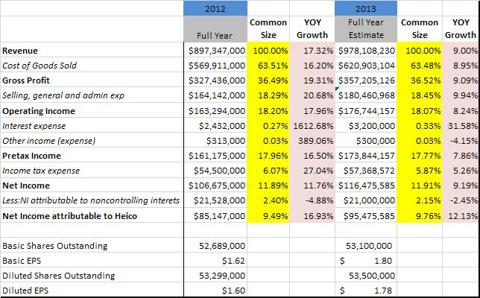 Source: Heico SEC Filings, Heico Management Guidance, and my estimates based upon historical data and future expectations. Estimates given above are no guarantee of future results, please evaluate the company in greater detail before making investment decisions.
Despite the fact that we have seen P/E expansion over the past few weeks, as you can see in the chart below, Heico has his historically demanded a high P/E multiple. Shares currently trade in the low 30x trailing twelve month range and given managements optimistic guidance moving forward, appear reasonably valued. However given the prospect for further acquisitions in 2013 and a stronger second half of the year, we could see further expansion of the P/E multiple. Since most news feeds won't provide premium space to a small-cap stock like Heico, I recommend you frequently check the company's press releases to keep track of new developments.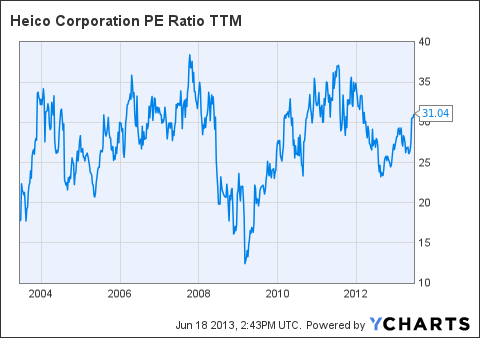 HEI PE Ratio TTM data by YCharts
Ownership
It is worth noting that this stock is largely held by a small group of people. The directors and executive officers of Heico (13 people) own roughly 1/5th of the company. Mutual funds and institutions are also major shareholders (see table below). What this tells you is that the majority of this company is owned by long-term shareholders and management is not afraid to stand behind their decisions. Although volatility is present in the stock, it is unlikely we will see unnecessary selling pressure in shares of HEI as the stock is thinly traded. Again, pay attention to the SEC filings to see if insiders begin selling shares (Form 4 or SC-13G) as a hint for future expectations.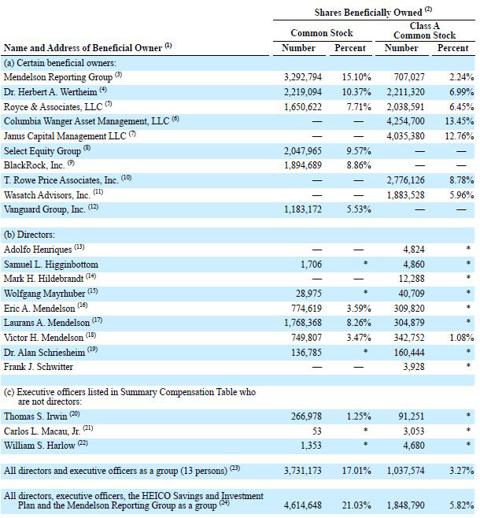 Source: Heico Proxy Statement
Conclusion
Anyone who has been following Boeing (NYSE:BA) or Airbus over the past few quarters has seen the tremendous amount of aircraft orders being placed. The Paris Air Show has once again proven that the demand for airplanes is not being replaced by another source of transportation, and thus provides a compelling case for a long-term investment. Rather than invest with the herd and blindly buy the largest names in the industry, take time to evaluate the smaller component makers. As technology advances, companies like Heico can continue to make acquisitions in order to stay relevant in the marketplace.
There are a number of small competitors which may give you exposure to specific niche markets in the airline industry. However, I believe Heico has created a more diversified portfolio of products which may offer less product-specific risk. Consider evaluating the following companies if you wish to find a more pure-play company:
AAR Corp (NYSE:AIR)
GenCorp (GY)
Kratos Defense & Security (NASDAQ:KTOS)
Crane Co (NYSE:CR)
Parker-Hannifin (NYSE:PH)
Curtiss-Wright Corp (NYSE:CW)
Exelis (NYSE:XLS)
Textron (NYSE:TXT)
Ducommun (NYSE:DCO)
Kaman Corp (NASDAQ:KAMN)
Woodward Inc (NASDAQ:WWD)
Given the proven track record of accretive acquisitions, strong financial position, ability to access credit, and credible management team, Heico offers a compelling case for investing. Consider your investment goals and objectives before initiating a position in Heico and please remember that the value of investments in equity securities, like HEI, will fluctuate in response to general economic conditions and to changes in the prospects of particular companies and/or sectors in the economy.
*Note: All data reported and graphed is pulled directly from Heico's SEC filings, conference calls, and press releases.
Disclosure: I am long HEI. I wrote this article myself, and it expresses my own opinions. I am not receiving compensation for it (other than from Seeking Alpha). I have no business relationship with any company whose stock is mentioned in this article.