The end of the 2nd Quarter 2013 is nigh and along will be a long list of economic news burdened with healthy expectations. At the same time, the last few weeks have been tough on home builders. Unfortunately for builders and their investors, their stock prices are probably going to negotiate a rocky road in the near future.
Just look at the recent price performance by some of the industry leaders: Toll Bros (NYSE:TOL), D. R. Horton (NYSE:DHI), Lennar Corp (NYSE:LEN) and Pulte Group (NYSE:PHM):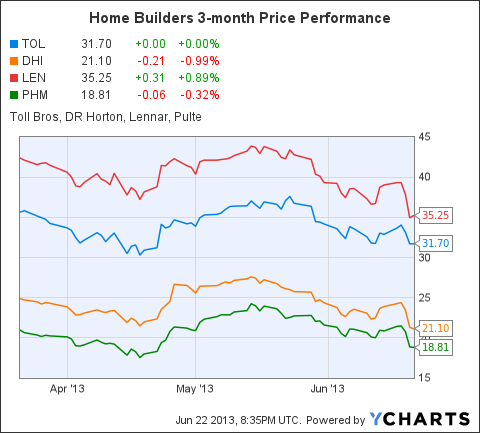 TOL data by YCharts
The recent price retreat has not been a disaster, since investors have enjoyed some great returns over the last couple of years. Looking at the 5-year return on the same companies we see: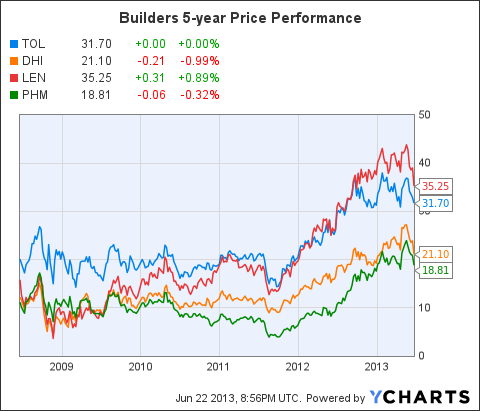 TOL data by YCharts
Prices climbed across the board throughout 2012 and early 2013, but now the recent months are a puzzle. At first glance it looks like the builders as a group have leveled off into a broad trading range, but looking more closely at Toll Bros and D.R. Horton it looks like their top may be tipping over for a downward slide.
This as recent reports have the companies claiming increasing prices, broadening home production and higher tempo sales. In fact Martin P. Conner, the Chief Financial Officer and Senior Vice President of Toll Bros practically gushed when answering a question during their May 2013 earnings call:
David, for the first 3 weeks of the third quarter, we're up about 1/2 a home per community in agreements and in deposits compared to a year ago. And remember, a year ago is a pretty tough comp because we were up significantly a year ago. Our third quarter total was up 60% in agreements over 2011.
But the downward slide has come in as interest rates, and especially mortgage rates have surged up. Overall rates have been rising since early May. First, jobs data showed positive signs of decreasing employment. Then Fed Chief Ben Bernanke began openly discussing that the time of QE3 - the massive Fed Bank bond buying scheme designed to keep interest rates low and liquidity high - may be nearing an end.
The stock market roiled, then this last week Bernanke, said if the economy improves enough, the Fed could begin to wind down its $85 billion in monthly purchases before the end of the year and complete the program by mid-year 2015. Almost the same moment the Fed released an improved estimate for unemployment.
These last few weeks saw a massive jump in the benchmark 10-Year Treasury: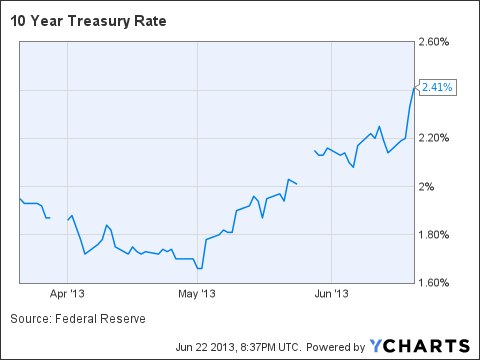 10 Year Treasury Rate data by YCharts
"It's a big deal when we see the 10-year move like this. A 90-basis point move in four weeks in 10-year yields is a very rare move, a very scary one," RBS macro credit strategist Edward Marrinan stated in a CNBC interview.
The Fed buying program had kept an intense buying pressure on mortgage securities, keeping their price high but their interest rate low. Now, with the fear that the Fed will be cutting back purchases, mortgage rates have been surging, although they fell back slightly the end of last week.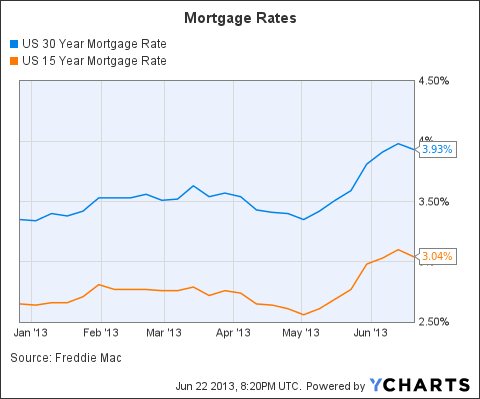 US 30 Year Mortgage Rate data by YCharts
So now the inverse is rule. Good economic data make it more likely that the Fed will curtail its QE3 program, causing interest rates to rise. Theory says higher mortgage rates are bad for home builders. The market fears this and builders get downward pressure on their share price.
Tuesday of this week durable goods, new home sales and home prices are reported. Thursday follows with announcements on jobless claims and personal income. Positive data, as expected by most economists, will worry traders and investors that the good news will encourage Bernanke and the Fed to cut down on the purchases.
Good news = selling.
So is there an opportunity here? I believe so.
First, look at some historical rates. Item No. 1, let's look at mortgage rates from a long-term perspective: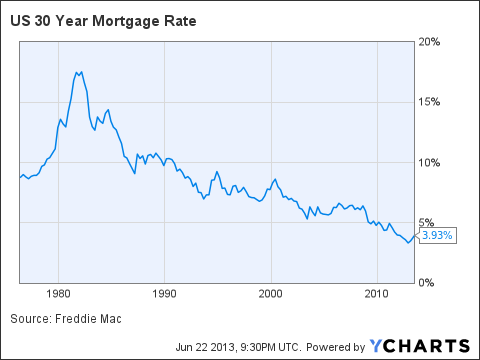 US 30 Year Mortgage Rate data by YCharts
Even though they have bounced up, rates are still at historically low levels. In fact, 30-year fixed mortgage rates could climb above 6% and still be in line with the rah-rah heydays of the 2005-2008 housing boom. I believe that rising rates will actually be a boom for builders short term, since it will goose fence-sitting customers to buy before rates go up.
Then let's look at home builder value as represented by PE Ratio: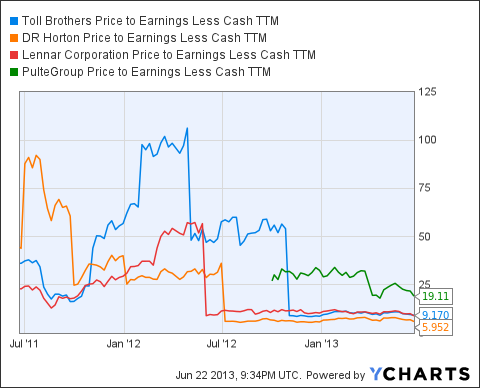 TOL Price to Earnings Less Cash TTM data by YCharts
Despite accelerating sales revenue and expanding inventory, share price value in this measure looks very reasonable, with the possible exception of Pulte Group, which stands at a PE Ratio of 19.11. All other ratios are under 10, with DR Horton coming in at a measly 5.952.
The coming weeks may well provide a rocky road for short-term traders in builder stocks. However long-term value investors should find some great prices. Look more closely at individual stocks, or consider the S&P Homebuilders SPDR ETF (NYSEARCA:XHB).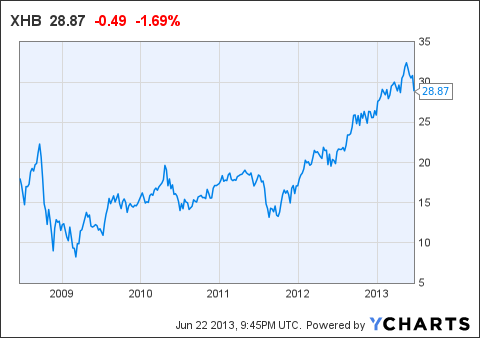 XHB data by YCharts
Disclosure: I have no positions in any stocks mentioned, and no plans to initiate any positions within the next 72 hours. I wrote this article myself, and it expresses my own opinions. I am not receiving compensation for it (other than from Seeking Alpha). I have no business relationship with any company whose stock is mentioned in this article.