This article compares TICC Capital (TICC) to the 24 other Business Development Companies ("BDCs") covered in my previous articles assessing profitability, risk profile, and dividend sustainability, to determine the appropriate valuation relative to other BDCs. Recently we have seen interest rates starting to rise resulting in turbulence for rate sensitive stocks such as BDCs. TICC has a healthy amount of variable rate investments that will benefit from higher rates but also a large amount of variable rate liabilities. I consider TICC to have a typical risk profile because of its average industry diversification, asset class mix, portfolio yield, volatility ratios, and inside and institutional ownership levels. TICC's use of leverage and exposure to CLO (Collateralized Loan Obligation) investments gives it the ability to pay higher dividends than most BDCs but with increased risk which is reflected in its low valuation multiples.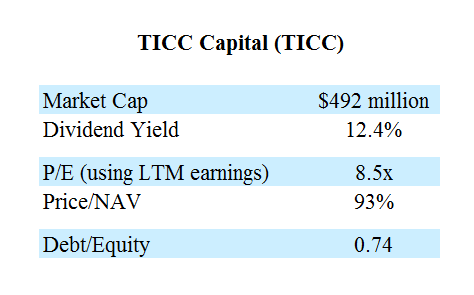 These are the five general criteria I use to evaluate BDCs:
Profitability (EPS to cover dividends, NAV and EPS growth)
Risk (rate sensitivity, diversification, portfolio quality, volatility)
Payout (sustainable, consistent, growing)
Analyst Opinions
Valuation (NAV, P/E, PEG)
For my most recent overall BDC rankings table see "Latest BDC Rankings For Q1 2013" or for more information about BDCs and how I evaluate them, please see "My BDC Investment Philosophy."
Profit
TICC has been actively raising capital through debt and equity offerings, growing its net investment income ("NII") an average of 22% a year over the last four years. Since 2008, NII has only covered an average of 92% of dividends paid but the net asset value ("NAV") per share has managed to grow an average of 7% annually. In 2012, TICC increased the amount of shares outstanding by 26% as well as increasing dividends per share by 17%, resulting in dividend coverage from NII of only 84%.
During the three months ended March 31, 2013, TICC issued another 11.1 million shares in two equity offerings and an "at-the-market" share issuance plan and received net proceeds of approximately $110 million, which was invested throughout the quarter, along with another $53 million (net of prepayments) from cash and debt, into senior and subordinated notes and CLO investments. TICC was not able to realize a full quarter of these investments especially the CLO investments as discussed by the CEO on the most recent earnings call:
"As you know, the market practice in the CLO market is for newly issued CLOs to make their first payment, their initial equity tranche distributions, roughly 2 quarters after that initial issuance. So there's a meaningful lag with respect to our recognition of those revenue streams and our receipt of those revenues and income streams following those new purchases. As you can imagine, we made new purchases of CLO equity, both in the fourth quarter of 2012 and then with the benefit of the new cash that we raised with -- during the first quarter of 2013 and wouldn't -- in the ordinary course, have received any income from those investments yet. As you also know, under GAAP, we don't actually accrue for the distributions that we are scheduled to receive or that we're expecting to receive until we've actually received the cash from our CLO equity investments, unlike our corporate or direct corporate debt investments where we would be accruing those revenues."
In the table below, I used the two-quarter lag of revenue recognition for the CLO investments to estimate average yields and expected income for Q2 2013 from investments made in Q4 2012 and Q1 2013. However, this is a rough estimate and does not take into account CLO investments sold versus purchased, and is only on a net basis. It also assumes that the new investment yields are similar to historical levels. Projected income for Q2 2013 would be approximately $1.7 higher than the previous quarter from the same level of CLO investments and Q3 2013 should be slightly higher than that once the full benefit of revenues are recognized. This would equate to approximately a $0.03 per share increase from Q1 but does not take into account incentive fees or other associated expenses.
TICC has one of the higher leverage ratios in the industry but still has $60 million in cash and another $27 million in restricted cash, potentially for future portfolio investments. Analysts are expecting TICC to be able to cover its $0.29 quarterly dividend by Q3 2013 with NII, but that obviously assumes there are no further equity offerings.
During the last earnings call the CEO was asked specifically about how dividends should be covered and initially replied with "Well, the overarching philosophy, I think, is that our dividend should be fully covered on a taxable income basis" but then later clarified that they currently do not consider capital gains as a portion of coverage expectations. The CEO then alluded to considering realized or unrealized capital gains as an element of its dividend distribution policy. Well-managed BDCs set regular dividends to match recurring NII and then pay special dividends for realized capital gains or other taxable income to avoid paying an excise tax. Regulated investment companies are required to distribute 98% of taxable income to avoid paying a 4% excise tax.
Risk
In a recent series of articles I covered the risk profiles of 25 BDCs, giving TICC a relative risk ranking of 5.6 (10.0 being the least amount of risk):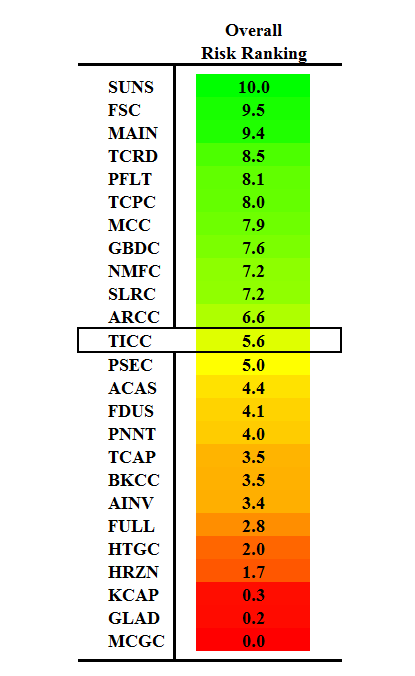 As of March 31, 2013, its investment portfolio of $831 million (at fair value) was invested 70% in senior debt, 5% in subordinated debt, and 25% in equity securities, with 1% of investments (at fair value) on non-accrual status.
TICC has acquired a number of debt and equity positions in collateralized loan obligation ("CLO") investment vehicles. As discussed in previous articles, CLOs potentially have the following issues: less transparent than direct investments in portfolio companies, repayment priority of more senior debt holders, thinly traded, not listed on traditional exchanges, making them less liquid, difficult to value and more volatile.
Under the Investment Company Act of 1940, BDCs are required to have at least 70% of total assets considered as "qualifying assets," and CLOs do not meet the requirements. Currently 29% of its investments are in CLO types and will most likely remain at these levels with the CEO stating on the most recent earnings call "our goal is to stay fairly close to that 30% statutory maximum with respect to the BDC test on nonqualified assets."
The remaining portfolio has average industry diversification with a large exposure to technology as shown in the charts below:
Recently the Federal Reserve commented on its plan to begin paring back its bond-buying program later this year and stop it all together by the middle of next year if the economy performs as expected. The Fed's comments pushed up the yield on the 10-year Treasury note to the highest level in almost two years. In my "BDC Risk Profiles: Part 6 - Interest Rate Sensitivity" article I focused on the interest rate sensitivity for BDCs considering fixed versus variable rate investments compared to the amounts borrowed to fund those investments. Interest rate sensitivity refers to the change in net earnings that may result from changes in the level of rates. Since most BDCs fund a portion of investments with borrowings, earnings are affected by the difference between the rate at which they invest and the rate at which they borrow.
Solar Senior Capital (NASDAQ:SUNS), Hercules Technology Growth Capital (NASDAQ:HTGC) and TICC, have the largest amount of variable rate loans, at more than 90% of debt investments. TICC's debt investments, based on funded loans, were invested 95% in variable rate loans and 5% in fixed-rate loans, and expects future investments will generally be made at variable rates, many of which contain floors.
As of March 31, 2013, TICC had a debt to equity ratio of 0.74 with $281 million of its $390 million in outstanding borrowings bearing variable rates, and a lower than average interest coverage ratio as shown below.
TICC has estimated the potential impact of a change in the underlying interest rates on its net increase in net assets, assuming a 1% increase or decrease in the underlying five-year Treasury note, the Prime rate or LIBOR. Under this analysis, net investment income would decrease by approximately $1.9 million on an annual basis (or $0.04 a share), due to the amount of investments in its portfolio which have implied floors that would be unaffected by a 1% change in the underlying interest rate. However, if the increase in rates were more significant, such as 5%, the net effect on the net increase in net assets resulting from operations would be an increase of approximately $9.7 million. However, this analysis does not take into account the positive effects of investing its available cash.
TICC provides very little information regarding portfolio leverage ratios or credit quality. During the most recent earnings call, the CEO stated: "Our weighted average credit rating on a fair value basis was 2.1 at the end of the first quarter of 2013, which remains the same from the credit rating at the end of the fourth quarter of 2012." TICC currently has higher than average yields on its portfolio investments due to its large amount of CLO investments but has been investing in a slightly safer mix of assets with decreasing yields and as discussed in "BDC Risk Profiles: Part 11 - Credit Quality."
TICC has average volatility ratios and institutional and insider ownership levels but institutional buyers have been increasing their positions since March.
To see where TICC ranks relative to other BDCs from a risk standpoint for each of these areas, please see the following articles:
Previous Risk Profile Articles:
Payout
The current dividend yield of 12.4% is much higher than the current average of 9.7%. As discussed earlier, TICC has recently been unable to cover dividends with NII because of the two-quarter delay between the purchase of CLO investments and the recognition of revenue following those purchases. However, TICC has increased its quarterly dividend three times in the last two years and as the income from new investments over the last two quarters catches up, hopefully coverage levels will provide for future sustainability or even growth.
Analysts
Most analysts consider TICC between a 'Hold' and 'Buy' with a target price of $10.50 to $12.00. I will cover my price expectations at the end.
Valuation
Ideally, each BDC would be priced along a valuation curve with investors paying a premium for favorable risk to reward ratios. Below is a table using my relative risk ranking to categorize each BDC (excluding TICC) into valuation levels and appropriate multiples of NAV and EPS:
Many of the BDCs that have been exceeding analyst expectations and growing earnings faster than others often end up with lower P/E multiples (because of high earnings) such as TCP Capital (NASDAQ:TCPC) and Medley Capital (NYSE:MCC). The adjusted average P/E multiple for the top risk rated group (the least risky) would be closer to 12.5 times earnings. The opposite is true for the BDCs in the lower groups that have declining earnings that inflate their P/E multiples.
TICC is currently trading at a 7% discount to NAV, which is lower than the average for BDCs as shown in the chart below, along with the standard deviation of current BDC multiples of NAV, excluding ACAS which is not an RIC, does not pay a dividend, and is potentially priced differently by investors. The 'standard deviation' statistically measures the variation of pricing compared to the average, with 68% of BDCs priced between 0.87 and 1.31 times NAV.
TICC and TCPC currently have the lowest P/E ratios at 8.5 times earnings using the last 12 months EPS. The chart below shows that most BDCs are priced between 9.0 and 13.0 times earnings with an average of 11.0. For PSEC I used normalized earnings and backed out the profit from the Gas Solutions sale on January 4, 2012, taken as income rather than capital gains, which was a temporary four-quarter bump to income.
Summary
In a healthy market riskier BDCs usually payoff especially the ones with higher yielding investments like CLOs. When asked about the recent purchase of a distressed investment that added to the non-accruals for the quarter the CFO replied "prior to making our first CLO investment, we haven't made any CLO investments and then when we did make one, then we made a few more and it's actually become an incredibly profitable segment of our business. I'm not saying that, that's going to happen here. I'm just saying that we are opportunistic debt investors and this was a good opportunity."
On a relative basis, I consider TICC to be average from a risk standpoint and it should be priced accordingly. Currently TICC is trading at $9.35 with some of the lowest multiples in the industry. I think a target price between $11 based on NAV and $12 based on earnings would be acceptable in today's market even if interest rates begin to climb. However, in a down market cycle I would rather invest in BDCs with more favorable risk profiles that are trading at higher multiples with lower yields like Main Street Capital (NYSE:MAIN), Solar Senior Capital, and PennantPark Floating Rate Capital (NASDAQ:PFLT).
Disclosure: I am long TCPC, MAIN, PFLT. I wrote this article myself, and it expresses my own opinions. I am not receiving compensation for it (other than from Seeking Alpha). I have no business relationship with any company whose stock is mentioned in this article.