Coal companies are currently trading at low valuations due to prevailing tough coal market conditions. However, Arch Coal (ACI) has even cheaper valuations, P/B of 0.30x and P/S of 0.20x, as compared with its peers (as shown below), which makes it an attractive investment potential.
ACI is among the top coal producers and marketers in the world, and is the third-largest private sector coal producer in terms of volume metrics. The company also holds the second-highest coal reserves in the U.S. with reserves totaling up to 5.5 billion tons. The company has a diversified mine portfolio. The cash margins for ACI are well balanced among the core operating regions. The charts below show the volume, revenues and cash margins break up for ACI.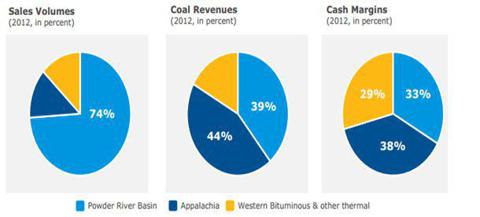 Source: Investors Presentation
The U.S. coal industry was hit hard last year, 2012, by low natural gas prices. However, natural gas prices have bottomed out and the reverse coal to gas switch by electricity generators has started, as coal became cost competitive again.
Domestic thermal coal markets are recovering as improving utility activity indicates a pricing recovery and also a better contracting year, 2013. Demand for coal by the power sector rose 3% and overall U.S. coal consumption was up 10% in the first quarter of 2013. Also, given the tough coal market conditions in the U.S., ACI has increased its operations profile in China to tap growing demand of met and thermal coal. China is the leading coal consuming country that offers significant market opportunities for ACI and other coal companies of the world. The increasing footprint of ACI in China will also help the company address the nearby markets like Malaysia, South Korea and India. ACI has hired Zhang Shijie to lead the efforts in the Beijing office. ACI Executive Vice President and COO, Paul A. Lang stated, "We're pleased Zhang Shijie has joined Arch to foster relationships and identify opportunities in China". He added, "He brings a wealth of marketing experience in coal and other commodities and has an excellent business network that will enhance our growing international presence."
Financials
Due to recent ongoing weak points in the coal markets, ACI posted negative results for 1Q 2013, as compared with the corresponding period last year. Revenues for the recent first quarter were $825 million, missing the analyst consensus by 10%, down 20% year-on-year basis. Revenues for the quarter were adversely affected by lower average selling price. Reported loss per share for the recent first quarter was $0.34, as compared with $0.04 in 1Q 2012.
The following table shows the financial metrics of ACI:
| | | |
| --- | --- | --- |
| | 1Q 2012 | 1Q 2013 |
| Gross Margin | 18% | 14% |
| Operating Margin | 5% | -3% |
| EBITDA Margin | 17% | 10% |
| EPS | $(0.04) | $(0.34) |
Source: Quarterly Report
ACI does not seem to have cash flow problems in the near future as the company does not have any long-term debt repayment due until 2016. The following chart shows the debt maturity profile of ACI.



Source: Investors Presentation
Outlook
ACI reiterated its sales volume guidance of 133-144 million tons for the full year 2013. Due to weak coal market conditions, the company lowered its CAPEX range to $300 - $330 million in contrast to prior range of $330 - $360 million. Analysts are projecting ACI to have a decent next five years' growth rate of 5% per annum. Following are the EPS consensus for ACI from 2013 through 2016.
| | | | | |
| --- | --- | --- | --- | --- |
| | 2013 | 2014 | 2015 | 2016 |
| EPS est. | $(1.29) | $(0.68) | $0.06 | $1.40 |
Source: Nasdaq.com
Conclusion
| | | | | |
| --- | --- | --- | --- | --- |
| | ACI | Peabody Energy Corp. (NYSE:BTU) | Walter Energy, Inc. (NYSE:WLT) | Alpha Natural Resources, Inc. (ANR) |
| Price to Book | 0.30x | 0.90x | 0.80x | 0.25x |
| Price to Sales | 0.20x | 0.55x | 0.35x | 0.20x |
| 5 years growth est. | 5% | - | 8% | 5% |
Source: Yahoo finance
ACI's stock price might stay depressed due to ongoing injurious coal market conditions and a depressed earnings forecast in the near future. As the company will start generating positive earnings in couple of years' time, this will create financial flexibility and is likely to result in multiple (price and other valuation) expansion for the company.
Analysts are projecting coal companies to expand their earnings at a decent rate over the upcoming 5 years as it is evident from the table above. Therefore, I believe ACI is a long-term buy to play a coal rebound.
Disclosure: I have no positions in any stocks mentioned, and no plans to initiate any positions within the next 72 hours. I wrote this article myself, and it expresses my own opinions. I am not receiving compensation for it (other than from Seeking Alpha). I have no business relationship with any company whose stock is mentioned in this article.