For the first installment in our series of undercovered investment ideas for bulls and bears alike we take a closer look at a domestic utility that is also an alternative energy play -- MGE Energy, Inc. (NASDAQ:MGEE).
MGEE offers investors an intriguing trifecta:
Near best-in-class fundamentals (as well as a hearty 4%+ dividend)
The allure of a small-cap within the niche of wind energy and smart-grid technology.
A technically strong stock chart.
This combination of stability, growth and momentum is precisely what we look for in a difficult investment environment, whether you are excited about the future prospects for equities or not.
First, some background. MGE Energy, or Madison Gas & Electric, Inc., has been distributing power in Wisconsin since the mid-1880's. The company has an impressive record of increasing their dividend -- 33 consecutive years worth. They maintain a portfolio of gas, coal, and fuel oil-powered electric utilities, wind farms (both PPA and ownership), portable diesel generators, and transmission services. They distribute power to residential, commercial and industrial customers. They also own a few token investments in solar and biomass, and more recently announced a plan to complete a network for the recharging of electrical automobiles sometime next year.
Regionally, they are positioned very well for future success. Madison has been ranked the best city in the U.S. for job growth in 2009 by Forbes, and one of the top places to live during a recession by Business Week. Within their own state they are situated in the fastest growing population center, with the highest per capita state GDP. Self-advertised as the having the highest green pricing plan participation rate of any investor-owned utility, it is clear that the company sees itself as a provider of an expanding portfolio of modern, environmentally-friendly energy solutions for one of the fastest growing communities of the new economy.
MGEE appears to back up these advertisements with results. While many utility companies have indicated their intention to "go green," few can match MGEE's record of alternative energy adoption. Over the past decade they have increased wind energy assets by 1000%, and project approximately 12% of their power will be generated from alternative sources this year. As a small company in a fast-growing region they appear to have the flexibility to aggressively pursue expansion through these alternatives, as opposed to larger utilities who may have capacity, consumption or financial restraints.
Utilities are increasingly becoming rewarded for their focus on renewable energy sources such as wind power. Not only is the government pushing for conversion to green energy, but consumers are increasingly paying up for it. In Houston, for example, Reliant Energy (RRI) customers are paying nearly 35-40% more for wind power (their default plan) compared to the utility giant's "Power Tracker" offering which attempts to give customers a rate comparable to the market price of natural gas. From an advertising standpoint alone, the move to green has been a boon to utility companies, but MGEE has been active in acquiring further assets, such as the Iowa wind farms they recently purchased.
The company has also announced their plan to build smart-grid electrical automobile recharging stations in Wisconsin. While they expect the underlying vehicle-to-grid network to be installed by next year, this appears to be an early and smart expansion of their services in anticipation of a paradigm shift in the automobile market, of which they are regionally sensitive. Improving access is always critical for new technologies to grow, and in terms of what this could mean for enterprising utility companies, extending their reach to consumers through their vehicles opens a potentially explosive market for them, as it allows for the monetization of any adoption of renewable energy technology by the automotive industry.
What makes much of this pertinent is MGEE's strong financial position. In order to capitalize on future opportunities and expansion, the company must manage its debt and generate cash. While the company holds a relatively low amount of cash, its reserves have tripled over the course of the past year. And given their preference for self-financing through equity, MGEE sports one of the best debt-to-equity profiles in its group.
Operations are strong and the benefits have been amply passed along to investors, as represented by the 33 consecutive years of dividend growth. Earnings have increased for four consecutive years, including this most recent economic collapse. While sales and revenues are down year-over-year, income is still on the rise, thanks largely to widening margins. Possibly a testament to their regional economic strength, they have managed to increase their prices, and have another increase slated for 2010.
From a valuation standpoint the price-to-earnings ratio is reasonable (13-14), and the dividend is excellent (4%+). Technically, for 2009, MGEE has beaten the S&P 500 by a slight margin. However, the stock didn't suffer the same dramatic declines as the broad market during its most recent collapse.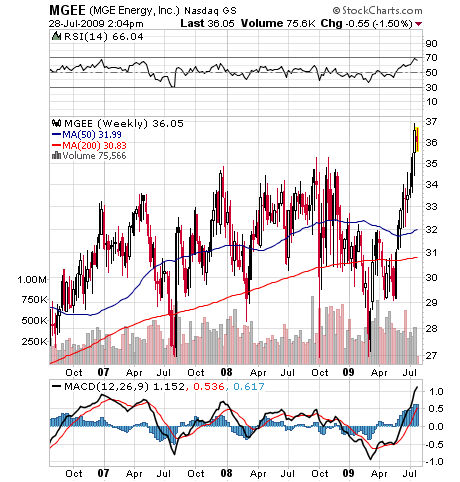 MGEE has been consolidating in a range (between 28 and 37) for the past five years. Longstanding consolidations such as these often beget longer-term trends when they are finally broken, and after a surge of recent buy-side interest, MGEE seems intent on testing the top of its range. Given how far the market has come over the past four months, a pullback or further consolidation wouldn't be all that surprising, however the company does appear to have a steady stream of positive news flow and the stock appears to be coiling for a range break-out.
With a juicy dividend yield, investors are getting paid to wait for it. An accumulative approach to entry seems best, given the environment, especially if investors get prices between 33-36 in the near-term.
In closing, MGEE appears to offer investors the safety of a dividend-yielding utility with the upside promise of any future paradigm shifts in alternative energy adoption -- both in homes and in vehicles. While the price trajectory of any investment may vary given the times, the growth trend of this small-cap gem seems to be specified, and someday soon it may outgrow its smallish roots.
Disclaimer: The author's clients have positions in MGEE.