In this article I discuss the investment merits of Norfolk Southern Corp. (NYSE:NSC).
1: About Norfolk Southern
Norfolk Southern operates a railroad and is engaged in the transport of various goods. It currently has a market capitalization of $23 billion. It is one of two railroads that operates on over 20,000 miles of rail primarily east of Chicago in the United States and Canada (the other is CSX (NYSE:CSX). The following is a map of the company's routes, courtesy of its annual report.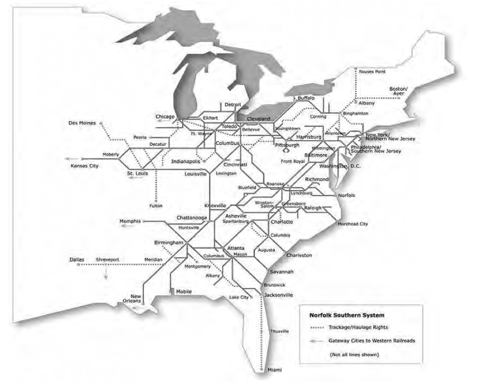 The company divides its operations into three sectors: coal, intermodal, and "merchandise," the latter of which is further broken into five categories: chemicals, agriculture / consumer goods / government goods, metals / construction, automotive, and paper / clay / forest products. These five are grouped together because coal and intermodal comprise such a large percentage of the company's overall sales. The following chart of the company's 2013 first quarter data illustrates this: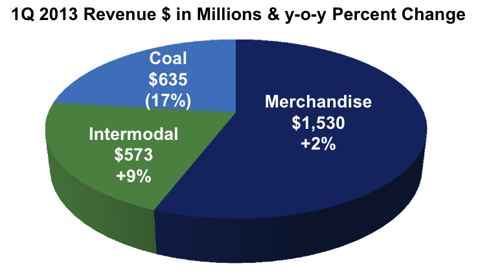 In the following table I break down the company's revenues by segment in 2012 and 2011. I include 2003 so that the reader can be familiar with the longer term trends in the company's revenue distribution.
Segment
2012
2011
2003
Coal
26%
31%
23%
Intermodal
20%
19%
19%
Chemicals
13%
12%
12%
Agriculture / Consumer

/ Gov't

13%
13%
11%
Metals

/ Construction

12%
11%
11%
Automotive
8%
7%
14%
Paper / Clay

/ Forest

7%
7%
10%
*2012 data adds up to 99% due to rounding errors.
Potential investors in shares of Norfolk Southern should be aware of the company's high exposure to coal: while coal revenues were down substantially year over year over a longer time frame, coal has become more important to the company's total revenue over the past decade.
The company also has significant exposure to the intermodal freight business, which has been growing at a fast pace for the railroad industry given the fact that companies are incentivized to use railroads as opposed to trucks to ship bulk goods. This is the case because:
Railroads have lower costs than trucks because they do not have to pay tolls and because they use less fuel.
Each truck requires a driver, whereas trains that offer intermodal services allow the cargo of a single truck to be shipped as if it were a car of a train, and it only takes one engineer (along with a small backup crew) to drive a train. Thus labor costs for railroad shipments are much lower than they are for truck shipments.
In addition to coal and intermodal the last two categories--automotive, and paper / clay / forest products--are of interest. The company's revenues from these sectors have largely declined as a percentage of the company's total revenues, leaving it further exposed to the first five categories. In particular, the proportion of the company's revenues that come from transporting commodities has increased, which makes sense given that commodity prices are significantly higher today than they were 10 years ago.
2: Norfolk Southern operates as a part of a de facto oligopoly
The railroad industry is an oligopoly and there are high barriers to entry. Other than Norfolk Southern, there are five publicly traded companies that operate railroads in North America: Union Pacific, CSX, Canadian National (NYSE:CNI), Kansas City Southern (NYSE:KSU), and Canadian Pacific (NYSE:CP). There are two other companies: Burlington Northern Santa Fe, which is owned by Berkshire Hathaway (BRK.A, BRK.B), and Ferrocarril Mexicano that is privately owned. The following map illustrates how these companies' rail networks are laid out throughout North America: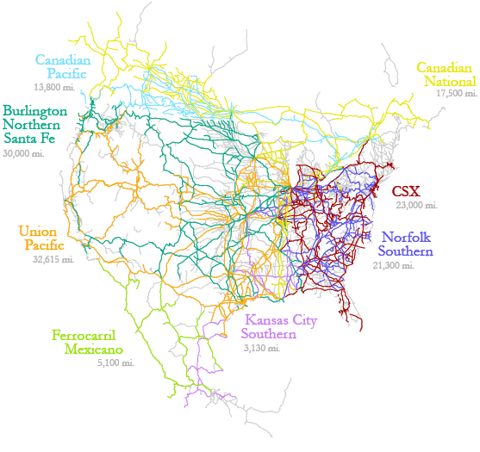 There are essentially four regions in which these companies operate more or less as de facto duopolies. Chicago is a central point for Norfolk Southern, CSX, Canadian National, Burlington Northern, Union Pacific, and Canadian Pacific. If one considers Chicago to be the center point of North America from the perspective of the railroad industry, one can observe the following duopolies:
The West (west of Chicago) is controlled by Union Pacific and Burlington Northern.
The East is controlled by CSX and Norfolk Southern.
The North (Canada) is controlled by Canadian National and Canadian Pacific, although Burlington Northern and CSX have some Canadian exposure in the northwest and northeast, respectively.
The South (Mexico) is controlled by Kansas City Southern and Ferrocarril Mexicano.
Thus, Norfolk Southern operates essentially as a duopoly with CSX in the Eastern United States.
3: Norfolk Southern has underperformed its peers
As an oligopoly, the railroad industry as a whole is appealing to investors: over the past decade each of the major publicly traded railroad companies have outperformed the S&P 500 (red).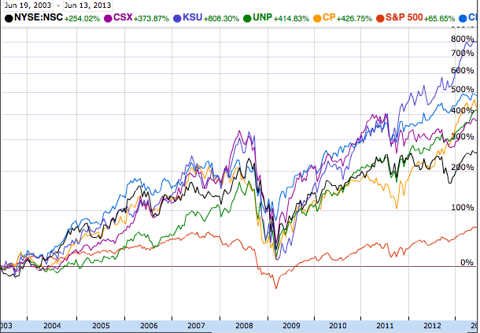 Norfolk Southern (black), however, has underperformed all of its peers. This underperformance is a result of the company's more recent underperformance, as its shares performed in line with its peers earlier in this 10-year period. The company's high exposure to the languishing coal sector, which I will address presently, is largely responsible. Investors must decide for themselves whether or not this underperformance has presented a buying opportunity, or if one of the other railroad companies will make for a better investment.
4: Norfolk Southern's Financial Results
Norfolk Southern has had solid financial success over the past decade. The company has been profitable in each of the last 10 years and it has meaningfully grown its revenues and profits.
6% annual revenue growth rate
17.5% net income growth rate. I should note that the company's net income more than doubled over the first year during this time period, and if it is not taken into consideration, the company's net income grew at just 8.3% per year.
The following chart illustrates the company's revenue and income figures over the past 10 years.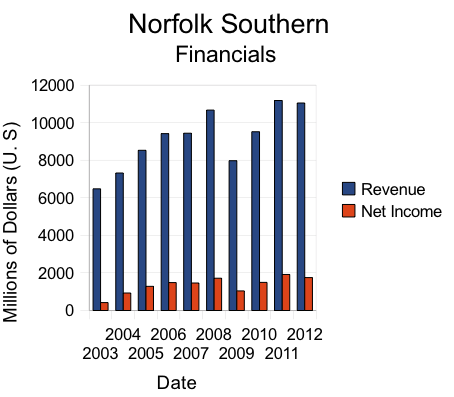 These results have been reflected in the company's cash flow per share, which has grown at a CAGR of 14.6%. Again there was sizable growth during the first year of this decade, and if 2003 results are not considered, the CAGR drops to 10%.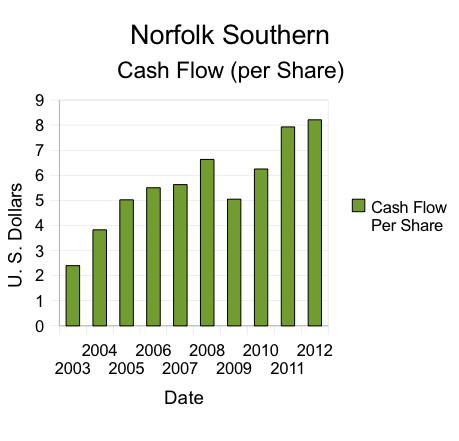 These results are not as strong as some of the company's peers; however, they have been very consistent over the long term in a rough economic environment (especially in the coal market as of late).
5: Norfolk Southern's History of returning capital to shareholders
Norfolk Southern has done an excellent job returning capital to shareholders. The company has repurchased around $4 billion worth of its own shares since the 2008 financial crisis, and in doing so it reduced the number of shares outstanding from over 370 million to just under 320 million as of the end of the first quarter. Furthermore, its shares currently yield more than any of its peers with a dividend of 2.74%. The company has regularly raised its dividend over the past decade, which has gone from $0.30 / share in 2003 to $1.94 in 2012, which is a CAGR of 23%.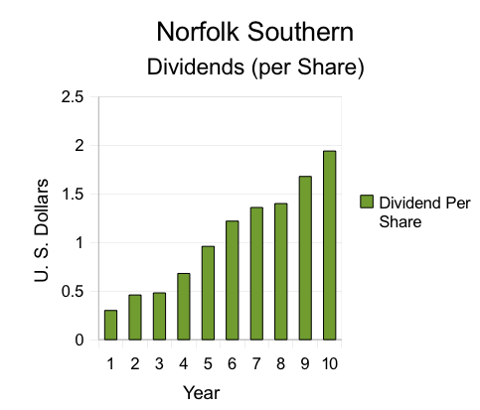 This is a much faster rate of increase than the company's revenue growth, earnings growth, or cash flow per share growth, and as a result, the company's payout ratio has risen over this time frame.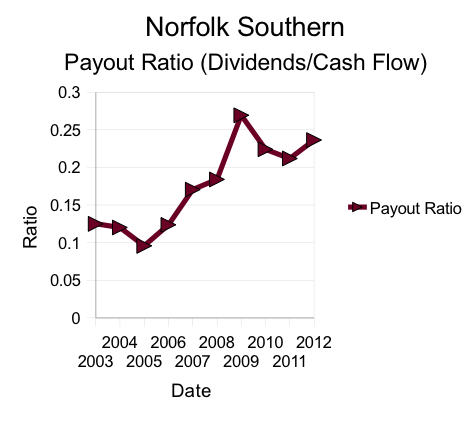 Nevertheless, the company's payout ratio is still in a range where management can continue to raise the company's dividend payout at a fast pace while maintaining a downside cushion should any of the risks that the company faces pan out.
Risks
6: Economic Sensitivity
As consistent as railroad companies have been over the long term, they are vulnerable to macroeconomic headwinds. The 2008 global financial crisis is an excellent example of this. The company saw its revenue slump 25% from 2008 to 2009 (from $10.7 billion to $8 billion). It saw profit declines during the same time period of nearly 40% (from $1.7 billion to $1 billion).
These are significant declines that investors must be wary of. While the 2008-9 financial crisis impacted the entire railroad industry, Norfolk Southern's declines in revenue and profit were especially sharp. Consider that Canadian National saw revenue and profit declines of just 19% and 20%, respectively.
Still, Norfolk Southern remained highly profitable, and one takeaway from this observation is that investors might want to wait for the next economic downturn to purchase Norfolk Southern shares: while the aforementioned numbers portend a precipitous drop in the company's share price during a recession, it has proven that it is robust enough to withstand a severe economic downturn relatively unscathed.
7: Weather
Norfolk Southern has not suffered as a result of inclement weather impacting its operations as of late, but this is a significant risk faced by the railroad industry in general. Canadian National suffered a recent earnings slump as a result of inclement weather adversely impacting its Canadian operations (Q1 2013 net income was down over 28% from Q1 2012). Given the location of Canadian National's operations, this is a higher risk for that company than for Norfolk Southern. However, events such as Hurricane Katrina, Hurricane Sandy, or the blizzard of 1996, all adversely impacted regions in which Norfolk Southern operates, and investors should be aware that similar events in the future will slow the company's operations.
8: Coal
Over the past decade coal has become a core segment of Norfolk Southern's operations, having reached 31% of the company's total sales in 2011. When the coal market went south in 2012, so did Norfolk Southern's stock price, revenues, and profits. But before writing off Norfolk Southern as a "play on coal", I should note that the company did not take nearly as big a hit as the actual producers of coal such as Peabody Energy and Arch Coal. In fact, Norfolk Southern made money on its coal operations while these two companies lost money. What concerns me more about the company's coal exposure is the fact that it made up a whopping 26% of the company's 2012 revenues, and investors who share this concern may wish to invest in one of the company's more diversified peers. Nevertheless, these concerns have been reflected in Norfolk Southern's share price, and investors are rewarded for the risks that I address in this section.
What will happen to the coal market? While it is difficult to say, I think it is unlikely that prices will decline much more than they have. Patriot Coal has already gone out of business, and the major U.S. coal producers are all losing money with the exception of some of the limited partnerships (Alliance Resource Partners LP, Natural Resource Partners LP, etc.). If this trend continues, then coal production in the United States will dry up and the nation's coal producers will go bankrupt. Unless you believe that this will happen, you believe that there is a high probability that the coal market is at or near a bottom, and when the market turns upwards, Norfolk Southern will benefit immensely.
Valuation
Given the recent weakness in Norfolk Southern's coal division, it is not surprising that its shares trade at a discount to other railroad companies and to the S&P 500. Currently it trades with a trailing P/E of roughly 13.1 times earnings. Analysts estimate the company's earnings to rise to roughly $5.75 over the next 12 months giving the shares a forward P/E of roughly 12.7.
If we use Benjamin Graham's method of valuing equities: Value = EPS * (8.5 + 2g) where g is the company's growth rate, and project the company's past earnings growth rate of 17.5% we get:
Value = $5.55 * (8.5 + (2 * 17.5)) = $241
I should note that Graham revised the formula to account for interest rates:
V = (EPS * (8.5 + 2g)) * (4.4 / Y)
where 4.4 was the average rate on investment grade corporate bonds while Y is the current rate. The rationale behind this is that if interest rates are lower, then investors should be contented with a lower rate of return on other assets. Given the current low interest rate environment, the value of Norfolk Southern using this revised formula would be significantly higher.
Considering the stock currently trades at around $73/share, by this calculation, Norfolk Southern is incredibly undervalued. Of course, it seems a little presumptive to assume that the company will continue to grow its income at a rate of 17.5% per year, especially given the fact that the income spike from 2003-4 skews the average 10-year growth rate, so let us recalculate the valuation using the company's growth rate from 2004 to 2012, which is 8.3%.
V = $5.55 * (8.5 + 16.6)
So the valuation would be around $140, which is still significantly higher than the current stock price. Even if we are conservative and factor in the possibility that the aforementioned risks dampen profit growth, so that it is 6% (or roughly in line with historical sales growth), the valuation should be around $114.
Thus, unless there are serious problems ahead that both compound the aforementioned risk factors and overshadow the secular growth and consistency that Norfolk Southern has been experiencing, even through a tough economic environment, the company's stock is significantly undervalued.
Conclusion
Investors should take away the following points from this article:
Norfolk Southern is a company that operates railroads in the United States east of Chicago.
It ships all sorts of goods, but it has high exposure to coal, and to intermodal freight shipments. The former has been reason for concern as of late, although longer term the company has benefited from its exposure to the coal market.
The railroad industry operates as an oligopoly: Norfolk Southern and CSX operate as a duopoly in the eastern United States.
The company has consistently grown its sales, profits, and cash flow.
The company has consistently returned capital to shareholders, and it is in a position to increase this rate of return even if it suffers an earnings recession.
The company faces several risks, including an economic downturn (which would hit Norfolk Southern harder than other railroad companies), inclement weather, and its high exposure to the currently weak coal market.
The company's heavy exposure to the coal market makes it riskier than other railroad investments, although this risk is baked into the share price.
At $73

/ share the company is undervalued, even if we take a conservative viewpoint on future revenue and profit growth.
Disclosure: I have no positions in any stocks mentioned, and no plans to initiate any positions within the next 72 hours. I wrote this article myself, and it expresses my own opinions. I am not receiving compensation for it (other than from Seeking Alpha). I have no business relationship with any company whose stock is mentioned in this article.