Unemployment is not recovering at anywhere near the rate it traditionally has done in the U.S. after a recession. According to research by the Center on Budget and Policy Priorities the number of jobs lost in the last recession was greater than previous ones and the rate of job creation afterwards has been slower, as can be seen from this graph.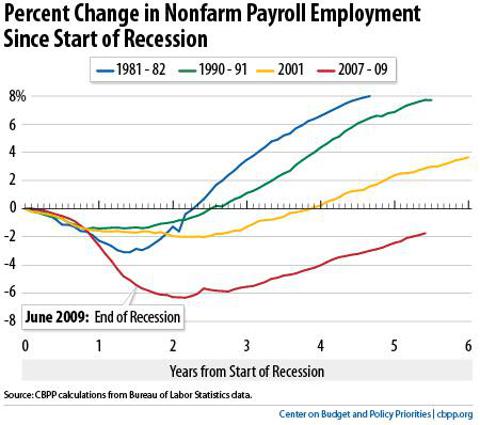 As a result of low jobs growth, college graduates are not finding positions as easily and this is deterring new students from enrolling, particularly those who have to borrow heavily to get a degree that they fear may not work for them.
If that wasn't bad enough, the Senate and some states are reviewing how much colleges are charging for their programs and other practices.
As a result, some colleges are struggling financially.
However, if the share price is any indicator, the worst is over for one of the larger for-profit educators, ITT Educational Services (NYSE:ESI).
ESI is the holding company for ITT Technical Institutes and Daniel Webster College. ITT Technical Institutes is a private college system focused primarily on technology-orientated programs of study.
ESI is one of the largest providers of post-secondary degree programs in the U.S., having around 61,000 students with 147 campuses and two learning sites in 39 states.
The ITT Tech was founded in 1946 as Educational Services, Inc. From 1965 until its IPO in 1994, ITT Tech was a wholly owned subsidiary of ITT Corporation (NYSE:ITT).
In the past five years, ITT Educational Services has experienced variable performance in both revenues and net income.
The company reports that new student enrollment in the first quarter of 2013 fell by 3.6% to 17,412 and total student enrollment decreased 14.2% to 61,039.
On top of that, the company is a facing a lawsuit by long-term investors. It is accused of making misleading statements about its financial results, helping the shares trade at artificially inflated prices between April 22, 2010, and February 25, 2013, when they were as high as $112.69.
On the other hand, ESI is better positioned than many educational institutions to recover from these setbacks.
ESI is a school of choice for adult learners looking to improve themselves, thus the company avoids the ruthless competition for high school prospects that occurs between state schools and private non-profits. Mature students also have a better financial wherewithal to pay for fees or support student loans.
ESI has also avoided negative impacts from the greater accreditation standards imposed by agencies, which have seen some education providers lose their status.
This hasn't prevented it from suffering a price collapse in the past couple of years, like many other companies in the education sector.
ESI's share price was particularly badly hit after receiving a request from the SEC for documents relating to student loan terms in 2009.
The 3.6% decline in new student enrollment for the first quarter is well within the company's anticipated full-year range of a 5% decrease to a 5% increase over 2012 and full-year earnings expectations have been lifted to the top end of the company's $3.50 - $4 per share guidance.
There are some reasons to believe that ESI could lift its performance and surprise on the upside when the price has a lot of negatives built into it.
Cost-cutting measures it took in the latter half of 2012, most of which were not felt in last year's operating results, should result in a $50m savings target for the full year 2013 being achieved and quite likely exceeded.
It recently won approval to start a charter school for 11th and 12th graders inside one of its ITT Technical Institutes in Indianapolis. Charter schools are gaining increased support and could be the next big thing in education circles.
To increase revenues, it is planning new degree programs in high-demand areas such as industrial engineering technology, software development and medical assistance.
Its $1.33 earnings per share for the first quarter of 2013 beat consensus estimates of $1.21. The company's revenue also beat by $10m the anticipated $277.74m.
Longer term, the outlook is even brighter.
While enrollment among traditional-aged students is expected to increase by 9% between 2009 and 2020, enrollment among mature students (ESI's target market) is forecast to increase significantly. A 2011 study by the National Center for Education Statistics has forecast students 25-34 could lift by 21% by 2020 and students 35 and older could increase by 16%.
By 2020 there could be an additional 1.5 million mature students in colleges. This increase in mature students places ESI in a growth sector, with a strong likelihood of increases in profits simply by continuing to do what it does.
The crackdown on for-profit schools seems to be coming to a close. In one piece of legislative good news, there is a proposed change to the interest rate on student loans. House Republicans in May advanced a proposal that would link student loan interest rates to market conditions. Without change to the program, interest rates for new subsidized student loans is set to double to 6.8% on July 1st.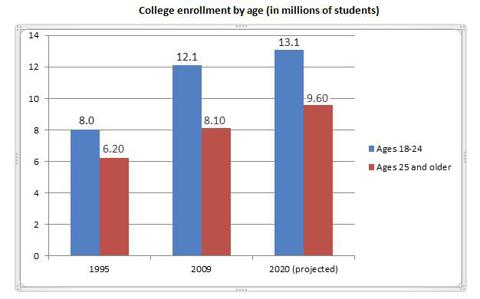 ESI shares bottomed in April at $11.69 and more recently have been on a tear and have more than doubled, however they are still well short of their level of a year ago.
Consensus earnings estimates show a decline in likely profit in this year to December and again in 2014, however ESI's share price has more than compensated. On next year's forecast earnings per share of $2.50, ESI shares are less than 10 times next year's expected earnings per share. This compares favorably with its 10-year average of 16.5 times.
Debt is low, with no short-term debt and interest-bearing liabilities amounting to just 21% of total assets. Net operating cash flows, while having shrunk in 2012, remained positive at $105m.
Return on equity is strong, having averaged 30% over the past decade and gross operating profit margins are excellent at 30% - 40%, although this fell to 20% in 2012.
There is no question that the education sector in the U.S. is under pressure but ESI is better placed than many to survive and turn things around once the U.S. job market improves and mature students go back to school.
Even if the company in the future grows EPS at half its 23% historical rate over the past decade, then returns to shareholders will be substantial.
Disclosure: I have no positions in any stocks mentioned, and no plans to initiate any positions within the next 72 hours. I wrote this article myself, and it expresses my own opinions. I am not receiving compensation for it (other than from Seeking Alpha). I have no business relationship with any company whose stock is mentioned in this article.