There are few bright spots in the commodity sector from yesterday, and we had to look at a bad situation to find a good investing opportunity for you this morning. It is not one of our new ideas, but most ideas are simply recycled and reused or built upon. The trade has made us and readers money numerous times in the past, and is one where we have stated that we'll use until it does not work.
This is no longer an investor's market as the commodity sector is getting dicey. We have quickly seen the market morph into a stock picker's and trader's market, and that is fine with us. Makes it harder to make money, but it does set the stage for the next investor's market, which we always look forward to -- when all boats rise with the rising tide, all are making money.
Chart of the Day
The $1,400/ounce level did not hold on the way down, and now we are forced to see if it provides resistance on the way back up.
Click to enlarge images.
Source: CNBC.com.
Commodity prices this morning are as follows:
Gold: $1283.10/ounce, up by $6.00/ounce
Silver: $19.67/ounce, up by $0.177/ounce
Oil: $95.93/barrel, up by $0.75/barrel
RBOB Gas: $2.7581/gallon, up by $0.0205/gallon
Natural Gas: $3.748/MMbtu, up by $0.009/MMbtu
Copper: $3.0565/pound, up by $0.032/pound
Platinum: $1351.10/ounce, up by $22.00/ounce
The Good
Readers know we have played the Rosetta Resources (NASDAQ:ROSE) bounce from the low $40s to the upper $40s bounce numerous times, and made good money doing so. We wrote recently that the shares appeared to be heading lower again and would most likely present an opportunity to set up positions in this area. We stated that it should be done not all at once, but in quarters or halves. Now is the time to finish building that position, as well as positioning for another rise as oil is back up to $95/barrel and shares continue to head lower. Yes, there are some issues facing the shares, but are these issues that would warrant a 10%-20% correction in the shares? We think not. With the market opening in the green this morning, it appears as if the low yesterday of $41.37/share could have been the bottom on this trip lower.
The Bad
We wrote about Freeport-McMoRan (NYSE:FCX) yesterday and stated that it was beginning to look bad for the company. It certainly is not a good situation for investors, and the newly acquired exposure to oil and natural gas may not be enough diversification to diversify away the exposure to gold, silver and copper -- three metals that have quickly fallen out of favor with investors. The good news here -- and the only thing other than the oil exposure keeping it out of the "truly ugly" category -- is that copper did in fact hold $3/lb yesterday. Support was found at $3/lb almost exactly and the price continues to rebound this morning. This is most likely dead money after a short bounce higher, but not the worst thing an investor could be involved in right now.
The Truly Ugly
That designation is reserved for the coal names. The hardest thing we may have done at this early hour in the morning is pick the three coal names we wanted to include here. Trust us, there was no shortage of poor performers.
The first name we wanted to point out this morning is Peabody Energy (NYSE:BTU). Yes, it has become that bad in the industry that the blue chip in the sector is fighting for the title of worst performer over the past month or so. Go figure, but in our view that usually means one of two things. First, the industry is very near a low. Or, second, the last leg downward has just begun and investors are looking at further downward pressure and possibly some names disappearing for good. We initially stated in our original analysis of coal that we thought two names would go under, and to this point only one of the publicly traded names has gone under. Although everything else has materialized, that one point we were wrong on might still materialize. We hope not, but it does appear likely if this drags out for another year or two.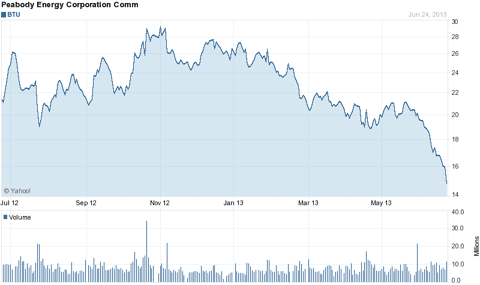 Source: Yahoo Finance.
Peabody now trades at roughly half of its 52-week high, which is never a good thing. Worse still is that the shares have only recently lost 25% of their value. The bleeding has only gotten worse, and right now the patient is bleeding profusely. There is blood in the streets right now, but readers should be aware that it can surely get worse before it gets better.
Although we are not worried about Peabody going under, Walter Energy (NYSE:WLT) and Cliffs Natural Resources (NYSE:CLF) are displaying the traits that lead to eventual corporate death by debt. Both names have lost investor faith, and even more troubling for Walter shareholders is that the most recent downturn in their shares was in fact caused by a botched refinancing. We do want to note that it was not an inability to refinance because the market has shut them out, just that rates moved against them and have forced the company to not refinance at a lower rate. The shares were down over 16% yesterday and finished very near the lows of the day, which doubled as a new 52-week low. When you see multiple 80%-plus drops in a five-year span, that is the epitome of ugly in the stock market.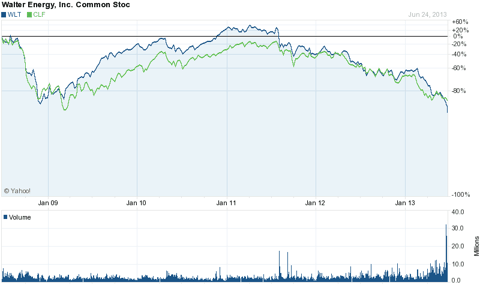 Source: Yahoo Finance.
The situation at Cliffs is not much better as the shares resumed their "Cliff Diving" (as we have dubbed it) and, like Walter, hit a new 52-week low yesterday. Shares did recover a bit more, but still finished down over 7.6% for the session. It is not a good time to be an investor in any of these names, and it is obvious that there was a fair amount of fast money situated here trying to play for a quick buck.
The one thing that saved us from making the same mistake is that we did not understand the significant selling that was occurring, and if one cannot understand it, one must sit on the sideline. That is where we have been and where we will remain. It is too dangerous for us to even trade here for fear of getting trapped in one of the flash crashes, and we are not willing to sit glued to our screen to essentially day trade the sector. And readers should not be willing to do that either. There is a difference between investing and gambling, and that would fall into the gambling category.
Disclosure: I have no positions in any stocks mentioned, but may initiate a long position in ROSE over the next 72 hours. I wrote this article myself, and it expresses my own opinions. I am not receiving compensation for it (other than from Seeking Alpha). I have no business relationship with any company whose stock is mentioned in this article.