I have not traded Apple (NASDAQ:AAPL) much since it broke $600 (one short on the bounce to $590). I have missed a lot of great opportunities because of this. It has been a great stock to short, and I failed to miss what now appears to be obvious. While technically I thought the chart was broken, like many others I was influenced by its low P/E and couldn't pull the trigger on further shorts. I certainly was not bullish, but I let a low P/E prevent me from shorting. That was a massive mistake. In previous articles I have warned others that a low P/E is not a reason to be long, but not until recently did I grasp that it could in fact be a reason to be short.
I am currently taking some time off from trading. I recently wrote my level 3 CFA exam, my level 3 CMT exam, and completed a Masters in Investment Analysis in which I graduated with distinction. This has all been extremely valuable information, and has provided me with an excellent theoretical foundation.
While I have learned and read much, this is just the beginning for me. Many of the best traders/investors I know have no such formal education and trade contrary to classic investment approaches. Many have been incredibly successful.
With my formal education out of the way, I now have time to read books I've been wanting to read for some time. Books written by successful traders and books written about successful traders. The book currently in front of me is "Trade Like a Stock Market Wizard" by Mark Minervini (a US investing champion). I am somewhat disappointed that it has taken me so long to get to books such as his. Minervini outlines many of the less known misconceptions about investing and truly offers a usable template to trade with. Only half way through the book at the moment, I felt compelled to apply some of his thoughts.
The following article analyzes Apple in light of many of Minervini's guidelines. I have been bearish for some time now on Apple, and while I don't have a position on it at the moment, I certainly am not bullish.
P/E
Minervini discusses the P/E ratio thoroughly and its frequent misuse. The main point is that a low or declining P/E is seldom a bullish indicator, in fact it is often quite the opposite. At best a P/E can be a sentiment indicator, or a gauge of future expectations. A declining P/E is actually a reason to be bearish, rather than bullish.
Minervini cites AIG as a good example. In AIG you can see that its P/E reached a 10-year low in 2007 prior to a 99% decline.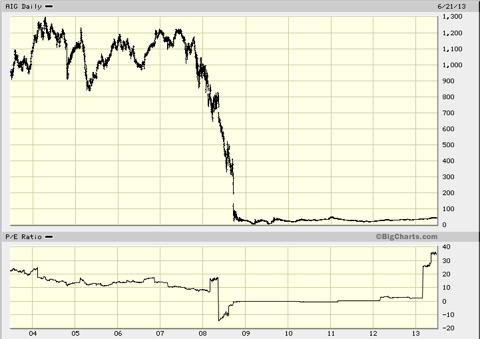 A couple quotes to provide further perspective:
"If tomorrow the price of a stock you own fell 25 percent from your purchase price, would you feel better knowing that the P/E had fallen below its industry average? Of course not. You should be asking yourself: Do the sellers know something I don't?" - p.47

"One of the worst trades I ever made was Bethlehem Steel trading at 2x earnings. I said "How low can it go?" It went to zero" - (quoting Jim Cramer), p.55
Well as Apple continues to sell off, its P/E has obviously gotten lower, and lower, and lower…. It was cheap at 12, 10, 8,…. I am not suggesting that it will follow AIG; however, I am reinforcing that contrary to popular belief, it is not a reason to be bullish.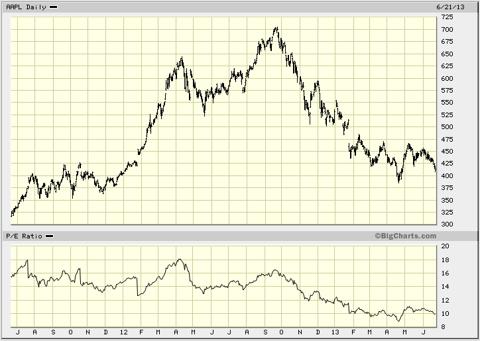 "Although it may come as a surprise to you, historical analyses of superperformance stocks suggest that by themselves P/E ratios rank among the most useless statistics on Wall Street" - p.41
Margins
"A company can be going great with high-double-digit percentage growth and then "deteriorate" to mid-double-digit growth. Consider what happened with Dell Computer, which from 1995 to 1997 had grown its EPS at 80% annually and then declined to around 65% in 1998 and 28% in 1999. Although this was still decent growth, it was a material change and marked the end of the tremendous move in Dell's stock price." - p.138
A look at the chart below shows that the 28% NPM Dell (DELL) had in 1999 didn't exactly correspond with stock price appreciation after that.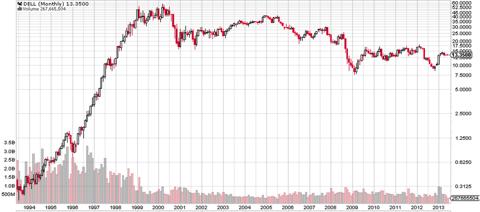 Many Apple bulls still cling to the hope that 20%+ net profit margins will turn the stock back up. Despite the fact Apple's NPM is still relatively high compared to many competitors, the recent decline should be a big red flag for any Apple bulls. Further, one must consider what will happen to Apple's already contracting margins if the economy takes a turn to the worse. Apple products are priced at a premium for the most part. Will people line up and pay a premium for the latest Apple product as more and more serious competitors take share in their core markets? Like Blackberry (BBRY), Dell, and Microsoft (NASDAQ:MSFT) have all learned, it is tough to remain a category leader for an extended period of time. In any case, the recent decline in margins, regardless of how high they may still be, is certainly not bullish.


Technicals
Minervini uses technicals mainly to determine trend and to ensure he is trading alongside the trend. He established an 8 criteria template in which all facets must be met in order to consider a long. I'll restate that, ALL criteria must be met in order to consider a long. It's nothing complicated; very basic stuff for the most part. Apple currently does not meet one component of the template.
"I will never go long a stock that is trading below its declining 200-day moving average. No matter how attractive the earnings per share, revenue growth, cash flow, or return on equity may be, I won't consider buying a stock that is in a long-term downtrend. Why? I want to see some interest in the stock, preferably from big institutional investors." - p/64
Guidance
The below chart illustrates the extent to which Apple beat guidance from Q2 2010 through Q1 2013; clearly exceeding expectations by a wide margin from 2010 through 2012. However beginning in 2012 that began to change and not surprisingly the stock's direction also took a significant change.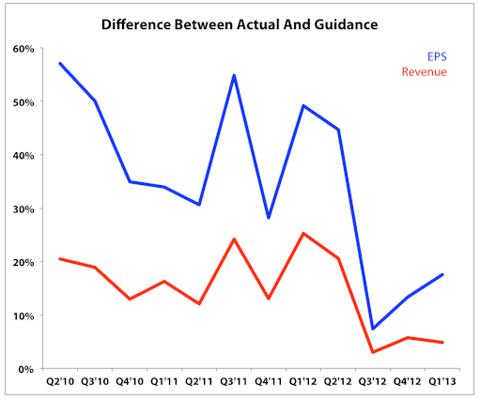 While both revenue and EPS are still beating expectations, they are far from the beats of past quarters: Q3 2012 marked a significant change to the previous trend
"Because earnings surprises have a lingering effect, we want to focus on companies that beat estimates and avoid firms that have negative earnings surprises" - p.122
Apple is basically in contrast to what Minervini looks for in long candidates. One more thought on this:
"This is exactly what I'm looking for: better than expected earnings along with positive earnings guidance. A company should not only be doing well but be doing better than analysts anticipate." - p.150
Conclusion
I imagine many will argue with what I have provided here Apple bulls for some reason appear to be relentless. In articles on December 12th and April 8th I made many bearish arguments and most thought I was way off base. People argued that it was cheap, it has tons of cash, etc….
I am by no means flaunting my analytical ability here given my past two analysis of Apple. Part of the reason why I wrote this article is that I have made many of these mistakes before. One year ago I got bearish on Linked (LNKD) despite a bullish chart because the P/E was what many thought to be astronomical. I wrote five articles about this bearish thesis founded on its P/E: that clearly didn't work.
In my opinion the only chance Apple has at becoming a performer again is if it can kickstart a new innovation cycle. I don't know of any companies the size of Apple that have ever done that, but I guess nothing's impossible…
One can make the argument that it's an attractive value stock with lots of cash and small dividend. Sure, maybe that will be the case, but I believe there is much greater evidence that it will simply be the next MSFT, DELL, or CSCO.
This is by no means a thorough analysis of Apple, but I believe the arguments presented are significant, especially for anyone maintaining a bullish outlook.
In past articles as in this one, I have compared Apple to other companies in order to provide context. As mentioned in those articles, I am not implying that the companies are 100% comparable, but that a comparison provides perspective, and one should not discard the comparisons quickly
An inverse head and shoulders appeared to be forming that would have implied some technical bullishness, but as of writing that seems to have failed to trigger. The fact that it failed to breach the neckline and is now again approaching lows is very bearish.
I hope I don't take Minervini's work out of context, and I don't suggest anyone make decision based off of what I have included alone. Further, keep in mind that every approach to trading and investing is not perfect. Even the best and most profitable approaches will always have those trades or investments that don't go as planned. Ultimately trading and investing is attempting to predict the future, and that is no easy task. Minervini however has proven to be quite good at this feat.
I would like to disclose that I have no professional relationship with Minervini. I will note that in all my studies and reading about trading and investing, some 40+ books that I have read and studied in the last 5 years, his is now at the top of my list. And this is only after being half way through it.
I will conclude with some thoughts by Minervini that I believe should be applied to Apple and stocks in general
"Value doesn't move stock prices; people do by placing buy order. Value is only part of the equation. Ultimately, you need demand" - p.52

"If you want to buy a high-performance car such as a Ferrari, you're going to pay a premium price. The same thing applies to high-performance stocks" - p.47

"My rule of thumb is to take long-term forecasts with a grain of salt. No one, not even management, can accurately forecast what a company will earn or what its rate of growth will be a year or two down the road" - p.153

"You want to get on board when institutional money is pouring into a stock and lifting it significantly higher. To do that, you need confirmation that this inflow is starting to happen before you invest" - p.83

"Your portfolio should consist of the best companies in the top four or five sectors" - p.110.
Disclosure: I have no positions in any stocks mentioned, and no plans to initiate any positions within the next 72 hours. I wrote this article myself, and it expresses my own opinions. I am not receiving compensation for it (other than from Seeking Alpha). I have no business relationship with any company whose stock is mentioned in this article.