Südzucker (OTCPK:SUEZF) is a name probably unknown to most investors and actually I discovered this company only last May when I decided to make it my second largest portfolio holding after Eni (NYSE:E). This German company founded in 1926 and based in Mannheim is Europe's largest sugar producer, with an annual production of around 5 million tonnes and revenues of 7.9 Billion euros ($ 10.5 Bil) in 2012. The company is also a leader in the special ingredients for the food industry (Oligofructose, Isomalt, Rice Starches, Rice Flours) segment through its subsidiary Beneo; in the energy segment through CropEnergies with three bioethanol plants in Germany, Belgium and France; it is also a global market leader in fruit preparations through a 50% participation in Agrana. Last year it bought a 25% stake in London based ED&F Man, a leading provider of various agricultural commodities throughout the world, such as sugar, coffee and molasses. In the sugar trade, ED&F Man is the world's second largest dealer, with operations in 40 countries.
Among the company's peers and competitors are Cosan (NYSE:CZZ), Bunge (NYSE:BG), Adecoagro (NYSE:AGRO), Archers Daniels Midland (NYSE:ADM) and Associated British Foods.
Business Prospects
As all other commodities, sugar prices fluctuate with the ups and downs of the economy. They are currently technically retreating whilst in a long term uptrend, as the following chart shows:

Also sugar consumption stands to benefit from demographics and Suedzucker, with its partnership agreement with ED&F Man is poised to take advantage of this global trend: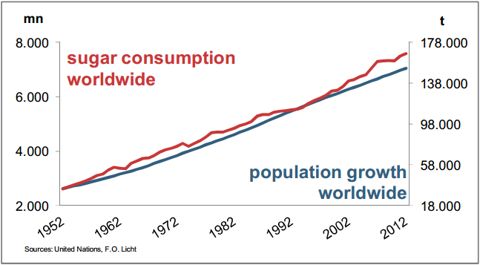 Financials
Management is doing a great job with the capital it employs. This is what Buffett explained about capital employed in his 1992 letter to shareholders:
"Leaving the question of price aside, the best business to own is one that over an extended period can employ large amounts of incremental capital at very high rates of return. The worst business to own is one that must, or will, do the opposite - that is, consistently employ ever-greater amounts of capital at very low rates of return."
The following chart shows how Suedzucker's return on capital employed has increased in the past five fiscal years on incremental capital expenditures: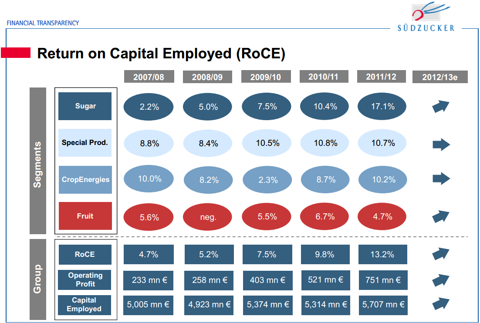 This is reflected in growing dividends and earnings per share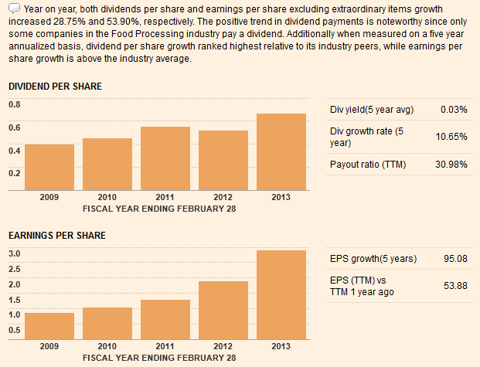 The company has been able to reduce its debt by repurchasing some of its outstanding bonds, and now total debt stands safely about 30% of total equity.
Attractive valuation
Suedzucker shares have come down to €25 per share from a year high of €34. The 25% decline has to be attributed to management forecasting a decline in operating profit for the current 2013/14 fiscal year from a record €974 Mln to about 825 million euros, due to rising production costs and lower sugar prices, as previously shown. This price drop may present a good entry point in a solid business that has rewarded its long term investors with a rising share price and growing dividend payments. Shares are currently trading at a P/E ratio of about 8.5 and even if we factor in a 20% drop in 2014 EPS, the ratio is still attractive at about ten times future earnings. The price to book ratio is also interesting, sitting low at 1.3. I am not a big fan of discounted cash flow calculations and when I use them I tend to lean on the conservative side. Said that, the company has managed to grow its EPS at a 20% rate year over year in the past five years, which surely cannot be labeled as boom years for the European economy; assuming EPS of €2.5 in FY 2014 and a conservative growth of 10% for the next 10 years and 4% thereafter, with a discount rate of 12% we get a fair value of €36 per share, excluding tangible book value. That makes for a 30% margin of safety at current prices and using very conservative growth prospects.
Suedzucker shares can be bought on the Euronext exchange (symbol: SZU); alternatively they are traded in the U.S. on the pink sheets (symbol:SUEZF) but they are quite illiquid, so check the order book.
Disclosure: I am long OTCPK:SUEZF. I wrote this article myself, and it expresses my own opinions. I am not receiving compensation for it (other than from Seeking Alpha). I have no business relationship with any company whose stock is mentioned in this article.