There is a lot of speculation around BlackBerry (NASDAQ:BBRY). Once the prominent market leader, it is now lagging behind those like Apple (NASDAQ:AAPL), Android (NASDAQ:GOOG), and maybe even Windows (NASDAQ:MSFT).
For those who want background on the history of BlackBerry, or how it came to jump over 150% in less than a year - this is not the place for that. This article is devoted to how BlackBerry can continue its turnaround story, and what might stand in its way. I will also cover the difference between Nokia (NYSE:NOK), Apple, Android, and BlackBerry, addressing the weaknesses and strengths of each.
The little background I'll give is that I can see the light of BlackBerry, and it's potential. I have been a shareholder since $11 last year, and have continued to add to my position. I am facing the conflict of what to do with my shares - when will the stock go up again (if ever).
As of today, June 24, 2013, BlackBerry shares stand at a value of $14.10, or $7.3 billion in Market Cap. That is down from $145, or $75 billion, just five years ago (June 2008). The reason for the decline is obvious - lack of innovation, and an increase in competition. Looking at the current value of the stock, the current shareholder equity is $9.46 billion, or $18.25 a share (representing a 30% discount to its current value). Once more, the average analyst estimate for this coming quarter (Q1 FY2013) is a profit of 7 cents a share (though it is likely that they can earn up to 50 cents a share this quarter)... so why is there a 31% short interest?
There is a lot of volatility leading up to the earnings release on this Friday, June 28. In this article, I plan on outlining some of the key advantages BlackBerry has, how it is accepted by consumers, and an outlook for both the near and long term.
I cannot assume any sales through "special means," nor do I have any insider information - but let's face it... it's all based on some (educated) guesses - no analyst can be completely correct. We have Jefferies on the Buy side, and Pacific Crest on the Sell (though they have revised their estimates higher for this quarter), with countless others in between. So I am basing everything else on known facts (or research to back it up).
The first thing I would like to do is compare the relative strengths and weaknesses of the top phones, as I would like to focus on how BlackBerry attracts consumers. A few of the key advantages of BlackBerry is:
1) Designed for Business - the new BB10 phones are designed for business men/women who have to manage both personal and professional matters on the same phone, thus eliminating the need for the "two phone system." They are able to do this through the new BlackBerry Balance, which allows them to easily switch back and forth between work and personal programs/files. Another of the many key aspects which attract professionals to BlackBerry is their security. Though there has been rumors about the government breaking into BlackBerry (through the Snowden leaks), BlackBerry is, without question, more secure than any other of the major operating systems. When you send an email via your BlackBerry it is run through a special server to protect your files - more than Android, iOS, or Windows. In fact, recently there was a "fake" BBM Messenger app (which had more than 100,000 downloads) on the Google Play Store - you can read about it here. BlackBerry continues to attract professionals through BES 10, and their services segment.
2) Directly to Consumers - BlackBerry already has a consumer base of more than 70 million people running on their older operating systems. Given the fact that they have waited several years and have stayed loyal to BlackBerry, they should appreciate all the new features on the new BB10 smartphones which were previously behind the rest of the market. The other reason why BlackBerry has an advantage is because of their acquisition of QNX - creating "operating systems, development tools, and professional services for connected embedded systems." In other words, BlackBerry can make BB10 compatible to a multitude of devices, including cars, which will make them more attractive to consumers.
3) BB10 - It is one of the most highest rated operating systems available. Below I quickly listed the major smartphones and their respective ratings and prices (all from Verizon with a two-year contract):
Lumia 928 ($49.99) 4.8 stars - 96% of customers recommend it.
Q10 ($199.99) 4.6 stars - 86% of customers recommend it.
iPhone 5 ($199.99) 4.5 stars - 87% of customers recommend it.
Z10 ($99.99) 4.4 stars - 88% of customers recommend it.
S4 ($199.99) 4.3 stars - 85% of customers recommend it.
S3 ($99.99) 4.1 stars - 75% of customers recommend it.
The Lumia is the highest rated phone, though I would not consider it to be in the same high end category as the other phones. In the big picture, BlackBerry is well priced and well reviewed. The great thing about BB10 is that it's rapidly expanding their app base (now 120,000 apps) to catch up with Windows (140,000), and end one of the major criticisms towards BlackBerry. On the hardware side, the Q10 phone is the only phone with a physical keyboard on this list - a major advantage for anyone who prefers the "good old BlackBerry keyboard" over virtual ones. Now that BlackBerry has one of the top operating systems, they can now expand it to other devices, like the Q5, A10, the rumored R-Series -- and probably tablets (an upgrade to the Playbook).
4) BBM - I believe that BlackBerry is becoming more like Microsoft. They are beginning to focus more on the software side, and are even going cross platform. It is still not obvious how they plan on monetizing their new BBM software, but they will be able to compete with major competitors (like What's App) by adding features like money transfers, and becoming more central in their consumers' lives.
I wanted to see how BlackBerry is accepted by the average consumer, no matter which carrier they are restrained to. The only method I have of doing this is through eBay - I have found particular trends in the amount of sales and sale price over the last few months: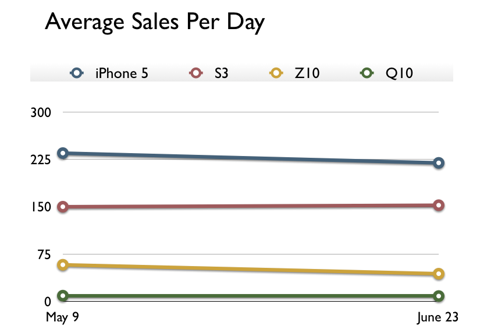 From here we can see that BlackBerry sales are far behind their competitors, but it is to be expected as they predict to ship only a fraction of the amount of phones as iOS and Android. Though Q10 sales are minimal (now just 8.2 per day), this data only represents people buying unlocked phones to use on any carrier from eBay. For most BlackBerry loyalists who have waited years for a new phone, they probably have an upgrade to use, and can get the new Q10 for just $199.99 (with a 2-year contract).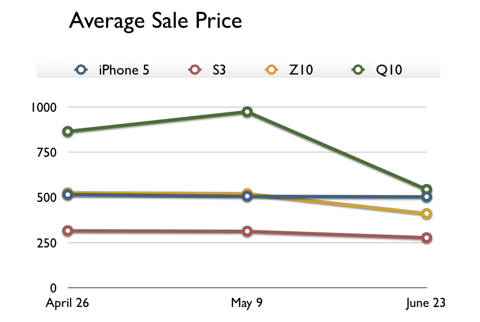 I find this to be the most interesting piece of data that I found. I agree with the consensus analyst opinion that the Z10 and Q10 sale prices are dropping, but look where they are coming from. The Q10 sold for upwards of $1100 (twice that of the iPhone 5) before its official USA launch, showing the demand. I think that this is revealing because it shows what consumers are willing to do for the new phone. Though the Q10's unlocked phone price is dropping, it is still above the iPhone 5 and most competitors (but slightly below the S4).
This data is revealing, but I had another major breakthrough today that I think is even more useful. As I went onto eBay, I looked at their 'daily deals' section in which I looked at Cellular products. I was surprised to find the HTC One, S4, S3, as well as older BlackBerry models - but there were no BB10s or iPhones for sale (in today's daily deals). There could be a few explanations for this: the seller(s) don't carry the BlackBerry 10s or the iPhones because 1) they are selling well at a normal price 2) they don't have any to sell 3) they can't make enough money selling them (or just don't want to).
I believe that they are just waiting to get the inventory back in stock, as there were previously sold out eBay deals for the Q10 and Z10. These sellers are selling all the new products and wish to continue to do so to offer the greatest selection -- to do this, they should offer phones from two of the most innovative cellular companies on the market. However, I still compiled data of several of the phones that they are selling at this time, and this is what I got: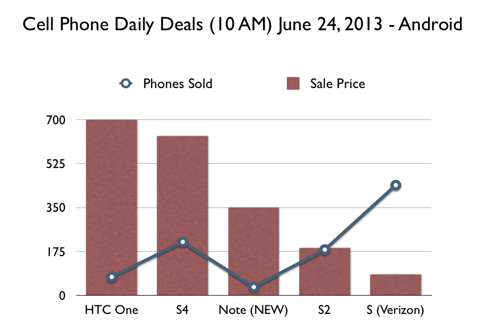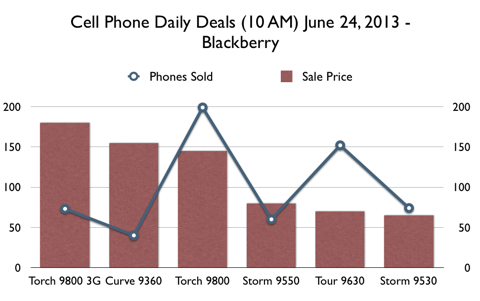 I believe that this data (compiled from just a few hours of selling the phones) shows that most consumers don't necessarily go for the newer products. I believe that many of the consumers are willing to "trade down" in order to get a better price. For instance, they are buying the $100 Galaxy S overwhelmingly more than the other Androids. As for BlackBerry, just $49 more gets you the Torch 9800 (without 3G). I think that this will be key for BlackBerry's future releases...
With the Z10 selling at just $99.99, consumers can get a high quality smartphone for a very good price. I think that this will also prove true with the Q5, and will give BlackBerry a key edge in emerging markets: offering a quality product (with a great operating system) for a competitive price. I quickly compiled an overview from the 'daily deals' and came up with some very interesting numbers:

*Remember that these numbers do not represent the entire market, as they are limited to only several companies, excluding the likes of Nokia and Apple, and do not include the new BlackBerry 10s.
When consumers are given the choice to choose their smartphone, between the new androids or the old BlackBerry's, 39% surprisingly choose BlackBerry. Though their phones only sold for an average of $115, this does not include the new, higher margin BlackBerry 10s. Once the new BlackBerrys are added to the equation, as well as Microsoft and Apple, I think things will drastically change.
From this data, we can see that roughly 40% of the end consumers (buyers on eBay) choose the old BlackBerrys over Android. When you add in the advantages of the new BlackBerry 10s (for both business and personal), BlackBerry can gain some serious traction against the largest smartphone operating system (estimated to control 75% of the market).
I believe that the stock can easily jump above its book value during the days after the earnings on Friday (June 28, 2013). Because of the high short interest, as well as the polar analyst opinions, I expect to see extreme volatility leading up to and after their earnings release. I choose the long side, because of all of the positive factors which I discussed in my article, as well as the fundamental value of the stock. I will be able to gain a better picture of the company after the earnings release, but for now my price target is $28 (trading at 1.5 Book Value [estimate it to be $18.60 after FY2014 Q1]).
Disclosure: I am long BBRY. I wrote this article myself, and it expresses my own opinions. I am not receiving compensation for it. I have no business relationship with any company whose stock is mentioned in this article.