Imagold (NYSE:IAG) has joined the ranks of severely discounted producers. With its stock at 4.12, Mr. "Market" has assigned a silly season enterprise value, net of cash and bullion, of $1.34 billion. IAG is not financially stressed or over-leveraged. It has solid working capital, longer-dated debt out to 2020 and an available credit line of $500 million. A $100 million cost reduction program is in place, and I submit IAG is a beneficiary of the mining services depression underway.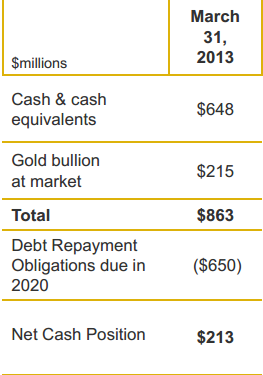 When I took a close look at IAG, I expected to see a real dog because of its reputation. I discovered that's not the case. One of the elements impacting this miner is the conventional wisdom that low-grade mines are not economical, and the current mantra about all-in costs (NYSE:AIC).
Sure, if IAG was starting from scratch today on building its mines, the AIC would be too high at $1,100 to $1,200 per ounce. As we have seen, all of the late-stage deposits that I've typically used have an AIC of $600 to $900 an ounce, and those properties have little value in this "market" either. But the point to be made is that when one invests in IAG at say 4.35, one is not even remotely paying the AIC price. The AIC was paid for by prior investors.
IAG has three good long-life mines. Rosebel in Suriname is a 375,000-ounce annual producer at a $717 cash cost (1Q 2013). Rosebel (and its second mine, Essakane) is processing more hard rock, which is using more energy. Investments have been made to improve this. In the last quarterly report management signaled that previous guidance on higher costs would be guided lower.
IAG recently inked a joint venture deal with the government of Suriname to explore and develop the surrounding greenbelt (see map below) for softer rock and to utilize much lower electricity costs at 11 cents a kilowatt hour. That will extend the life of Rosebel and improve its economics. Additionally, the company has completed the installation of a temporary pre-crusher, a larger pebble crusher and an expanded gravity recovery circuit, all of which are having a positive impact on recoveries. To address the transition to harder ore, a third ball mill was brought into production at the end of first quarter 2013.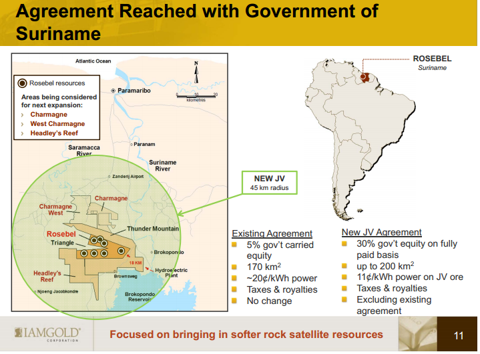 So in valuing Rosebel, we see $225 million in gross profit. In normal times, it could be argued that an enterprise value of $1.36 billion would be justified just for Rosebel alone with a stable $1,300 an ounce price of gold. But there's more.
IAG has a second mine called Essakane located in Burkina Faso (BF), West Africa. Once again, this one has been put in the penalty box because it's low-grade and because of the Africa connection. In reality, BF is a mining friendly jurisdiction and the mine produced 265,000 ounces at $729 cash cost in the first quarter. It also has expansion upside. So we can add another $150 million gross profit to IAG's kitty bank. But IAG has yet another new mine.
Mr. Market has decided to put IAG's Westwood mine in Quebec in the penalty box as well. For a long time, there was concern about cost overruns and start-up issues. In reality, IAG started production in the second quarter with commercial production set for October. Westwood is set to produce 140,000 ounces this year and next, and 200,000 ounces from 2015 onward. IAG's stock price was whacked when it raised the cash cost for the mine to $533 (details here). Yes, that's right, $533. That's better than a poke in the eye with a sharp stick in my book. We can add another $100 million gross cash flow for this one.
IAG has two end-of-the road, high-cost mines in Mali that account for about 12% of its production. I assign little or no value to these, but unfortunately their high-cost serves to skew the overall company cash costs unfairly and adds to Iamgold's strange Rodney Dangerfield image.
Total gross profit (at $1,300 POG) for these mines is $475 million - less than three times enterprise value. This would swing $78 million for every $100 move in gold. But that's before the blue sky, which I see as considerable.
In 2012, IAG bought Cote Lake in Canada for $565 million. This is a large deposit with 8.6 million ounces of low-grade gold. Capex is put at $1.2 billion. It's probably similar to Detour Lake. Today, the market values deposits like this at close to zero. IAG is simply running a modest three-rig drilling program and moving toward permitting. Although the "market" has declare these projects marginal, I see them as phoenixes rising if gold perks back over $1,500 to $1,600 an ounce. If gold really takes off, the leverage in these now-free deposits is powerful and would make the $565 million IAG paid look like a bargain.
The company also operates Niobec, Inc., in Canada. It's one of the world's top three producers of niobium, which is used in high-grade steel. The largest of its kind outside of China. In headier days, the NI43-101 report assigned a net asset value of $1.8 billion to Niobec. The problem here is that Mr.Market doesn't want $1.4 billion mines built, instead figuring niobium just "grows on trees" or can be "supplied by China." So let's just count this one as undefined blue sky somewhere north of zero - perhaps well, well north of zero.
IAG actually has a first-class grassroots exploration and project generator program focusing on the area where the Pangea continent split, forming the Guinea Shield and West Africa. This is high-potential greenstone gold production and any company wanting a production and exploration toehold there would covet Iamgold. I'm particularly bullish on the Guinea Shield, the South American part of the story (see "Stupid Cheap Gold in Guyana").
The key here is electric power, but the region has hydroelectric potential. Guyana wants to build a $840 million hydro plant (see "Shrouded in Secrecy"). That really only pays off if the region's mines are developed.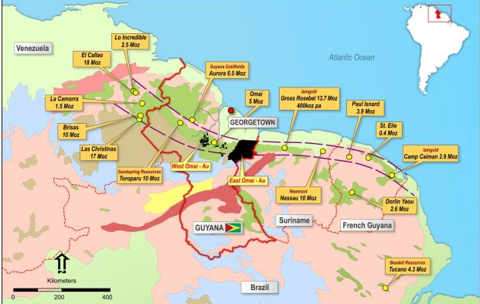 On the African side of the Shield, the Boto Prospect in Senegal is not even on Mr. Market's radar. It has been cranking out numerous wide intervals of 2 to 2.5 gram material and enough high-grade 10-gram (plus in smaller intervals) to make this a very promising prospect.
Finally and perhaps just for fun, Iamgold holds a 1% royalty on the Diavik Diamond property located near Yellowknife in the Northwest Territories of Canada. The Diavik Diamond property is controlled by Harry Winston Diamond Corporation and Diavik Diamond Mines and has an expected mine life in excess of 15 years. Canacoord puts a value of about $17 million on this.
I think that Iamgold is long overdue for a takeover. Back in February when the stock was valued twice at what it is today, The Globe in Canada ran a story about how impatient major shareholders have become. We won't know until after the second quarter if any of these holders have sold. Insiders have been buying and at higher prices. Since February, 314,000 shares were snapped up by IAG's various corporate officers.
Disclosure: I am long IAG. I wrote this article myself, and it expresses my own opinions. I am not receiving compensation for it (other than from Seeking Alpha). I have no business relationship with any company whose stock is mentioned in this article.