There was an article recently where an individual commenter expressed an opinion that individual investors should not be attempting to choose individual stocks but rather should spend their efforts toward choosing assets. Specifically the statements were:
"Individuals, generally cannot properly manage a well-diversified portfolio of individual stocks. It takes about 35 stocks for a portfolio to be well diversified. The vast majority of individuals do not have the time, the resources, the ability, the training or psychological inclination to do this well.
Most individual investors should strive to become good asset allocators; not stock pickers. Doing the former reasonably well is within the possibilities of most individuals; the latter is not.
Trying to time individual stocks is far more risky and difficult than trying to time markets."
My initial reaction to this was to think it was preposterous. But after thinking about it for awhile I decided to attempt to look at it objectively as there may be some validity to the comments. The comment as made implies at a minimum the following nine questions:
Can individuals properly manage a well-diversified portfolio of individual stocks?
Does it require about 35 stocks for a portfolio to be well diversified?
Does the individual investor have the time to invest well?
Does the individual investor have the resources available to invest well?
Does the individual investor have the ability to invest well?
Does the individual investor have or can obtain the training to invest well?
Does the individual investor have the psychological inclination to invest well?
Is performing "stock picking" reasonably well within the capabilities of the individual investor?
Is it more risky for the individual investor to time individual stocks than to time the market?
It is not my purpose here to disparage the commenter's remarks. I believe there are enough individual investors, especially new individual investors, now taking responsibility for their own investments that the remarks should be addressed logically and objectively. What follows is my attempt to do just that.
Does the individual investor have the time to invest well?
This question obviously implies another question. How much time does it take? This in itself would imply deciding upon the style of investing such as value, momentum, dividend growth, etc., choosing the type of portfolio and allocation/diversification, researching individual stocks, and then managing the portfolio over time. I'll focus on the time required to research individual stocks and manage a portfolio over time since choosing a particular style and deciding upon portfolio allocation/diversification is more a matter of individual thought and preference than using significant amounts of time. To be quite honest I've never really thought about how much time it takes to research stocks although I have noted how long it takes to review stocks I already held. To be objective I decided to research a stock I knew nothing about and time myself doing my normal research methods. Many investors will screen for stocks using any number of available means. Since I am primarily a dividend growth investor I simply went to the CCC list maintained by David Fish and selected Emerson Electric Company (NYSE:EMR) since I knew nothing about the company and had never owned or researched it. I'll provide the results of my research to indicate both the quantity and quality of the research and the amount of time it took to get these results. The reader can then decide if it's valid.
Review of Emerson Electric Company
Emerson Electric Company was founded in 1890 in Missouri, and is engaged in designing and supplying products and technology, and delivering engineering services and solutions in industrial, commercial and consumer markets. It has five divisions; Process Management, Industrial Automation, Network Power, Climate Technologies, and Commercial & Residential Solutions, which it refers to as businesses. The brand promise is "Emerson is where technology and engineering come together to create solutions for the benefit of our customers, driven without compromise for a world in action." EMR has 135,000 employees and 235 mfg locations worldwide. Locations include the U.S., Canada, Europe, Asia, Middle East/Africa, and Latin America.
EMR is listed in the Technology Sector and the Industry is Electronic Components. EMR is a cyclical stock with a market cap of $39.1 billion. Major competitors are Hitachi Ltd. (OTCPK:HTHIY), ABB Ltd. (NYSE:ABB), Eaton Corporation (NYSE:ETN), and Corning (NYSE:GLW).
I primarily use 10-year periods for my research although I'll also look at the past five years. Over the past 10 years EMR has grown revenue at a compound average growth rate, or CAGR, of 6.41%.

Almost half of EMR's sales for 2012 came from the U.S. and Canada but emerging markets are contributing a significant portion now as these graphics from the website indicate. The 2012 annual report stated 36% of sales came from emerging markets. The company is working to expand those markets.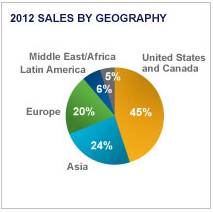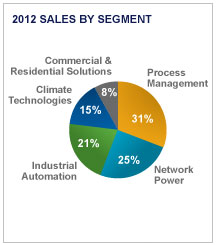 EMR's gross margins over the past 10 years have averaged 37.06% and are slightly up the past five years. Operating Income has grown at a 7.43% CAGR and the operating margin has averaged 14.85%. Net income has grown at a 6.8% CAGR over the past 10 years.

As evidenced by the net income EMR is a cyclical business company, which also impacts earnings.

Earnings have grown at an 8.33% CAGR over 10 years but at a negative 3.35% over the past five years. While earnings is probably the most widely used metric for evaluating companies I tend to place more emphasis on free cash flow, and especially how a company manages its free cash flow in regard to cyclical earnings.

It appears to me that EMR has managed its free cash flow well during the period since the great recession. However, 2011 and 2012 have been tough on the company. In reading the annual report as well as presentation materials it admits this and continues to work to improve it as the economy improves. As a dividend growth investor I'm extremely interested in how this impacts the dividends. EMR has paid a growing dividend for 56 straight years. Their dividend has been growing at a 7.45% CAGR for the past 10 years.

It has managed its free cash flow to not only pay an increasing dividend, it has also been repurchasing enough shares to reduce outstanding shares at a rate of 1.3% per year over the past 10 years. The dividend payout ratio based on free cash flow for 2012 stands at 49% and for the trailing twelve months has dropped to 44%. Looking at the dividend payment and share repurchases together against free cash flow the payout is at 71%.
EMR management has a shareholder friendly mindset in my opinion. As this graphic from a recent May Electrical Products Group Conference presentation shows it is targeting 60% of its operating cash flow toward dividends and share repurchases out through 2015.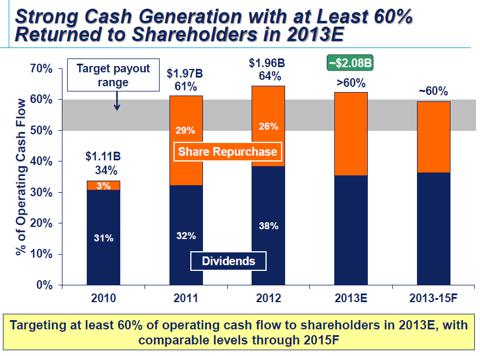 One of the things that I try to look for is to determine if the management is of high quality and also if it has what I call a dividend culture. We know companies like The Coca-Cola Company (NYSE:KO) have strong dividend cultures and it would appear that EMR does as well. In fact, out of all the companies considered dividend champions, there are only seven companies that have been paying an increasing dividend longer than EMR. Not only has it been paying longer than Coca-Cola, it also beat out dividend champions such as Johnson & Johnson (NYSE:JNJ), Colgate-Palmolive (NYSE:CL), and 3M (NYSE:MMM). It is obviously proud of its record since the very first graphic in the annual report, functioning almost as an introduction, is this one: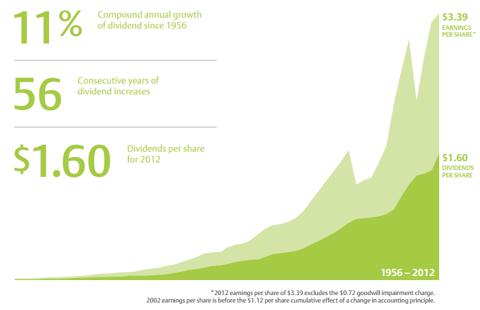 There is a lot to like about EMR. It has an "A" credit rating and its interest coverage ratio is an excellent 14.66. Its long-term debt to equity number is 0.39, also excellent. It is well established across multiple continents. And its management team appears to have solid experience with a good bit of internal growth in the company, i.e. coming up through the ranks. I also liked its incentive stock compensation plan. However, there are some things that concern me as well.
I don't see it as having an economic moat. Each of its divisions has competitors that can provide the same or similar services. With the net margins at 8.9% there is not a lot of room for reducing prices to compete solely on price. Additionally the pension fund is currently underfunded by $818 million. But in making an investment decision you can't go just by the numbers on the financial statements. As Peter Lynch said, "if you could tell the future from a balance sheet, then mathematicians and accountants would be the richest people in the world."
I ran a discounted cash flow analysis and estimated the intrinsic fair value to be in the $50 to $55 range. I then checked it against Morningstar, which estimated the fair value to be $58 and Smart Money at $57. I also checked analyst estimates and ratings through the seven companies offered by my broker. S&P Capital IQ had the FV at $55.10 with a price target of $60 and Credit Suisse had a price target of $64. The Street had a price target of $63. Four of the companies had it as Hold, two companies with a Buy rating, and one company with an Outperform rating. My conclusion was to consider buying only if the price dropped below $44, which is 20% below the $55 I calculated as the top of its intrinsic value range. This would provide a better margin of safety and since this is a cyclical stock I would require a margin of safety before buying. At the current EPS of $2.83 a $44 buy price would indicate a PE of 15.55, well below the three-year average of 17.4. And before investing I would go back and read the earnings and conference/presentation transcripts again to get a better feel for the future.
The original question and purpose of the review of EMR was to determine how long it took to analyze a company with which I was not familiar. This particular review took me 5.5 hours total. Because I was trying to answer the question of how long it takes an individual investor, and I wanted to be conservative, I made sure I used all free information for the review. All of the information came from Morningstar, Finviz, EMR's website, my broker's website, and a couple of other websites to compare price estimates. But not all of the information I review is listed above.
Different people have different methods for reviewing companies. Since I use a two monitor system on my desktop I open an excel spreadsheet on one monitor and the pertinent website on the other and then simply enter the information in the spreadsheet as I go through the review. I'll then use the insert comment function in Excel to list any particular notes I wish to make and it hides them until I move the cursor over the particular cell. That way I only see the pertinent financial numbers I've listed in the cell until I want to see the additional information and I don't have to flip back through pages to see it. I also have the CAGR calculator built on the spreadsheet. Everything I need for the evaluation is right there in front of me. Some people may use word documents, others may create forms and print them out and maintain notebooks with the information. Any of these are perfectly acceptable to fit an individual's own preference. I just use this spreadsheet and save it on my PC under each company reviewed. A copy of the one on EMR is shown below with one of the notes highlighted. Everywhere you see a red triangle in the upper right corner of a cell indicates a note there. It also illustrates the additional information that I gather and review as I'm evaluating a particular company that I did not list above.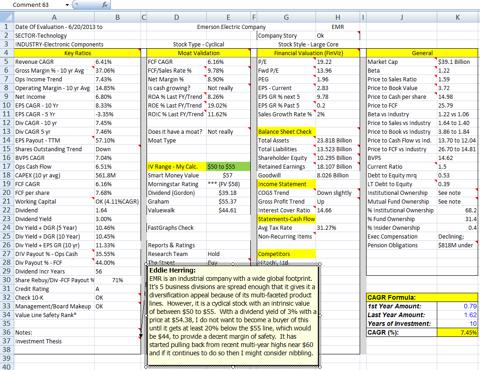 This methodology may be different than others' methods. The point is not whether it's on a spreadsheet, in a notebook, an electronic text document, or simply kept on paper in a folder, the point is to obtain the necessary information to make a valid investment decision on an individual basis. Others may be able to do a comparable review quicker or more in depth and some may take longer. But whether it's 5.5 hours or twice as many hours, there is no reason why an individual investor cannot review individual companies and over a period of time, build a portfolio of high-quality companies that meet the individual's investment goals. If an investor is willing to spend a few hours per week researching information on a company, over a period of a few months the investor can build a satisfactory portfolio or watch list of companies to meet investing needs.
Does the individual investor have the resources available to invest well?
As I noted above all of the resources I used to perform this evaluation are readily available free of charge. There are also paid websites that provide additional resources that are available to the individual investor. Morningstar for example has premium information available for a subscription fee, Fast Graphs is available for a nominal subscription cost for basic information and other companies such as Value Line also make information available for a subscription. Resources for the individual investor to perform adequate reviews are readily available.
Does the individual investor have the ability to invest well?
This question depends entirely upon the individual and his or her specific mental capacity. If an individual has the ability to do basic math, to think logically, read adequately, and understand business concepts, he or she has the ability to invest well. It does not take an advanced academic degree. The mental aspect is addressed below under psychological inclination.
Does the individual investor have or can the individual obtain the training to invest well?
Training can be obtained from multiple sources. Organizations such as the American Association of Individual Investors or AAII and Better Investing (formerly the National Association of Investment Clubs or NAIC) all provide training with much of it available over the web. There are various other organizations that provide specific training at various locations at different times across the country. Training does not have to be formal training in an academic setting. However even that is available as many colleges offer continuing education units or CEUs in investment classes, often in evening or weekend sessions. A greater understanding can even be gained reading highly respected books on the subject whether it is "The Intelligent Investor" by Benjamin Graham or many of the other well known books on the subject. And in fact, additional "learning" in specific areas can actually be gleaned from forums on websites such as Seeking Alpha.
Does the individual investor have the psychological inclination to invest well?
This question goes to the mindset of each individual. And it pertains not only to an individual investor it also pertains to those who work for investment companies, whether they be hedge funds, financial service companies, or some other type of organization with investment personnel. Individual investors come in all shapes, sizes, intellects, and outlooks. If an individual investor has the mental capability to recognize mistakes and learn from them, accept responsibility for his or her own actions, and to manage emotions, he or she certainly has the psychological inclination to learn to invest well.
Is performing "stock picking" reasonably well within the capabilities of the individual investor?
Quite frankly, so-called "stock picking" is not that difficult. When the individual investor learns to look for quality companies that have a sustainable competitive edge, good management, a valid business model, and that are able to grow earnings and generate a continual cash flow, investing becomes more a matter of buying at the right price, being patient, and then monitoring the fundamental business aspects of the company to ensure it stays a quality company. In my opinion where people get in trouble with "stock picking" is in trading rather than in investing. Investing by definition implies that one is participating in the business enterprise whereas trading is simply trying to buy a stock and planning to hold it only long enough for it to go higher so that one can sell it at a profit. It also seems to me that modern portfolio theory with its emphasis on risk related to stock price encourages trading rather than investing. And there should be no doubt that most brokers prefer traders to investors. Consequently, when many people focus on price rather than the value of the company, they tend to panic and sell when the stock price starts going down. Then they try to buy back or "time" when they think the price has gone down enough. The end result is that the people actually making money from these efforts are the brokers.
Is it more risky for the individual investor to time individual stocks than to time the market?
Personally I am against timing either the market or individual stocks. Trying to "time" either one is usually an exercise in futility. And quite frankly, trying to time the market is simply a guessing game. No one, whether their last name is Buffett, Lynch or Graham, knows what the market will do tomorrow. Rather than trying to time the market or stocks, I believe the individual investor should look for when quality companies are selling at a discount to their intrinsic worth and then buy them. That is not timing. That is buying quality when it goes on sale. There is a difference and it is certainly within the ability of the individual investor to determine the intrinsic worth of a company and to recognize when the market has dropped the price of that company below its actual value.
Does it require about 35 stocks for a portfolio to be well diversified?
This can be argued many different ways. The diversification can be around sectors or industries, it can be across different types of assets, funds, ETFs, or other security types. Having more stocks doesn't mean a portfolio is better diversified it simply means it has more stocks. The diversification should be structured more to provide for less correlation among stocks so that a drop in one or two doesn't necessarily mean a drop in others. There's an old saying that it's a market of stocks more than a stock market. Holding 20 of the right stocks can be better diversified than 35 of the wrong stocks. This pertains more to the individual investor's ability to select the right number of quality companies for them to handle. A higher number of companies can provide protection to the overall portfolio if one company gets in trouble, but ensuring quality along with quantity will provide better protection.
Can individuals properly manage a well-diversified portfolio of individual stocks?
My answer to this is obviously yes. If an individual can select quality companies, perform a review as in the preceding example, understand the business fundamentals of the companies selected, and have the willingness to do the requisite amount of work required for investing, there is no reason why he or she cannot manage a well-diversified portfolio. The time to follow-up on existing investments is certainly no more than the initial time to review the investments, and usually less. But management of the portfolio requires more than just spending time on the portfolio. It also means understanding when to buy, when to sell and when to stand pat.
A number of studies have shown that individual investors as a whole underperform the market. A number of studies have also shown that a majority of mutual fund managers also underperform the market. Still more studies have shown that the more often one trades stocks the worse the overall performance. Proper management of a portfolio means that an investor understands he or she is investing, not trading, and investing in companies, not in stock prices. And when one is investing in companies, one looks for quality companies that will provide benefits to the investor over years. But paraphrasing Peter Lynch again, unfortunately too many investors spend more time researching which microwave to buy than which company to invest in. Those are the ones who fail to succeed, and it's because they choose to do so. It doesn't have to be that way.
Summary
I am a retiree and for the most part can make time to handle my investments at my own leisure. However, I also did my own investing before I retired when most of the work on those investments was done evenings and weekends. It is possible to work a full-time job and still make time to be an individual investor. But I also realize not everyone has the desire to be an individual investor. And there is nothing wrong with that. For those people who choose to do so obtaining a qualified financial advisor is the way to go. But saying it is not possible for the person who chooses to manage he or her own investments to do so reasonably well is, in my opinion, painting with too broad a brush stroke. If one has the desire and is willing to put in the requisite work and effort to continue to learn, to understand and utilize various strategies, then not only can that person do it reasonably well, but can actually be very successful. It takes time, determination, diligence, and patience. It isn't easy by any means, but it is certainly doable. There are too many instances where individual investors have already proven it can be done.
Disclosure: I am long JNJ, KO. I wrote this article myself, and it expresses my own opinions. I am not receiving compensation for it (other than from Seeking Alpha). I have no business relationship with any company whose stock is mentioned in this article.
Additional disclosure: I am not a professional investment advisor, just an individual handling his own account with his own money. You should do your own due diligence before investing your own funds.