The purpose of this series is to highlight stocks that are undervalued, profitable, underperformed the market, and have a favorable technical outlook. The stock that I will be covering for my undervalued series this week is FedEx Corp. (NYSE:FDX). FedEx stock has dropped 3% in the last month but has outperformed the market as a whole, with the S&P 500 dropping just over 4% in the last month. FedEx reported earnings of $2.13/share ex-items before the open on June 19th, which beat the estimate of $1.96/share, and the stock closed higher on the day.
Value
To value FedEx, I will be using the DCF calculator from smartmoney.com, with data for earnings and growth coming from Zacks.com, benchmark data from longrundata.com, and CPI data from the BLS. The DCF table below shows shares of FedEx are undervalued by 34.76%, which represents a potentially quality price appreciation opportunity for shares of FedEx.
EPS [ttm]: $6.20
Long-term Growth Rate: 12.07%
Earnings grow for next: 5 years
Level off: to 1% after
Benchmark return: 10 yr annualized SPY return of 7.23%+1.4% inflation= 8.63% benchmark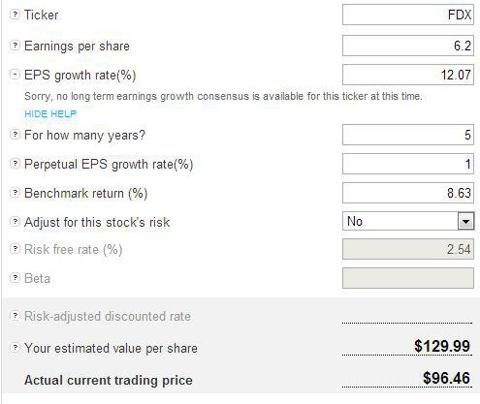 Technical Outlook
The chart below shows that shares of FedEx have tested closing below their 200 day moving average [Blue Line] the last two days of trading, but both days they have closed above it. Looking back since October, FedEx share price has closed below the 200 DMA before, but it has rebounded higher after each break. In addition, FedEx has a strong rising support level [Redline] that is below the 200 DMA and has been a strong level, which FedEx has tested 3 times since October and held each time. This could be an opportunity for a long-term entry point in FedEx with shares near two levels of strong support.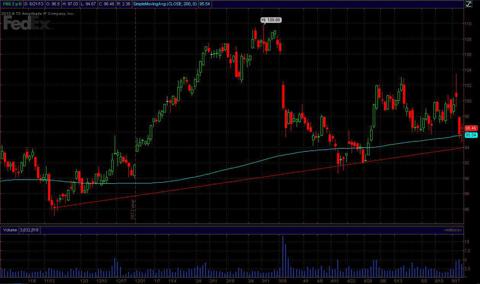 Catalyst
The biggest catalyst for FedEx is the completion of its restructuring plan that it has to make its business more efficient. First, according to an AP summary of the earnings report of FedEx "3,600 employees will take voluntary buyouts and nearly half of them have already left." With buyouts only halfway completed, there is still more savings in operating expenses to come for FedEx.
The second part of the restructuring is to retire old planes and replace them with new planes. The president and CEO of FedEx Express in a company news release said, "We are modernizing our aircraft fleet by retiring older, less-efficient, and less-reliable aircraft and replacing them with modern aircraft to build a fleet with higher reliability and better cost efficiency." With e-commerce continuing to grow, I think this is a smart decision for FedEx, because with rising e-commerce sales comes the demand for shipping those products to end users. Therefore, if FedEx can ship the same goods but do so more efficiently at less cost, that makes strong business sense. I believe the restructuring is off to a good start because the last earnings report showed operating margins had increased from 9% a year ago to 9.6% in the most recent quarter.
Risks
The biggest risk to FedEx is the global economy slowing down, and FedEx in its last earnings report hinted that the next fiscal year starting June 1st 2013 might be the case. In the same AP earnings summary as above was the following information: "The Company forecast that adjusted earnings will grow between 7 percent and 13 percent. That would suggest a range of $6.67 to $7.04 per share. Analysts surveyed by FactSet were expecting $7.28 per share in the new year." Therefore, FedEx is seeing the potential that the global economy will weaken, and earnings might fall short of expectations.
Closing thought
I believe shares of FedEx are poised to rebound higher from current levels because the stock is undervalued, the stock is near two levels of strong support, and the continued progress of restructuring. I believe all those factors along with the continued growth in e-commerce, makes FedEx a strong stock to hold for the long term.
Disclosure: I have no positions in any stocks mentioned, and no plans to initiate any positions within the next 72 hours. I wrote this article myself, and it expresses my own opinions. I am not receiving compensation for it (other than from Seeking Alpha). I have no business relationship with any company whose stock is mentioned in this article.