A Plague of Gold Bears and The 'Tapering' Myth
Readers may recall that in 2010 and 2011, after largely ignoring the fact that gold had been going up for more than a decade, virtually all the major mainstream banks and brokers suddenly turned bullish on gold. It was a huge warning sign as we now know with the benefit of hindsight (and as a few people suspected at the time). At the time target prices for gold were all of a sudden raised by all these worthies. Not even one of them sounded an alarm.
These days, not a day passes when they are not ganging up on gold, practically falling over each other with ever more bearish forecasts. Here is the harvest from just the past two days:
"Gold to Drop Even Further as Fed Increases Real Rates: Goldman Sachs"
"Deutsche Bank cuts gold, silver forecast for 2013"
"Credit Suisse cuts gold, silver, Brent forecasts"
"'Paradigm shift' to send gold sliding to $1,200 an ounce: SocGen"
And last but not least, what is probably the funniest headline yet delivered by all these newly minted gold bears:
"UBS Says QE's End May Render Gold 'Obsolete'"
A major theme of these forecasts is, you guessed it, the Fed's alleged imminent 'QE tapering', and/or 'raising of real interest rates'. To the latter we would point out that real interest rates (nominal interest rates relative to inflation expectations) have indeed risen lately, but it was certainly not the Fed's fault. They are rising in spite, not because of the Fed. In fact, their recent rise, which has surely sent a few 'players' scrambling for cash (and many imaginary bank profits into the nether reaches of money heaven), is a strong reason to suspect that monetary pumping will not only not be 'tapered', but may well end up being increased. But that is of course speculation and is neither here nor there.
Instead, we want to point out a different error in the thought process described above. Keep in mind by the way, that the same banks that are bearish on gold due to the 'tapering' mirage are bullish on stocks inter alia because 'tapering' is thought to be 'still far away'. In reality, all they are doing is extrapolating recent trends, while making up 'reasons' for these extrapolations that are meant to make it sound as though they actually knew why markets are doing what they are doing.
It is really quite remarkable: for ten years while gold did nothing but go up, most of these these guys were largely silent. Their gold price forecasts were on average dead wrong with unwavering regularity – they kept predicting price declines. Then, as it approached its peak, they suddenly turned bullish and finally raised their price targets (again, on average). Now that it is going through the first major correction since the bull market began, its decline is accompanied by inordinate sound and fury. No other market has produced such a flurry of widely and loudly telegraphed grave dancing.
Of course, the fractionally reserved banking cartel has a lot of interest in talking gold down: its very existence would come into question if the gold price were to soar. Among other things, a rising gold price is signaling growing distrust in fiat money. Banks are therefore not disinterested bystanders, and we should add, neither are the financial mainstream media.
Of course, it is at the same time undeniable that a cyclical bear market is currently underway in gold – that much is rather obvious. However, the real question is whether this means that the secular bull market is over. That seems extremely unlikely to us. As noted above, the latest bearish argument largely revolves around the 'tapering' myth. It will be a myth until it actually happens: how much 'exit' talk has there been since 2009? It is revived every year. And yet here we are, with the Fed pumping in $85 billion in additional money month after month! UBS, for instance, argues:
"Swiss bank UBS is warning that gold's appeal as an inflation hedge and as an alternative to the U.S. dollar is at risk of becoming "obsolete" after the Federal Reserve last week began preparing markets for a wind-down of its stimulus program, possibly by the end of the year."
Would it perhaps help if someone were to point out to UBS that the actual rate of monetary inflation in the U.S. has been at a 10% or higher annualized rate for 56 months running? If gold is an 'inflation hedge', this is precisely what it is supposed to a hedge against. UBS makes the common mistake of confusing cause and effect. Rising prices for consumer goods are only one possible effect of inflation, but they are not 'inflation' as such. It is the increase in the money supply that is inflation. Below is a recent chart of the broad U.S. money supply TMS-2. This chart seems to indicate that holding an inflation hedge may actually not be the worst idea.
---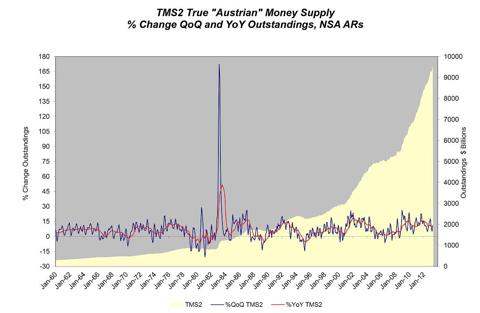 Money TMS-2: US monetary inflation has accelerated to the fastest pace of the entire post WW-2 period in the Bernanke era. Chart via Michael Pollaro – .
---
What Moves the Gold Market
There are, of course, valid reasons for gold's decline from the 2011 high. The market was severely overbought at the time and as mentioned, every single mainstream bank had turned bullish. These two facts alone should have been sufficient reason to expect a sizable correction. However, the correction has obviously turned into a large degree one, and there are a number of valid reasons for that. In a few days time, a quite famous by now annual gold report will be released in which some of them will be discussed (it should be available for download here on Thursday – stay tuned).
Readers may recall that we have discussed a number of these reasons before. We don't want to rehash all of this in detail, but will quickly list the most important ones:
1. Declining risk premiums as a result of the calming down of the sovereign debt crisis in euro-land, 2. a change in perceptions regarding risk more generally (as evidenced by up until recently tightening credit spreads and rising stock markets), 3. a slight increase in the U.S. dollar's exchange value, 4. a small rise in real interest rates to a more neutral level and 5. the return of the potent directors fallacy, which seems completely immune to both logic and experience (i.e., the conceit that central bankers actually know what they are doing and have things well in hand).
You may have noticed that one thing that is missing from this list is 'QE' and 'tapering'. By the time the Fed considered 'QE' for the very first time, the bull market in gold was already almost a decade old. That alone should actually suffice to show that gold does not necessarily need QE to rise in price. Nevertheless, it is certainly true that central bank activities do have an effect on the gold price. We believe the best summary of why worrying about 'tapering' makes no sense was recently published by Steve Saville. Below are a few excerpts:
"There is no doubt that the Fed will eventually have to not only "taper" QE, but also stop it completely and go into reverse. The alternative would be to destroy the currency and the economy via hyperinflation. However, it's not reasonable to refer to the inevitability of reduced monetary accommodation as a plan. We aren't dealing with master strategists; we are dealing with bungling bureaucrats who are constantly reacting in knee-jerk fashion to financial-market and economic events that they never see coming. Something happens and the Fed reacts. The reaction distorts prices and leads to unintended consequences, prompting another Fed reaction, and so on. In other words, although the Fed may well talk about an "exit plan", it actually has no clue what it will do in the future. What it does will be dictated by events it can't predict.

[...]

We now turn to the relationship between the gold market and "QE tapering". Although talk of the Fed's QE tapering has caused significant short-term fluctuations in the gold price and will no doubt continue to do so, the gold price is likely to embark on a major advance from this year's low almost regardless of what the Fed does from here on. The reason is that the damage (the basis for the next major gold advance) is already in place thanks to the QE that has happened up until now. What we've seen, to date, are the positive effects that almost always appear during the initial phase of a monetary expansion. These initial positive effects are why monetary inflation remains popular with the masses despite its debilitating long-term consequences. Unfortunately, it is never possible to know ahead of time how long the positive initial phase will last. What we do know is that just as surely as night follows day, the negative consequences will eventually rise to the surface. Gold benefits from these negative consequences of monetary inflation rather than the monetary inflation itself."
(emphasis added)
We couldn't have said it any better. The important points to keep in mind are:
1. the negative effects of massive monetary inflation are inevitable. 2. they always arrive with a lag. 3. said lag cannot be predicted with precision. 4. gold will react to these developments, and very likely will do so well before they become obvious to all. 5. once these negative effects are glaringly obvious to all and gold already trades at a much higher price, all the mainstream banks will turn bullish again. 6. when that happens, sell.
Obviously we cannot say when and at what price level the current cyclical bear phase will be over. It could be over today, but it is just as likely that it will take several more weeks or months, and that lower prices will therefore be seen. We would however say that the fact that there is such unanimity among market observers that as a group have an extremely bad track record of forecasting gold price movements should give one pause. Back when they turned unanimously bullish, their 'upgrades' did help to push the prices of both gold and gold mining stocks still higher for a little while.
It will probably be very similar in the current downturn as well, i.e., they will get to look 'right' for a few weeks and the more astute ones even for a few months. By the way, we are not saying that every mainstream gold analyst is useless – some have certainly made more timely and accurate calls than others. It is their herding behavior that interests us in this case. This is to say, it is the unanimity of opinion that makes it likely that they will be wrong once again (not to mention the fact that there is a lot of analysis that doesn't withstand close scrutiny).
In short, even though the flurry of downgrades and the constant lowering of price targets currently weighs on the market, it actually represents a medium to long term bullish signal. A likely time frame for a price low is in our opinion the period bracketed by the blue lines in the chart below:
---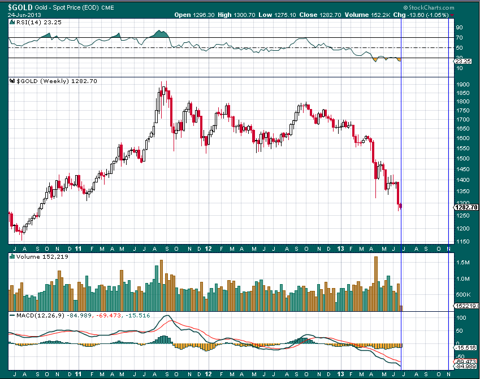 Gold, weekly. Obviously not a very convincing chart at the moment (via StockCharts), but we believe sometime between now and November a major low is likely to be put in (based on past correction analogues) – .
---