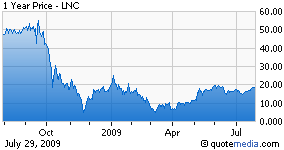 Lincoln National Corp. (NYSE:LNC) is expected to report Q2 earnings today after the market close with a conference call scheduled for Thursday, July 30 at 11 am.
Guidance
Analysts are looking for EPS of 83c on revenue of $2.52B. The consensus range for EPS is 75c to 91c, while the consensus range for revenue is $2.41B to $2.58B, according to First Call.
Analyst Views
Lincoln National was one of the few insurance companies to accept TARP funds, receiving $950M from the government this month. The company also raised $600M through an offering of new stock last month. All told, the insurer raised $2.1B in capital in recent weeks. "We are confident that our enhanced capital and financial flexibility supports our continued business growth and positions Lincoln very solidly for the future, even if external market conditions deteriorate from current levels," said Lincoln CEO Dennis Glass.
A number of analysts have had positive outlooks on Lincoln National following the company's capital raising efforts. Credit Suisse last month responded to the company's plans by upgrading its stock to Outperform from Neutral. The firm, which set a target of $24 on the shares, later added Lincoln National to its U.S. Focus List.
Meanwhile, Sandler O'Neill on June 25 initiated the insurer with a Buy rating and $19 target, and Raymond James last week upgraded the shares to Strong Buy from Outperform. However, Bernstein responded to Lincoln National's decision to accept TARP funds by lowering its target on the shares to $21 from $31. Bernstein believes that the insurer may be tainted by its decision to accept government funds and the firm thinks that the company's lack of a clear plan to repay the government loan may be an overhang on its stock. In addition, Bernstein predicted that Lincoln National would be pressured to repay TARP by the credit rating agencies, possibly forcing the insurer to raise additional equity in the future.