Merck's (NYSE:MRK) leading respiratory therapeutic Singulair (Montelukast), a once-a-day oral medicine for the chronic treatment of asthma and for the relief of symptoms of allergic rhinitis which generated more than $44 billion of revenue since its launch in February 1998, lost market exclusivity in the U.S. in August 2012.
On August 3rd 2012, the FDA authorized the marketing of generic versions of Singulair and Apotex, Aurobindo, Endo (NASDAQ:ENDP), Glenmark, Kudco, Mylan (NASDAQ:MYL), Roxane, Sandoz, Teva (NYSE:TEVA) and Torrent, all launched generic montelukast tablets immediately following the approval.
Singulair lost almost all of its U.S. sales following the launch of the competing generics. U.S. sales of the brand, which was estimated at $1.4 billion in the last quarter before generics launch, experienced a significant and rapid decline of 98% to $25 million in the 4th quarter of 2012.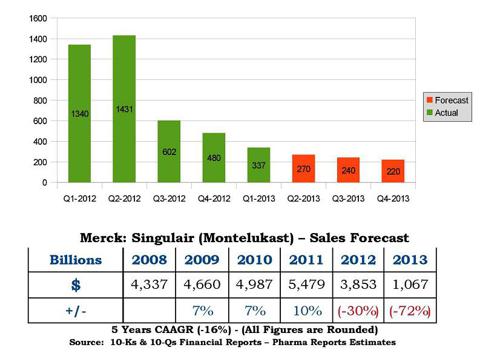 In 2012, Singulair achieved worldwide sales of $3.9 billion, a decline of 30% compared to the previous year. Singulair's U.S. sales decreased 39% to $2.2 billion while the brand achieved sales of $602 million and $668 million in Europe and Japan, respectively.
Singulair's patent also expired in a number of major European countries in February 2013, however, since Singulair's patent does not expire in Japan till 2016, we expect a slowdown in the rate of decline in its sales during the remaining quarters of 2013; the brand is expected to realize $1.1 billion for the whole year.
| | 2010 | 2011 | 2012 |
| --- | --- | --- | --- |
| Singulair | $4987 | $5479 | $3853 |
| Nasonex | $1219 | $1286 | $1268 |
| Clarinex | $623 | $621 | $393 |
| Dulera | $8 | $96 | $207 |
| Asmanex | $208 | $206 | $185 |
Merck faces other challenges to its respiratory business franchise. Global sales of Clarinex, a non-sedating antihistamine, declined 37% in 2012 to $393 million driven by lower volumes in Europe and the United States as a result of generic competition. The company anticipates that sales of Clarinex will continue to decline.
Global sales of Nasonex, an inhaled nasal corticosteroid for the treatment of nasal allergy symptoms, declined 1% in 2012 to $1.3 billion. In 2009, Apotex filed an Abbreviated New Drug Application with the FDA seeking approval to sell a generic version of Nasonex which was upheld by the U.S. District Court of New Jersey. Merck has appealed the decision, however, if generic versions become available, significant losses of Nasonex sales could occur.
Outside the respiratory business, Merck faces several other business challenges. In December 2012, Tredaptive's heart protection study did not meet its primary endpoint and Merck suspended its plans to seek FDA approval for the medicine and began taking steps to suspend the availability outside the United States.
Also, in February, 2013, Merck decided to delay the FDA filing for MK-0822 (odanacatib) approval as a result of its review of Phase III data and its need to review of additional data from an ongoing extension study.
Merck has already reduced operating expenses and, as of the end of 2012, has achieved $3.5 billion in annual net cost savings since its merger with Schering-Plough.
However, such reductions did not come cheap. Merck recorded total pretax restructuring costs of $951 million in 2012, $1.8 billion in 2011 and $1.8 billion in 2010 related to the program, which is expected to cost a total of approximately $7.4 billion and will not be completed before the end of 2016.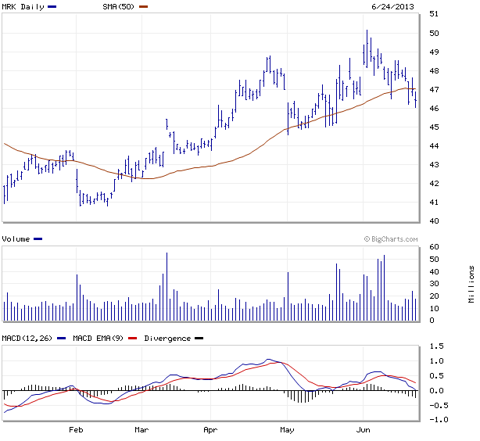 Worldwide sales were $47.3 billion in 2012, a decline of 2% compared with 2011, including a 3% unfavorable effect from foreign exchange. With the loss of the Singular patent, the further strengthening of the dollar, and continued restructuring expenses, it is safe to assume further revenue and earning declines in 2013.
Merck has already lost 6% from its peak for the year, however, this does not reflect the damage that a full year of Singulair's patent loss will cause during 2013 or the long term decline in competitiveness that the loss of leadership in the respiratory space is liable to cause.
Disclosure: I have no positions in any stocks mentioned, and no plans to initiate any positions within the next 72 hours. I wrote this article myself, and it expresses my own opinions. I am not receiving compensation for it (other than from Seeking Alpha). I have no business relationship with any company whose stock is mentioned in this article.