Tenet Healthcare Corporation (THC) is an investor-owned healthcare delivery systems company based in Dallas, Texas. The company owns and operates 49 acute-care hospitals in 11 states and 90 outpatient centers in 12 states, with a majority of these hospitals (32) in California, Florida and Texas. Headquartered in downtown Dallas, Tenet has more than 13,000 licensed beds and 57,000 employees.
Location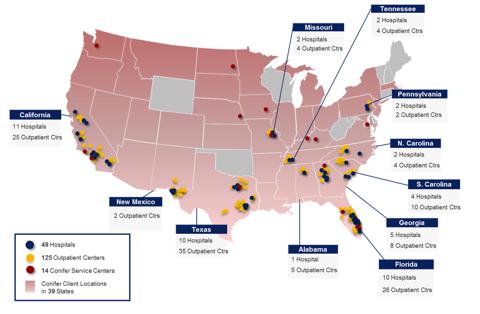 The company provides high-quality healthcare services to patients through hospitals and outpatient centers, and provides business process solutions for healthcare providers through its Conifer business. With respect to business process services, it provides comprehensive operational management for revenues cycle functions, including patient access, health information management, revenue integrity and patient financial services. Conifer provides services to more than 600 Tenet and non-Tenet hospitals as well as other clients nationwide.
The company generates most of its revenues from inpatient services, which was around 67 percent in 2012. But as you can see, the company's outpatient services have generated significantly higher margins than inpatient services, an increase of 8.2 percent on a YOY basis. During the year ending December 31, 2012, it generated approximately 34 percent of its net patient revenues from outpatient services. The company can generate higher revenues and margins by expanding its outpatient business over time.
Over the years, the company has remained focused on opportunities to increase hospital and outpatient revenues through organic growth and acquisitions, and to expand its Conifer business.
Business model:
Tenet Healthcare generated most of its revenues from long-term contracts. Currently it has thousands of managed-care contracts with various health maintenance organizations and preferred provider organizations. The amount of its managed-care net patient revenues during the year ending December 31, 2012 was $5.4 billion, which represented approximately 57 percent of its total net patient revenues, before provision for doubtful accounts. Approximately 63 percent of its managed-care net patient revenues for the year ending December 31, 2012 was derived from its top ten managed-care payers. In the year 2012, its commercial managed-care net inpatient revenues per admission from its acute-care hospitals was approximately 79 percent higher than its aggregate yield on a per-admission basis from government payers, including managed Medicare and Medicaid insurance plans.
Competition:
Tenet Healthcare operates in a highly competitive market where other hospitals and outpatient centers in the communities provide similar services. Furthermore, some competing facilities offer a broader array of services to patients and physicians, have larger or more specialized medical staffs to admit and refer patients and have more favorable contracts with managed care plans. Furthermore, some of its hospitals compete with hospitals owned by government agencies or not-for-profit organizations. These tax-exempt competitors have certain financial advantages compared to Tenet's facilities, including endowments, charitable contributions, tax-exempt financing, and exemptions from sales, property and income taxes.
Competitive Environment:

The company seems to be performing better than its competitors, with the exception of Universal Health Services (NYSE:UHS). The reason behind this lower performance with respect to UHS is due its small size; UHS operates 226 acute care hospitals in more than 37 states. The company managed to generate a higher average revenue per occupied bed than all of its peers except UHS, regarding the fact that it has a smaller number of licensed beds and a significantly lower occupancy ratio. The company operates a significantly lower number of beds than its peers, which means that its ability to expand its revenues as quickly as other hospital operators is limited.
The healthcare industry has recently seen a huge demand for physicians, which has consequently caused a sharp decline in the availability of physicians. THC also faces this situation, but its physician retention rate is much better than its competitors, which gives it a competitive edge.
Comparative Analysis:

The graph above shows a comparison of cumulative total return of the company with respect to industry indices, over the period of five years (assuming $100 was invested in 2007 in stock or index, including reinvestment of dividends). You can see that the company surpassed its sector and industry index with impressive total returns. Over the five-year period, the company was able to generate a CAGR of 8.1 percent, while the S&P 500 index, the S&P Healthcare index & peer group generated CAGR of 1.4 percent, 4.0 percent and 6.1 percent, respectively.
Stock price performance:

The chart above indicates the company's historic price performance with respect to major healthcare market players and the S&P Healthcare index. As you can see, the company's stock outperformed its peers with a price appreciation of 114 percent over the period of one year. This historic price performance of the company indicates investors' confidence in its business operations and growth expansion.
Revenue Growth: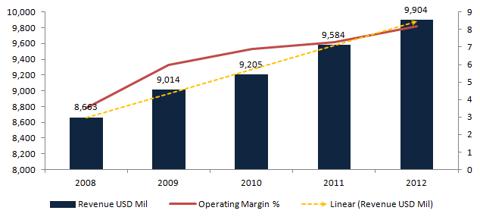 The graph above shows the company's revenues and its operating margins since 2008. As you can see, a consistent growth in revenues is indicated by a linear line, with a CAGR of 3 percent. Over the years, the company has managed to grow its operating margins from 3.5 percent in 2008 to 8.2 percent in 2012, respectively. The company has also managed to grow its operation by increasing its number of hospitals and care centers using organic growth and a series of acquisitions.
Conclusion:
A decline in uninsured patients under the Affordable Care Act, and a boom in the 65 and older age bracket will improve revenues and margins for the acute-care industry in the long run. This translates into favorable volumes for the company, which is one of the largest private hospital operators in the U.S., with facilities in fast-growing, high-density urban markets. Furthermore, economic conditions are currently in recovery, with a decreasing unemployment rate, a growing GDP and increasing healthcare spending in the U.S., which results in an increase in availing healthcare facilities in coming years.
Furthermore, the company can expand its outpatient facilities for further capture of high margins from the services because this business segment has the potential to generate high margins and improve the company's results of operations. Furthermore, its historic stock price performance indicates investors' confidence in its business and operations. Moreover, in February 2013, the company announced the acquisition of Emanuel Medical Center hospital located in Turlock, California, which will make for an additional 209 beds. On the basis of my analysis, I would recommend a long position on this stock.
Disclosure: I have no positions in any stocks mentioned, and no plans to initiate any positions within the next 72 hours.
Business relationship disclosure: The article has been written by Core Equity Research, Analyst. Core Equity Research is not receiving compensation for it (other than from Seeking Alpha). Core Equity Research has no business relationship with any company whose stock is mentioned in this article.