The prices of platinum and gold have both been under a lot of pressure lately. In the past platinum used to be twice as expensive as gold. Right now the two metals are more or less equal in price. Here's why I think platinum is about to outperform gold again in the near future.
Since Mr. Bernanke announced the 'end' of QE3 last week gold has taken another severe hit. The other precious metals could not escape the bloodbath and tanked along with gold.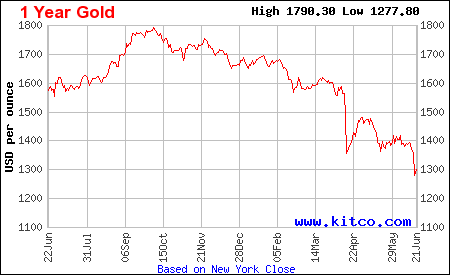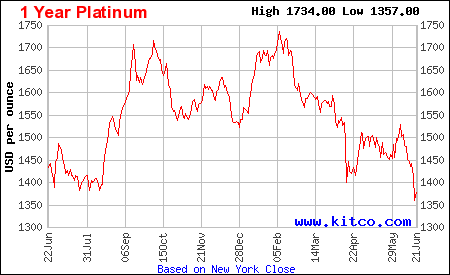 source:kitco.com
In the 1 year chart, we see that gold is down 20%, while platinum just gave up a minor 3%. Look at the next chart: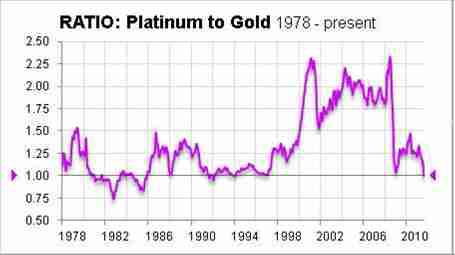 source: Richard Bloch
From 1978 on, the price of platinum has almost always been higher than gold. Before the 1970's, it was even much higher, but the abolishing of the gold standard brought the platinum/gold ratio down to 1.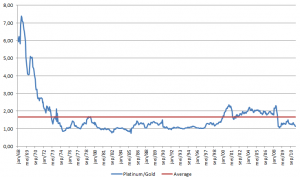 source:resourceinvestor
Reasons to buy platinum
Although not as popular as silver and gold, platinum is very important as an industrial metal. It is interesting for investors thanks to its wide variety of uses. Platinum is best known for its use in the automobile industry: half of the supply of platinum goes towards creating emission control devices for automobiles. Over the last year there have been shortages in supply. Miners could not keep up with the strong demand for platinum from various industries.
This is going to be even worse when in a couple of weeks the wage negotiations in South-Africa are about to commence. Wage increases of 30% to 60% are demanded by the unions and without a doubt this will result in large scale strikes. With South-Africa being the most important exporter of platinum, this will move prices upwards.
In China, platinum is used mainly in jewelry. According to a platinum analyst of Societe Generale, Robin Bhar, 23% of platinum demand is for Chinese jewelry. With the Chinese middle-class growing at a rapid pace, demand can only increase in the coming decades.
Then there's the price of platinum. Under influence of the enormous outflows in Gold ETFs prices of all precious metals are under pressure lately. This endangers the platinum miners. Due to high costs they might be forced to close mines if the price does not go up within a reasonable time frame. Less mines open means less supply.
Reason to not buy gold
Gold has been bought up the last ten years mainly as a hedge against inflation and later against the monetary policy of countries such as Japan and the U.S. However, since the (American) economy is recovering gradually and hence QE could become less aggressive, gold is in the doghouse. Gold is not a broadly used industrial metal and therefore there is not much demand from manufacturers other than jewelry. The popularity of the Gold ETFs was astonishing, but now the very same ETFs are experiencing unprecedented outflows. Gold has already lost a third of its value since 2011. But there is still a lot of money left in the gold ETFs and with an improving economy, more and more investors will swap gold for stocks.
Conclusion
Not only are there plenty of reasons to buy platinum, there is also a reason to sell gold. Expected strikes in South-Africa, increasing demand from the automobile sector and the Chinese jewelry business could boost platinum prices. For the coming years, a ratio of 2 in the platinum/gold spread would not surprise me at all.
Disclosure: I have no positions in any stocks mentioned, and no plans to initiate any positions within the next 72 hours. I wrote this article myself, and it expresses my own opinions. I am not receiving compensation for it (other than from Seeking Alpha). I have no business relationship with any company whose stock is mentioned in this article.