In early 2012, I wrote an article entitled "2011's Bond Trade Will Falter in 2012" depicting the danger for investors crowding into Build America Bonds after scintillating returns of 21% in 2011. I was a year early in my call and the Build America Bond ETF (NYSEARCA:BAB) returned 10% in 2012 including reinvested dividends. In 2013, BAB has generated a total return of -7%, largely offsetting last year's surprise performance.
The concern voiced in my original article was that retail investors did not understand that the underlying bonds held by BAB and other Build America Bond funds were very long duration and would fall sharply with a rise in interest rates. When the Build America Bond program was active between February 2009 and its expiry at the end of 2010, municipal bond issuers were incentivized to issue bonds as far out steep yield and credit curves as possible given that the government was paying a fixed percentage of the interest expense. By issuing long duration bonds, the municipal issuers were able to get larger government subsidies locked in for longer time periods. The preponderance of Build America Bond issuance was thusly issued in the 30-yr maturity bucket. The BAB ETF reflects this fact and had a weighted average maturity of greater than 23 years, and an effective duration of 10.9 years at the end of the first quarter.
With issuance of new Build America Bonds ending with the expiration of the program at year-end 2010, and secondary trading volume greatly reduced on these seasoned vintage offerings, the asset class has become effectively orphaned. While the average credit spread of 150bps likely will more than adequately cover the realized credit losses until the bonds mature, the variability of BABs will be greatly influenced by the movement in long-term interest rates as demonstrated in the graphs below.
As the 30-yr Treasury Yield Has Risen...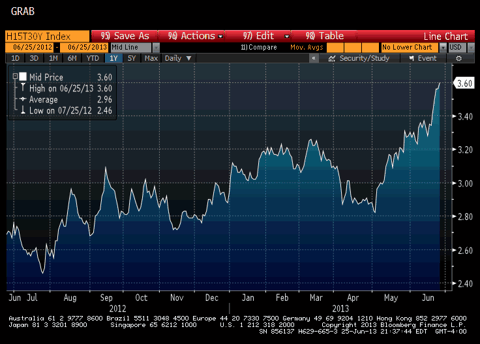 Source: Bloomberg, U.S. Treasury
...Build America Bond Prices Have Fallen Sharply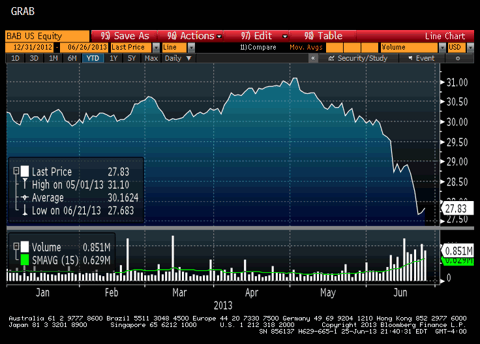 Source: Bloomberg, Powershares
Long-term holders of Build America Bonds should understand that the average return is going to be less than 5% until the bonds mature in twenty-plus years. The underlying yield-to-worst on the Build America Bond market is 4.77% (source Barclays Capital Build America Bond Index). Even if default losses are zero, the average net return will be only 4.5% after adjusting for fund expenses. Expect inflation to cut into this low nominal return by at least half over time.
As I described in my previous articles on how long Treasury bonds have had the equivalent trailing volatility of the S&P 500 and how Apple's long bonds have been more volatile than its topical stock price, holders of long duration Build America Bonds are going to continue to experience tremendous volatility to generate this relatively paltry average real return.
Of course, where there is volatility, there is also opportunity. If you believe that long duration bonds have become oversold in the current sell-off and are due for a correction as yields rally, then perhaps a tactical long is due. Given the fund's 11 duration, just a forty basis point retracement of the recent 80bp thirty-year Treasury selloff experienced over the past seven weeks would generate a 4.5% price return on the underlying bonds, equivalent to the long-run expected average annual net return.
If you have this short-term tactical view, several closed end funds that hold Build America Bonds are trading meaningfully below their net asset value. These discounts to the underlying value of the bonds have widened in the recent sell-off from their trailing one-year average, potentially providing an additional margin of safety for investors willing to take a bullish tactical stance. Optimistic bond investors could seek to add Guggenheim Build America Bonds (NYSE:GBAB), Nuveen Build America Bond Opportunity Fund (NYSE:NBD), or Nuveen Build America Bond Fund (NYSE:NBB). Each of these funds employ a quarter turn of leverage, magnifying returns and volatility of the underlying securities. While investors will get 6-10% discounts to the underlying net asset value, they will also pay greater than 1% expense ratios, nearly 4x what is paid on the unlevered BAB ETF.

I do expect that the sell-off in long interest rates will moderate in the next couple of months as the Federal Reserve walks back some of its recent hawkish rhetoric that has pulled forward market expectations on the terminus of quantitative easing. Resultantly, Build America Bonds would generate positive short-term outperformance in that market environment. However, long-term, average returns on these bonds, and their related funds, are likely to not be sufficient to justify the high volatility in long interest rates.
Disclosure: I have no positions in any stocks mentioned, and no plans to initiate any positions within the next 72 hours. I wrote this article myself, and it expresses my own opinions. I am not receiving compensation for it (other than from Seeking Alpha). I have no business relationship with any company whose stock is mentioned in this article.