The oil boom in South America is mostly due to small-cap oil companies that are sprouting in the region. Gran Tierra Energy (NYSEMKT:GTE) is one of Colombia's hottest exploration and production (E&P). GTE is the fourth largest oil company in Colombia in terms of reserves. However, Colombia's insurgent group Fuerzas Armadas Revolucionarias de Colombia (FARC) allegedly targeted attacks in oil infrastructure in Colombia since the start of the peace talks. Due to frequent political and economic intrusions to oil infrastructure in Colombia, GTE lagged behind due to weak sentiment from investors.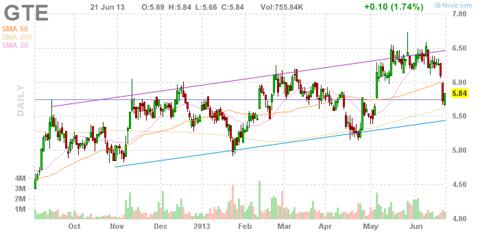 The stock has been trading range bound in the past quarter, but the current stock price is 40% above the 52-week low of $4 and 17% below the 52-week high of $6.73. The stock price is $5.58 as of writing time, and is paced to climb upwards this year as long as GTE can continue to grow its sales and earnings.
What triggered this jump in the stock?
This might be partly due to Gran Tierra Energy successfully completing its initial testing in one of its wells in Peru. GTE reported an initial estimate of 3,095 barrels of oil per day from this Peru well. Investors are largely encouraged by this vast potential in Peru.
In April, GTE announced a 21% increase in quarterly oil productions. The first quarter production was approximately 21,860 barrels of oil per day compared with 18,148 barrels for the same period in 2012. Approximately 97% of the barrels were oil and natural gas liquids. First quarter production reflects increased production in all countries in which we are producing with the largest contribution to the increase from the Costayaco, Moqueta, and Surubi oil discoveries. Gran Tierra owns oil and gas properties in Colombia, Argentina, Peru and Brazil.
Q1 2013 Financial Results Exceeds Expectations
The recent developments in GTE's exploration should lead the company in a much higher valuation due to vast growth potential. Sales, income and earnings are increasing, while the assets of the company are in good standing. The company has no long-term debts while the equity is increasing.
Gran Tierra Energy has a market capitalization of $1.65 billion. The company has a quick and current ratio of 2.30 and 2.40 respectively. The debt-to-equity ratio is zero because the company has no long-term debts.
Sales of Gran Tierra Energy increased by 78.50% in the past five years, and increased by 31.70% compared to the previous quarter. The total revenue in Q1 2012 is $155.95 million compared to $205.37 million revenue in Q1 2013.
Net income for Q1 2013 is $57.91 million compared to Q1 2012's net loss of $0.31 million. EPS is also on an uptrend, with an annual EPS from 2009 to 2012 of 0.05, 0.14, 0.45, and 0.35 respectively. The company consistently provides earnings about five quarters now. But, the recent quarterly EPS is 0.20 which is quite high compared to last quarter's 0.15. The recently reported EPS of $0.20 exceeded analyst's expectations by 25%. The next quarter's earnings release is set on August 7th.
Can Gran Tierra Energy continue to grow?
Without the unexpected and uncontrollable attacks from the FARC, GTE is one oil company with a huge upside in the South American oil belt. The sales, income and earnings are sustainable and increasing steadily. Colombian oil companies are trading at a discount due to the turmoil...but if the risk of political turmoil is mitigated, the impressive financials and earnings will tempt even the most risk-averse investors. As exploration continues and production increases, GTE will be a gem to the region and risk-taking investors will be reaping the fruits of their stock in a couple of years.
Disclosure: I am long GTE. I wrote this article myself, and it expresses my own opinions. I am not receiving compensation for it (other than from Seeking Alpha). I have no business relationship with any company whose stock is mentioned in this article.