In the current environment, Cisco's (NASDAQ:CSCO) diversified business model can provide investors with a certain level of security in earnings estimates. Cisco has managed to prosper over the past few years, despite macroeconomic uncertainties and limited revenue growth. Cisco, on the other hand, had revenue growth last quarter of 5 percent - leading EPS higher to 46 cents per share, up from 40 cents per share a year ago. Excluding one-time items Cisco earned 51 cents per share in the latest quarter.
The stock closed Monday's trading session at $24.06, slightly down from its 52-week high at $24.98. Technical indicators for the stock are bullish.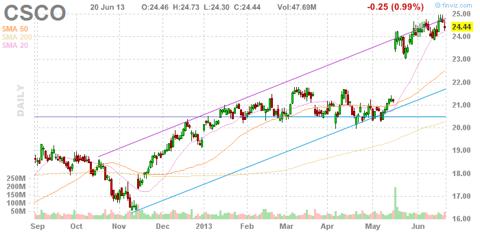 Growth and Balance Sheet
Cisco's net income jumped 14 percent in the latest quarter as revenue at all four of its divisions rose for the first time in a year and a half. Revenue in the U.S. improved and sales from emerging markets grew more than 10 percent. The company said total orders rose 4 percent during the quarter. Orders in the Americas grew 7 percent. The company said government spending improved as local and state governments and education departments spent more money. Orders from the federal government decreased.
Cisco expects further signs of a slow and steady recovery in the fiscal fourth quarter. The company forecast adjusted net income of 50 to 52 cents per share and said revenue will grow 4 to 7 percent, to $12.16 billion to $12.51 billion.
Valuation
As of the end of fiscal year 2012, the company reported that it has 72,360 employees and a global network of field officers in 93 countries. This network is still a major determinant of the company's revenue generation capabilities, which is more likely to grow steadily in the future.
CSCO trailing P/E stands at 13.57, below the industry average of 25.13. The stock is currently trading 4 percent below its intrinsic value of $25.54, suggesting that the stock is undervalued at these levels. CSCO's current Price/Sales of 2.73 is above the average of its industry of 0.39. The beta of 1.42 implies higher volatility of the stock with respect to the S&P 500. The company paid $0.68 dividend resulting in a 2.20 percent dividend.
The company has grown its dividend substantially over the past year and this dividend is certainly sustainable. As of the end of fiscal year 2012, the company reported that it has 72,360 employees and a global network of field officers in 93 countries.
RECOMMENDATION for next 6 months: Tradespoon initiates coverage with BUY. The company has demonstrated bullish technical signs valuation is still cheap relative to its peers and reported a very strong first quarter. CSCO stock is 22.45 percent higher year to date.
For stock trading, we suggest: Buy CSCO at or below $24.22, with a stop at $22.10. We are targeting a move higher to $26.25.
Disclosure: I have no positions in any stocks mentioned, and no plans to initiate any positions within the next 72 hours. I wrote this article myself, and it expresses my own opinions. I am not receiving compensation for it. I have no business relationship with any company whose stock is mentioned in this article.