NorthStar Realty Finance (NRF) is an extraordinarily complex company and woefully misunderstood. Much of the market and even some highly respectable data services still believe that NRF is a mortgage REIT despite the fact that it is closer to an equity REIT. Despite incredible cashflow and FFO growth over the past months, it has traded down with the mREITs that are falsely considered to be its peers.
The Buy Thesis
Between growing earnings and a reduced market price, NRF has become quite undervalued. There are numerous fundamental catalysts in place that will facilitate the restoration of NRF to a proper trading multiple.
The correction of misconceptions
Continued growth of its real estate portfolio
Revenue infusions from asset management
Unique origination abilities
Substantial dividend growth
In my opinion, the largest and most prescient of the catalysts is the correction of the market's misconceptions, so we will spend a fair amount of time on this topic.
At the 2013 REITWEEK conference in Chicago, a central topic of NRF's presentation was the fact that they are not an mREIT. In fact, Albert Tylis (president of NRF) began his presentation by saying:
"We are not a mortgage REIT. So I repeat that, not a mortgage REIT. We are a diversified commercial real estate investment and asset management company. We do not buy and sell securities like mortgage REITs. - mortgage REITs are externally managed. We are internally managed. Our interests are aligned with shareholders the way it's typical for most of the equity REITs that are here at this conference."
Why must he so emphatically declare that NRF is not an mREIT? Because the entire market seems to think that it is.
SNL Financial is a highly reputed data provider, and even it presents NRF as an mREIT. Rather than appearing in the diversified section of its REIT newsletter as it should, SNL Financial places it as a financial REIT. When reporting its balance sheet, NRF's non-mREIT portfolio is shoved into an mREIT's template.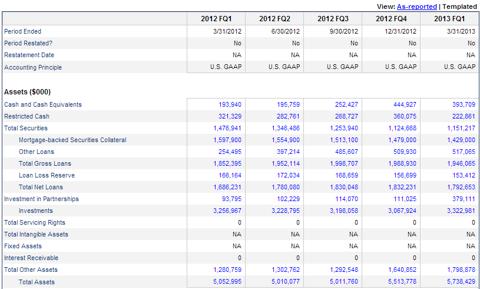 If we compare this to NRF's actual balance sheet, it is evident how grossly the company is misrepresented.

NorthStar's $1.5B of operating real estate simply gets lumped into "other assets" which disguises the fact that it is largely an equity REIT.
The point of bringing this up is not to tarnish SNL Financial for misrepresenting NRF, but rather to show that even the highest tier of data providers is still presenting NRF as an mREIT. Google Finance shows NRF's peer group as a bunch of mREITs

At this point, I believe we have presented sufficient evidence to show that much of the market thinks of NRF as an mREIT, but why does this matter?
Well, the problem is that it causes NRF to trade with the mREITs rather than with its fundamentals. If we look at the past month and 3 months, it is clear that NRF's trading is very strongly correlated with that of the mortgage REIT ETF (BATS:REM).
1 mo.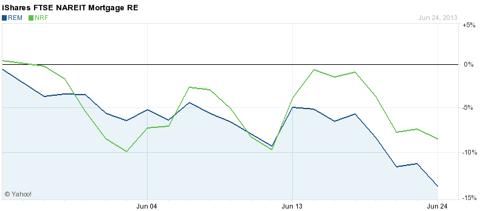 3 mo.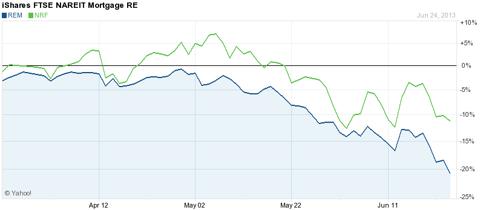 NRF's price dropped with the mREITs despite its fundamental strength moving in the opposite direction. In a previous article, I showed how Agency mREITs were substantially hurt over this time period. NRF's fundamentals, however, improved greatly.
On June 12th, NorthStar announced its pending acquisition of interest in 25 real estate private equity funds in an accretive move anticipated to add $0.16 to $0.18 to CAD in 2014. That represents over 10% growth in cash available for distribution. While this tremendous news led to a slight bump in NRF's market price, it was quickly pulled back down.
The agency mREITs suffered and NRF was the baby thrown out with the bath water.
Outperformance Catalyst #1: the correction of misconceptions
While NorthStar's executives have been doing their best to convince the world that it is not an mREIT, their words have so far been mostly ignored. Instead, the event that I believe will finally correct the market's misconceptions is the 2nd quarter earnings report. While the agency mREITs are anticipated to report declining book value, weak earnings and dividend cuts, NRF will get to showcase its growing earnings, growing equity portfolio and growing dividend. If the report is as strong as I think it will be, it will differentiate NRF from the pack and finally allow it to trade based on fundamental performance.
In my opinion, this first catalyst will be the primary driver of outperformance, while the other 4 catalysts detailed below are responsible for the anticipated fundamental strength to be reported in the 2Q release.
Outperformance Catalyst #2: the continued growth of its real estate portfolio
At the end of 1Q13, NRF had around $1.5B of owned real estate. Since then, it has grown this number to $2.4B through highly accretive acquisitions.
On April 8th, it closed on a $865mm purchase of 71 manufactured housing communities with an initial return on equity of 14%. It also gained a 35% equity interest in the Milford Plaza hotel on Time Square. This transaction will be further detailed in the discussion about NRF's unique underwriting capabilities.
Each of these purchases will partially add to AFFO and CAD of NRF's 2nd quarter and full results will be seen in the 3rd quarter. Beyond the extra profits, a more sizable equity portfolio enhances NRF's chances of being seen as a diversified equity REIT.
Outperformance Catalyst #3: revenue infusions from asset management
NRF has a fully formed asset management team people and a broker dealer with a strong network of connections. In each of the past two months, it raised more than $100mm with the potential to raise billions in the next couple of years. Through raising and managing money in the non-traded REIT space, NRF collects fees which should amount to around $40mm in 2013 and this source of revenue should ramp up steadily as more money is raised.
In the REITWEEK presentation, Alber Tylis shed some light on the potential scope of NRF's asset management business. In addition to the $1.1B that is almost done being raised, there are 2 more pools in the works for $1.1B and $1.5B.
I consider these to be nearly risk-free revenue generators as NRF has no capital invested. Furthermore, NRF's asset management arm is not included on the balance sheet, so its intrinsic value is actually substantially higher than the reported book value.
Outperformance Catalyst #4: unique origination abilities
We will use the aforementioned Milford Plaza deal as an example of NRF's unique capabilities. Rather than following the standard procedures of loan origination, NRF worked directly with Highgate Hotels to come up with a deal that was mutually beneficial. Since the required loan size was so substantial, other lenders could have charged excessively high rates, but NRF's unique position as an equity REIT with full financing capabilities afforded a deal that was more favorable to Highgate. Alongside the loan, NRF was granted a 35% ownership in the hotel and its internal retail space. As a whole, this deal provides a 12.5% ROE with substantial upside as the hotel cycle is projected to be in an upswing.
Between a full team of 130 people with strong connections and a reputation for specialized loans, NRF has a strong pipeline of accretive origination opportunities. In fact, businesses in need of non-standard loans will actually seek out NRF as Highgate did. In an industry filled with solicitation by loan originators, it is a rare advantage to have the customers initiate negotiation.
Expect NorthStar's pipeline of accretive loan originations to remain strong.
Outperformance Catalyst #5: substantial dividend growth
At its current price of $8.66 NRF yields an impressive 8.78% and its growth rate is equally impressive. It has raised its dividend every quarter for the past 7 quarters for an aggregate 90% raise. I suspect this pattern will continue as NRF's cashflows grow. Based on 2013 projected CAD, its 8.78% dividend yield represents an approximate 80% payout. However, at the same REITWEEK conference Debra Hess (NRF's CFO) suggested that its pro forma CAD was substantially higher than the 2013 projection.
"And I just would like to point out the numbers that we gave you for 2013 is actually our projection for 2013. And we actually did a number of very large investments, one of which was in the first quarter, the LP interest, and another, the second, on manufactured housing portfolio that we bought in the beginning of April. So the numbers you see are actually the projection for 2013, it doesn't reflect that all of those investments having been owned for the full year."
This means that even without further growth, 2014's CAD should be substantially higher than the 2013 figure. The projected CAD also did not include the June acquisition of interest in the real estate private equity funds. As previously mentioned, this should add $0.16-$0.18 to 2014 CAD.
NRF's built in growth for 2014 portends further dividend increases in the near term and its substantial pipelines for equity acquisitions and loan origination should fund dividend raises for the foreseeable future.
Thus far, we have been focusing on the buy thesis. I do not mean to suggest that NRF is a sure thing, but rather that it provides investors with outsized returns relative to its risk. Such an argument requires discussion of the risky aspects of NRF.
Risks and concerns
While I consider NRF to be a diversified equity REIT, it has rather high leverage when compared to most equity REITs with 2.3X debt to equity as of 1Q13. In my opinion, the risk associated with NRF's leverage is less substantial than the market discount would suggest.
Very little of NRF's debt is recourse with most of it collateralized by the associated assets. The loan portion of NRF's portfolio has no interest rate exposure as it lends on a floating rate basis and match-funds it with floating rate debt. Thus, rising interest rates will increase revenues just as much as expenses.
The other primary risk associated with NRF is something that is typically called "risk" risk. In other words, NRF's portfolio is so complex that investing in it requires taking on risks that one cannot even be aware of. For example, there is almost no information released on the purchase of interest in the real estate private equity funds. As it is nearly impossible to know the risk profile of this investment, one must take a leap of faith and trust that the executives thoroughly researched it and made the right choice.
The bottom line
At a price to 2014 estimated FFO of only 7, NRF is severely undervalued. This multiple is somewhat low for an mREIT and extremely low for a diversified equity REIT. As continued fundamental success enhances NorthStar's reputation as an equity REIT, its multiple should come up substantially. As a bonus, investors get paid nearly 9% annually while waiting for the price to come up.
Disclosure: 2nd Market Capital and its affiliated accounts are long NRF. I am personally long NRF. This article is for informational purposes only. It is not a recommendation to buy or sell any security and is strictly the opinion of the writer.
Disclosure: I am long NRF. I wrote this article myself, and it expresses my own opinions. I am not receiving compensation for it (other than from Seeking Alpha). I have no business relationship with any company whose stock is mentioned in this article.