By: Todd McDonald, Analyst
Overview
BlackBerry (NASDAQ:BBRY) is scheduled to report 1Q 2014 earnings before the market opens on Friday, June 28, with a conference call to follow at 8:00 a.m. EST. Results are expected to be available at 7:00 a.m. EST. The market is likely to focus heavily on the BlackBerry 10 unit sales this quarter.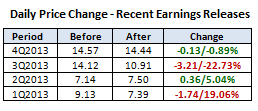 Outliers & Strategy
Adjusted Earnings Per Share: According to Zack's Investment Research, the consensus estimate is $0.14, near the lower end of the -$0.07 to $0.72 range.
Revenues: Consensus estimates are for revenues of $3.438 bln, towards the midpoint of the projected range of $2.721 bln - $4.31 bln. Revenues have beaten analyst estimates just 3 out of the last 8 quarters.
BlackBerry 10 Unit Sales: This will be the first quarterly report to have a meaningful BlackBerry 10 measure. Analysts estimates appear to be consistent:
Goldman Sachs: 3.5 million units - StreetInsider.com.
RBC Capital Markets: 2.75 million - 3.5 million units - StreetInsider.com.
Wells Fargo: 3.5 million units - StreetInsider.com.
Implied Volatility: Over the past eight quarters, the average absolute move one day after earnings are released was 13.29%. Using options premiums, traders are expecting approximately an 11.27% absolute move.
Recent News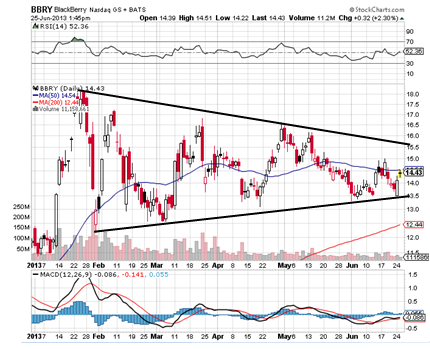 Technical Review
BlackBerry shares have formed a symmetrical triangle, trading around the 50-day SMA throughout the year. The consolidation pattern indicates that a breakout could happen either way, making the upcoming report crucial if it breaks. Should earnings surprise to the upside, look for initial resistance at the $15-level, followed by the descending trend line near $15.50. If earnings disappoint, potential support is near $13.50, followed by the 200-day SMA near $12.50. (Chart courtesy of StockCharts.com)
Summary
The upcoming earnings release for BlackBerry will focus heavily on the sales of new phone offerings (Q10 and Z10) that run on BlackBerry 10 operating system. With a very wide range in earnings estimates, look for results in all of the key measures towards the low or high ends of the ranges to create a directional reaction to the release. Be sure to listen in on the conference call for any color on how consumers have reacted to the new products available.
DISCLAIMER: By using this report, you acknowledge that Selerity, Inc. is in no way liable for losses or gains arising out of commentary, analysis, and or data in this report. Your investment decisions and recommendations are made entirely at your discretion. Selerity does not own securities in companies that they write about, is not an investment adviser, and the content contained herein is not an endorsement to buy or sell any securities. No content published as part of this report constitutes a recommendation that any particular investment, security, portfolio of securities, transaction or investment strategy is suitable for any specific person.
Disclosure: I have no positions in any stocks mentioned, and no plans to initiate any positions within the next 72 hours. I wrote this article myself, and it expresses my own opinions. I am not receiving compensation for it (other than from Seeking Alpha). I have no business relationship with any company whose stock is mentioned in this article.