It is sometimes frustrating to be "early" on a call. I was "early" in predicting that Intel (NASDAQ:INTC) would begin gaining traction in tablets even with the likes of Samsung (OTC:SSNLF), but it happened. I was "early" in predicting that Intel's launch of the Silvermont core would cause massive problems for ARM's (NASDAQ:ARMH) share price (the recent upgrades indicate that somebody's clients need to get out at a decent price), but it happened. And now it seems that I'm "early" again in predicting that Intel will gain a significant portion of the tablet market this holiday season.
However, I have seen evidence that fully supports my thesis. This isn't the kind of evidence you'll see on market currents, or in the headlines, but it's the stuff that people who do extensive due diligence are aware of and those who follow headlines are surprised by. Intel will gain significant market share in tablets beginning this holiday season with the design win momentum for its 22nm, Silvermont-based Bay Trail system-on-chip.
The ODMs Are Who Matter
I see plenty of retail investors asking the wrong questions. These questions usually are:
Will Intel win the iPad by making some complex deal?
Will Intel build iPad chips for third parties?
Why doesn't Intel license ARM?
What about a Nexus tablet?
These are absolutely the wrong questions. The tablet market is exploding as every PC vendor hops on board the market to release these devices. And if you think about it, a tablet is nothing more than another form factor of PC; the guts are behind the glass instead of under the keyboard, and the keyboard is optional. Wow -- so radically different!
Anyway, 94% of all laptops today are made by Taiwanese ODMs, which stands for "original design manufacturer." Essentially, these companies design and build devices for the major players such as Hewlett-Packard (NYSE:HPQ), Dell (DELL), Toshiba, and others and then these big names simply stamp their name on the device and sell it. The same thing will happen as tablets continue to become mainstream and continue to ship in high volume. Sure, Apple (NASDAQ:AAPL) may have the largest individual tablet in terms of sales, but the overall tablet market will have a diverse range of products from countless vendors, all designed and built by Taiwan's ODMs.
So, why does this matter? Simple. At Mobile World Congress, Intel made the following announcement:
Intel is currently working with Compal*, ECS*, Pegatron*, Quanta*, and Wistron* to accelerate 'Bay Trail' tablets to the market.
This means that every major ODM -- each of which has years of experience working with Intel on notebook, desktop, and server products -- will now be designing and building Intel-based tablets en masse. While the customers of these ODMs aren't exactly keen to go pre-announcing these new tablets while they still have current inventory to sell (and the big selling season is during the holiday rush anyway), those of us who paid attention at the recent Computex trade show saw a glimpse into the potential designs that these ODMs may be supplying to the big customers in time for the holiday launch.
The Designs: It's Innovation City
There were numerous designs shown off at Computex. Now, rather than tell you about them, I'd much prefer to show you.
It's an iPad With Retina -- and Windows 8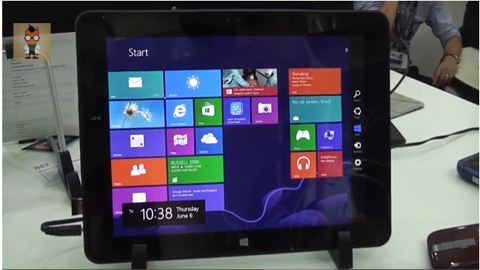 Would you look at that? It's an iPad-like device (retina display included) that packs an Intel Bay Trail processor and runs Microsoft's (NASDAQ:MSFT) Windows 8. This device is from an ODM called CZC, and this firm is looking to sell this design to OEMs who want to bring it to market. Pretty nifty, right? Now the market segment of folks who wanted an iPad but really wanted the ability to run full Windows 8 is satisfied.
Hey, Look, It's a Surface RT -- Except Better
Many people said that they would love to buy a device that is as thin and as light as the Surface RT, but with the ability to run full Windows programs like on the Surface Pro (without the price tag of a Core processor). Looks like those customers now get their wishes: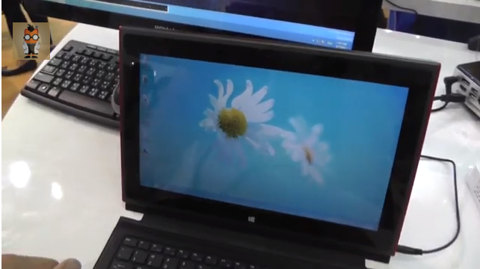 Ta-da! It's a Surface clone but running Intel's upcoming Bay Trail Atom. This means that it can run all of the programs that a Surface Pro can run, but it's going to offer all of the advantages that the RT model did in terms of weight/size. Another set of customers satisfied.
Full Windows 8 in Your Hand?
Well, we all know that the 7"-8" tablet market is growing like a weed, particularly as these devices are convenient to carry around, they're usually inexpensive, and they're becoming more fully featured. Well, it looks like with Bay Trail, Intel will be enabling its partners to put the entire Windows 8 platform into the palm of its customers' hands.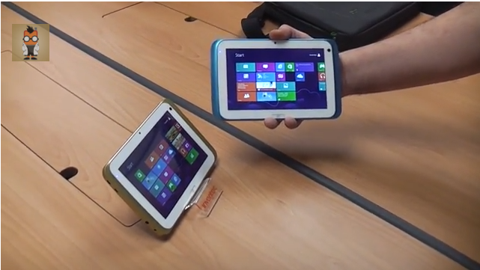 The possibilities here are staggering; everybody can now have a full Windows 8 PC with a quad core, super fast Bay Trail for probably somewhere in the range of $200-$300, complete with Office. Will this be powerful enough to replace a high performance laptop or desktop? No, but when it comes to users for whom the iPad is dangerously close to "good enough," having a full Windows 8 system for the same price as an iPad is a compelling enough alternative to shift market and wallet share back in Intel's favor. Pretty nifty, right?
More to Come
There's a lot more coming, particularly as we get closer to the holiday selling season. No tablet vendor today really wants to make its current products look obsolete, so you will not see actual announcements that confirm this thesis until the device vendors are ready to sell the devices. Further note that Bay Trail will run Android just as well, so expect to see some nice designs running Android at the launch also.
For Intel investors, understanding where the market is going (the market flooded with tablets from all of the major OEMs/ODMs) is much more important than looking at the landscape today. While Intel winning the iPad would be nice, it's simply not necessary for Intel to succeed wildly in this space. Intel will be detailing Bay Trail at the HotChips conference in August. This gives us a clue as to the time frame of the actual chip and design win announcements. Stay tuned.
Disclosure: I am long INTC, MSFT. I wrote this article myself, and it expresses my own opinions. I am not receiving compensation for it (other than from Seeking Alpha). I have no business relationship with any company whose stock is mentioned in this article.