I've written a few times about YRC Worldwide (NASDAQ:YRCW) since last September, calling it one of the most undervalued, hated securities I've ever seen. In the time since I wrote my first article on the company, YRC Worldwide: A Turnaround Story with Momentum, the stock is up an astronomical 300%+ on the back of improved fundamentals and improved investors' appetite for risk. For me personally, this move is the biggest gain I've seen in a short period of time since investing in Rediff.com (NASDAQ:REDF) back in 2010 at $1.80 (side note: I recently recommended this one again and was wrong and stopped myself out. I apologize for recommending that one, although I do believe the long-term catalyst of growth in India's broadband penetration will benefit them).
On May 3, YRCW announced Q1 earnings that came in better than expected, although worse than my own personal projections because I overestimated revenues. I had expected revenue growth in the range of 2 to 3%. Cost controls kept gross margins around the 67% level, about the same they were in the prior 2 quarters. Given how much leverage this company has, it was important to show top line growth as the bulk of this drops to the bottom line so this was a bit disappointing, but not the end of the world.
To recap on my projections and the company's actual results, I have included a chart below that compares the two: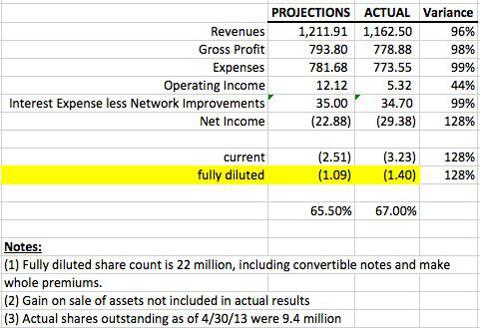 In light of these changes, I have taken a closer look at my 2013 and 2014 projections to see if this move up is justified.


A couple of things to note about my projections:
(1) I'm projecting 1.1% total growth in revenues in 2013, which means revenues would accelerate in the back half of the year.
(2) I'm projecting 5.8% growth in 2014.
(3) I'm projecting further cost reductions, bringing expenses down from 66.5% to 65%.
(4) I've included network improvements of $6 million per quarter as well as assumed that the convertible notes are fully converted by Q4 2013, both of which will boost earnings by around $12 million per quarter going forward after Q4 2013.
(5) Fully diluted shares outstanding are assumed to be 22 million after taking into account convertible notes and make whole premiums of around 12.6 million shares.
As you can see above, estimated EPS in 2014, assuming the above, is $1.12. Compared to the current price of $27.50, the stock seems to have fully incorporated impacts from the network improvements and reduced interest from convertible notes being tendered.
ABFS Merger and Union Tensions
I have to admit that I was originally too quick to dismiss the threat of the International Brotherhood of Teamsters trying to take back some concessions granted over the past several years. In a very surprising move, the company confirmed on May 9th that they approached Arkansas Best (ABFS) about buying them out. The union response was exactly what I expected. Union head James Hoffa called the move "unconscionable" that YRC would move on a possible acquisition of Arkansas Best while the union and ABF were in the midst of highly charged and sensitive contract talks. "This interference in the collective bargaining process is an affront to all of the hardworking men and women at both companies," Hoffa said.
The heart of the matter is that the buyout would potentially put the ABFS workers at odds with YRCW workers in terms of compensation, with YRCW's compact with the union being less generous than that of ABFS from an employee perspective. YRCW's motivation in doing this merger would be to help fill out its network density and potentially to get ABFS workers to agree to a lower compensation package (speculation on my part). In my opinion, with so many concessions granted to the company over the past several years, this move could potentially backfire on YRCW when it comes time to renew its union compact in 2015. To that end, Mr. Hoffa issued the following response:
"Before YRC begins looking for acquisition targets they should first restore our members' wages and pension contributions," Hoffa said in the statement. "We have seen this kind of arrogance from YRC before. We thought they had finally learned the lessons of past management catastrophes. Unfortunately it appears they have not."
In light of this development, any projections going forward on employee compensation and pension obligations are at best guesswork and I think it's important to take into consideration the possibility that the company will have to make some concessions back to the union.
CONCLUSION:
The stock now seems to be ahead of itself given the disappointing top line growth. The past couple of quarters have seen shrinking top line figures. Part of this is due to the company continuing to pare down its customer base and focus on the most profitable customers, however, given the recent move in the stock there needs to be signs of top line growth soon. Additionally, recent comments by the IBT regarding restoring wage and pension obligations throws into question what the company's cost structure will look like going forward.
Thus far, operating costs have been kept in check, which is a big reason why the stock has done so well. With the recently implemented network improvements and a tender offer for the convertible notes outstanding, the company stands to reduce annual costs by around $45 to $50 million. However, my 2014 projections above take this into account and also take into account 5.8% top line growth, which is beginning to look a bit too optimistic. Additionally, I'm expecting operating expenses as a percent of revenues to drop from 66.54% in Q1 2013 to an average of 65% in 2014, which may be tough.
Yesterday, an analyst from Standpoint Research came out and put a $50 price target on the stock, a 100% upside from the price at the time. I would use the pop from this move to take profits and wait for more clarity on revenue growth and union negotiations.
Disclosure: I have no positions in any stocks mentioned, and no plans to initiate any positions within the next 72 hours. I wrote this article myself, and it expresses my own opinions. I am not receiving compensation for it (other than from Seeking Alpha). I have no business relationship with any company whose stock is mentioned in this article.