Google's (NASDAQ:GOOG) spartan white homepage took the top spot among publisher homepages in June, with Yahoo!'s (YHOO) a bit behind and Facebook gaining fast. Jockeying amid major publishers has been intense this year, with MSN and AOL making concerted efforts to break their way in and up the ranks.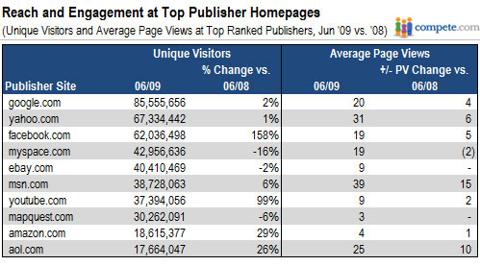 A few months ago we took a look at the relationship between domains and homepages, revealing that a big domain absolutely does not guarantee a big homepage.
Today we're considering Average Page Views, which are important to publishers for a variety of reasons. For Google and Facebook, the homepage is designed to efficiently prompt the visitor to search, register or login. For Yahoo! and MySpace, homepages feature advertising, which translates directly to revenue.
The triumvirate of conventional portals (Yahoo!, MSN and AOL) had the highest Average Page Views in June. Compared to last year, MSN and AOL were up a staggering 15 and 10 views, respectively, confirming their efforts to enhance homepage engagement.
Just last week Yahoo! unveiled a new homepage with similar intent – no small undertaking, as can be seen from this great video which shows off all the smart, hard-working people at Yahoo!
The new Yahoo! Homepage has a bunch of enhanced features, including an expandable sidebar that pipes in live updates from Facebook, YouTube and many other web services. It's early days yet, but if the new sidebar attracts users, it should boost Yahoo!'s homepage engagement. Why go to another site when a user can get all their data at Yahoo!?
Of course, this strategy has been tried before by many others like Netvibes, AOL and even Yahoo! itself with their last homepage redesign in 2007… but never has a homepage incorporated so many web services or so much from each of them.

About 8 million curious folk, or 18% of Yahoo! Homepage visitors, checked out a preview of the new homepage last week.