Progressive Waste Solutions (BIN) is in the waste collection and remediation industry, which is highly disintegrated. This industry consists of more than 18,000 companies, generating combined revenue of around $85 billion in 2012.
The market is mainly driven by quantity of waste generated and waste recycled. The other aspects that contribute to the growth of this industry are gross domestic product, population growth, increasing environmental concerns and government regulations.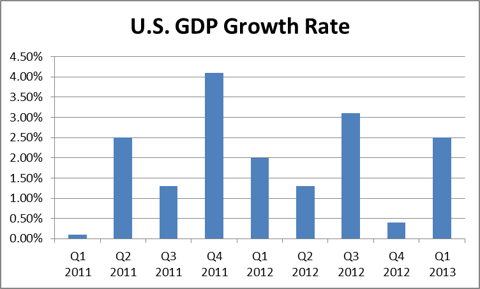 Source: Bureau of Economic Analysis
The slowdown of the U.S. economy has impacted the market, but this industry has a huge scope for future growth. The industry has improved with the influence of new technologies. Recycling is now playing an important role in the industry structure.
Company Overview
Progressive Waste Solutions is the third-largest waste management company in North America. It provides services like solid waste collection, recycling and disposal services to commercial, industrial and residential customers. The company functions in 13 U.S. states, the District of Columbia, and in six Canadian provinces. It has a 2% market share in the world-wide waste industry.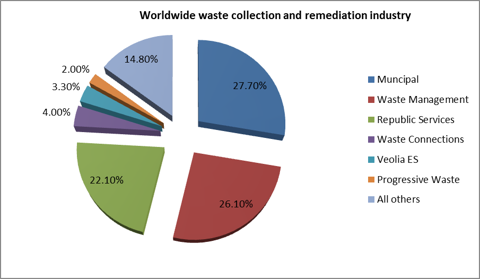 Source: Waste Business Journal
Going forward, the company expects opportunities in the U.S. Northeast and Canadian operations. Let's have a look at these.
U.S. Northeast
Since the early 2011, the Northeast segment faced EBITDA pressures. Lower landfill volumes, lesser volume growth at transfer stations and falling specialty waste volumes were contributing factors. The company made five acquisitions in late 2012 to improve the collection in this region. Additionally, it appointed local management and a regional vice president to lead its operations. These changes have improved collection volumes.
The beginning of improved profitability is evident in first quarter results. Special waste showed higher than anticipated volumes due to hurricane Sandy. This caused revenue to grow by 24.6%, year-over-year, to $95.9 million in the first-quarter. Going forward, the company can expect a New York City contract.
· NYC long term plans: New York City appointed Covanta Holding (CVA) as its proposed contractor for waste management in May this year for two of the city's marine transfer stations, North Shore and 91st Street. This contract's tenure is 20 years, and it's worth $3.2 billion and includes two five-year renewal options.
There are two additional stations available for the same contract format. Progressive Waste is bidding for the Hamilton Avenue and Southwest Brooklyn transfer stations. With Covanta already appointed, Progressive is the next logical bidder to win this upcoming contract. Through these transfer stations, it will increase volumes to Seneca Meadows, its New York landfill. This will benefit the company's future revenue and earnings.
Canada
The company generates roughly 50% of the overall EBITDA from Canada. However, reduced margins have become an issue in this area. Margin was affected by falling OCC prices, temporary closure of one of the transfer stations, loss of few residential and municipal contracts in 2012. This pressure is expected to continue this year.
Progressive Waste's Calgary landfill is expected to close this year. The company used to earn nearly $18 million of EBITDA annually from this landfill. With the closure, it will lose this earning opportunity. However, Progressive Waste is looking to expand its margin from internalization.
· Internal projects set to provide additional EBITDA: Recently, Progressive Waste commenced a high-tech waste-reduction facility in Vaughan, Ontario. It will redirect nearly 85% of construction and demolition, C&D, waste coming from landfills. This waste will be recycled or converted into bio-fuel.
The company invested $14 million in this project. It will facilitate processing of nearly 100,000 tons of waste every year, collected from the C&D industry in the greater Toronto area. The processed fuel will be used at electricity plants, in place of fossil fuels. This will also help in decreasing greenhouse gas emissions.
Also, Progressive Waste opened a gas-to-energy plant at its Canadian Blue Ridge landfill. It has the capacity for 6.4 megawatt power generation. It processes the methane produced from decomposing of trash. This methane is used to generate roughly 50 million kilowatt-hours per year of electricity.
This facility will eliminate approximately 40,000 tons of carbon dioxide emission every year. It is equivalent to reducing consumption by 80,000 barrels of oil, or taking off 7,000 cars from the road.
Through these low-risk projects, the company will increase its internalization rates, contributing to EBITDA of $8 million - $10 million in the fiscal 2013. Further, this amount will rise to roughly $20 million by the end of 2014.
With these plans, Progressive Waste will experience 2% revenue growth from Canada in 2013 compared to the previous year.
Other catalyst
Growth opportunity from tightening E&P waste regulation:
In a recent exploration and production, or E&P, exhibition, waste from drilling services was the key topic of discussion. The companies from this industry aim at raising the upstream capex to $200 billion in the U.S and Canada. The waste industry can capture a portion of this capex in waste remediation.
This industry is benefiting from the lagging consistency in state legislation for the treatment and disposal of waste in E&P drilling. To date, the oil and gas exploration and production companies were exempt from strict federal regulation, which governs hazardous waste. However, concerns over increasing environmental issues have led governments to create restrictive and stringent regulations. These changes in the regulations are expected in the coming years.
It is anticipated that this will provide a $30 billion-revenue opportunity every year to the waste management industry, a prime opportunity for Progressive Waste.
Growing from acquisitions
In 2012, Progressive Waste completed 19 ''tuck-in'' acquisitions. Most of these were completed in the second half of the year. These were considered the growth drivers in the first-quarter of 2013. This led the company to post revenue of $486.6 million, up 11% quarter-over-quarter.
Progressive Waste has also invested in companies in Florida as it anticipates recovery in the housing and construction industry in this area. This reflects a high waste-generation potential in the near future. Overall, these acquisitions have resulted in higher road density, cost synergies and increased internalization in its landfills. With the help of these acquisitions, it will post revenue of $498 million in the second quarter of 2013.
OCC price impact
Progressive Waste is exposed to fluctuating commodity prices which affect its recycling operations. Recycled paper constitutes roughly 30%-40% of its recycled waste; of this, 60% comprises of OCC. Any price difference of OCC directly impacts the revenue of the company. Every $10 per ton rise in OCC price will result in $8 million rise in revenue, and vice-versa.
The OCC price is forecasted to reach $113 per ton by fiscal 2013. This will help Progressive Waste to post additional revenue of nearly $10 million to $12 million this year.
Positioning itself as an Eco-friendly organization:
Progressive waste aims at investing nearly $40 million to $45 million on infrastructure development this year. Under part of this capex, it will develop natural gas facility, or CNG, stations at a Canadian landfill site. These stations are for the planned increase of its CNG trucks and supporting vehicles.
Progressive Waste runs Canada's largest natural gas powered fleet of waste and recycling vehicles. CNG trucks emit 20% less compared to diesel trucks. It announced in May that it aims at increasing the number of natural gas powered trucks.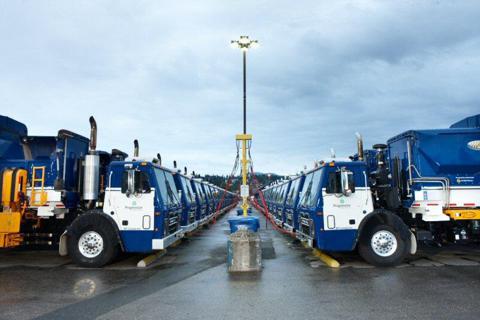 Source: Marketwire
In total, it has nearly 110 CNG-powered trucks running in Canada and some parts of the U.S. This is only 10% of its total fleet in Canada. It expects to buy 40 more trucks by the end of this year. These additional 40 trucks will cost the company an additional $180,000 more than diesel trucks. However, it will recover this additional cost within a time frame of 18 months from the cost benefits provided by CNG.
Recently, the U.S. government announced new tax breaks for eco-friendly vehicles. Under this break, there will be no tax on the purchase of CNG vehicles. Also, manufacturers will get a luxury goods sales tax reduction, as per the Government Regulation no.41/2013.
With roughly 4,000 trucks, these changes provide an enormous opportunity for replacing fleets with CNG powered vehicles, which will lower costs. At the same time, it will increase Progressive Waste's brand image as an environmentally friendly company to its customers who are looking for recycling options.
Conclusion:
Progressive Waste spent nearly $308 million on acquisitions in 2012. Because of this, the company is expected to be less active on acquisitions this year. This will lead to reduced transaction costs and it will act as a transition year for integrating the 19 acquired companies. The transfer station contracts, E&P waste projections and internal infrastructure development will lead to revenue growth for the company in the coming years.
Progressive Waste will generate roughly $2 billion to $2.02 billion in revenue this fiscal year. It will be followed with EBITDA in the range of $545 million to $555 million.
I recommend buying this stock for long-term gains.
Disclosure: I have no positions in any stocks mentioned, and no plans to initiate any positions within the next 72 hours. I wrote this article myself, and it expresses my own opinions. I am not receiving compensation for it (other than from Seeking Alpha). I have no business relationship with any company whose stock is mentioned in this article.