(Editors' Note: This article discusses a micro-cap stock. Please be aware of the risks associated with these stocks.)

NBC News has recently reported a new warning for parents about children undergoing multiple CT scans to help doctors diagnose medical issues and the risk of developing cancer. Unnecessary exposure to radiation can be damaging to growing children and repeated or high dosages may increase the risk of cancer later in life. Researchers analyzed data in children under the age of 15 who had CT scans between 1996 and 2011. They looked at the frequency and the level of radiation doses and estimated that of the 4 million scans performed each year, more than 4,800 children could develop future cancers. With that said, doctors are now starting to take a closer look at how often kids get CT scans and the effects of all that radiation.
Venaxis' (APPY) lead product, APPY1, is a blood-based appendicitis screening test that may potentially mitigate unnecessary radiologic imaging in a percentage of the patient population suspected of having acute appendicitis. The current focus of the company is to develop the APPY1 Test to assist physicians in identifying children and adolescent patients at low risk for appendicitis as this population is at the highest risk of long term health effects associated with CT imaging. Based on current projections, the Company anticipates completing its ongoing pivotal U.S. clinical study and potentially filing with the FDA for regulatory clearance of APPY1 by year end 2013.
This week, I had the pleasure of holding an exclusive interview with Venaxis President and CEO, Mr. Stephen T. Lundy. This interview will help us gain a better understanding of the company's plans and future prospects.
Stephen T. Lundy was named President and CEO of Venaxis in March 2010 and was simultaneously appointed to the firm's Board of Directors. He has 25 years of experience in commercializing novel in-vitro diagnostic products and services. In addition to holding executive positions at MicroPhage, Mr. Lundy served as senior vice president of sales and marketing for Vermillion from 2007 to 2008. He's also the former vice president of marketing for Esoterix and marketing director for molecular diagnostics and critical care testing at Bayer Diagnostics. Mr. Lundy is a bachelor of science graduate of the United States Air Force Academy and served as an Air Force officer from 1983 to 1988.
Ben Yoffe: Mr. Lundy, I would like to start with the company's ongoing pivotal trial for APPY1, the company's blood-based appendicitis test. Where it currently stands and what are your expectations for the final outcome?
Lundy: We are actively enrolling patients into the pivotal study, which we expect to support regulatory submission for potential FDA clearance of the APPY1 Test System. The first hospital sites began enrolling patients earlier this year and enrollment has continued to ramp nicely as we continue to bring more of our participating sites on line. The study will enroll 2,000 evaluable patients in total and we expect to complete enrollment and report top-line data by the end of the year. We plan to submit our 510(k) package to the FDA as soon as possible, if the data are positive.
In terms of our expectations, we would feel very confident if we were able to achieve results similar to our previous 500-patient study, which was completed in 2011. This was the first clinical study performed using our improved multi-biomarker test format, and the APPY1 Test demonstrated negative predictive value of 97%, sensitivity of 97% and specificity of 43%. Based on physician feedback, these results, particularly the high negative predictive value, are very strong in terms of what they are looking for in a test like APPY1.
Yoffe: Could you give us a sense of how this process works?
Lundy: The APPY1 Test uses two different protein biomarkers combined with white blood count in a proprietary algorithm to produce a single objective test result for physicians to use in identifying patients at low risk for appendicitis. The first biomarker is a protein complex known as MRP8/14, which is involved in the activation of immune cells called neutrophils. The second biomarker, C-reactive protein or CRP, is produced in the liver and is also involved in inflammation. White blood cells produced in the bone marrow become elevated in response to appendicitis and other infections, so the amount of cells circulating in the blood is another key input for our algorithm.
The reason we chose these three factors specifically is because patients with appendicitis come to the emergency room at different time points in the progression of the disease. Some come to the hospital shortly after symptoms appear, where MRP8/14 tends to be the most relevant. Some patients wait hours to a few days after symptoms start, and CRP and white blood count are highly elevated. Our algorithm integrates these three factors in a way that allows APPY1 to capture a wide spectrum of suspected appendicitis, identifying those patients who are at low risk.
Yoffe: What are the potential benefits of using the APPY1 Test?
Lundy: To best answer this, it is helpful to understand what an ER doctor typically does when examining and treating patients who come to the hospital complaining of abdominal pain. It starts with a clinical assessment where the doctor will examine the patient to determine if there is potential risk of appendicitis. For most patients, blood is drawn, and in many cases the doctor will order a white blood cell count. Patients then most often progress to some form of imaging - usually ultrasound or CT, or ultrasound followed by CT if ultrasound is inconclusive. These imaging procedures are very good at diagnosing appendicitis, however the issue is that the majority of patients that undergo imaging today are actually negative for appendicitis.
In addition to contributing to longer stays in the ER and higher costs, abdominal CT imaging has been shown in several published studies to significantly increase patients' lifetime risk of cancer. This is particularly true for younger patients, for whom appendicitis is most common.
The APPY1 Test can be used to prevent or obviate the need for CT imaging by aiding in the identification of patients at low risk for appendicitis with just a simple, rapid blood test. The doctors are already drawing blood, so there is minimal interruption to the normal patient workflow. It is simply a matter of ordering the APPY1 Test at the time of blood draw. Our 500-patient study showed that had APPY1 been used, it potentially could have prevented over one third of the CT scans that were performed in the study.
Yoffe: What is likely to be the doctors' next step after using the test?
Lundy: It is difficult to generalize, as every decision is based on a number of factors. But some options are:
1. Bypass imaging, either CT or ultrasound. If the clinical impression is low to moderate risk and the APPY1 test is negative, the patient has an extremely low risk of having an appy. So imaging just does not make sense in most cases.
With kids age 2-21 (intended group for APPY 1), appendicitis is the overwhelming reason for a CT scan. There may be other conditions, such as ovarian cyst in an adolescent female, but it is always important to the clinician to know it is most likely not appendicitis.
2. Avoid a surgical consult. Most surgeons hate consults that don't end up with a surgical procedure. ER docs will be less likely to sent a patient to a surgeon with a negative APPY 1 result. In fact, two of the patients in our 2011 study (the 503 patient study) went to surgery and there was no appendicitis. Our test was negative in both cases. If the APPY 1 test was available, these two patients could have potentially avoided costly surgeries.
Yoffe: Has the medical community been looking for a better solution in this area?
Lundy: Yes. Appendicitis is notoriously difficult to diagnose. While there are some classic symptoms, patients with appendicitis may not always present in the same way and abdominal pain can be caused by a number of other conditions, including those as benign as indigestion and constipation. Doctors in the ER are looking for ways to "rule out" appendicitis in these patients and having a simple blood test that provides rapid, objective results, and that demonstrates high negative predictive value, will be to their benefit in identifying those patients who are at low risk for appendicitis.
Contributing significantly to the clinical need for APPY1 is the growing concern over the use of CT scans. Both the medical community and the FDA have formally expressed the need to reduce the number of CT scans, particularly those performed on children. A paper was published very recently in JAMA Pediatrics that looked at the use of CT scans over more than 10 years and determined that abdominal CT scans are associated with highest risk of cancer and have also seen the most dramatic increase in use over the study period. Appendicitis is a leading cause of abdominal CT scan use, so certainly there is a recognized need for improved diagnostic tools for determining risk of appendicitis.
Yoffe: Can you tell us a little about the interaction between the company and the FDA?
Lundy: We met with the FDA during our pre-investigational device exemption or IDE meeting, where the FDA reviewed the data from our 500-patient study and provided valuable input and feedback, which we incorporated into our plans for the pivotal study. We appreciate this valuable guidance and insight and we are currently following through with their recommendations.
Yoffe: Can you give us a picture of the market size for the APPY1 Test?
Lundy: In the U.S., there are over 10 million annual visits to the ER for abdominal pain, and blood work is ordered for about 75% of those patients. Of that 7.5 million abdominal pain patients, about 1 million are children and young adults aged 2-20, which we view as our primary market. In Europe, there are 2 million potential tests, so the overall opportunity in these two markets is 3 million tests.
Yoffe: What would be the price per test?
Lundy: We have not established price per test but we have been guiding in the $75 range.
Yoffe: What are your commercialization plans?
Lundy: The hospital market is relatively concentrated in the U.S. and we believe we can effectively reach the high-volume target hospitals with a small direct sales force, initially. Our current plan is to build this sales force closer to potential FDA clearance of APPY1. In Europe, we have already announced market development relationships with a number of specialized distributors in target countries. Once the planned market development activities are completed, we expect to execute longer-term agreements with those distributors for the full-scale launch of APPY1 in 2014.
Yoffe: Can you give us a little bit color on the preparations for the upcoming commercial launch of APPY1 in Europe?
Lundy: In this initial stage, we have begun working with our market development partners to qualify and establish relationships with the top hospitals in their respective territories. We are planning small market studies designed to further quantify the economic value of APPY1 in those target regions. We expect these studies to provide key insights that will facilitate the full-scale launch next year.
Yoffe: In the past few years, we are aware of acquisition activity in the molecular diagnostics sector; GE Healthcare (NYSE:GE) acquired Clarient, Genoptix was acquired by Novartis (NYSE:NVS), Hologic (NASDAQ:HOLX) bought Third Wave Technologies. Have you ever thought about selling the company?
Lundy: Currently, we are focused on completing our pivotal study as efficiently and expeditiously as possible. While several members of our executive team, myself included, have been involved in successful divestitures in this space successfully, we believe it is important to focus all of our current efforts on obtaining regulatory clearance for our test.
Yoffe: In closing, how far can Venaxis go with the current funding?
Lundy: With our recent financing, we have sufficient capital to complete the study, file for FDA clearance, and launch APPY1 initially in the U.S. and Europe.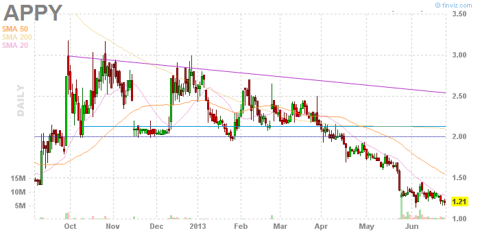 Disclosure: I am long APPY. I wrote this article myself, and it expresses my own opinions. I am not receiving compensation for it (other than from Seeking Alpha). I have no business relationship with any company whose stock is mentioned in this article.