Broadcom's (BRCM) short interest shot up 145% in the last reading (June 14th); no, that is not a typo. BRCM has become the hedge fund short du jour as a liquid, large cap name to play the Samsung S4 weakness. Samsung (OTC:SSNLF) is an important customer for BRCM, representing nearly 20% of revenue. Unfortunately, for shorts, the S4 is only 5% of revenue for the upcoming quarter, and shorts are overlooking increased S4 dollar content. Additionally overlooked is BRCM's strong positioning in low to mid range phones for Samsung and increasing content. BRCM is finally seeing signs of improved networking trends and an LTE handset win would rip the shares higher. Sporting a 10% FCF yield and trading at 11.7x/10.7x '13 and '14 P/E, below it's 3 and 5-year average P/E, combined with technical indicators pointing to a rally, BRCM is a strong buy.
Samsung Issue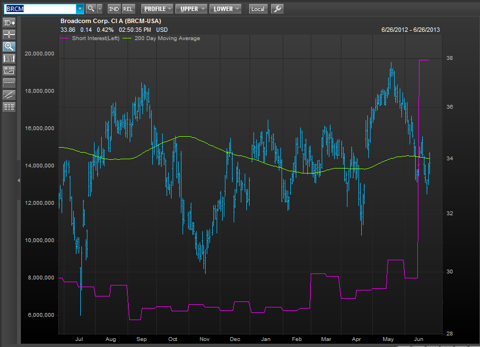 Shorts piled into BRCM en masse in early June as initial checks indicated the Samsung S4 early sales were disappointing due to the lack of killer new features. Samsung stock itself has promptly sold off nearly 20% in the month of June. BRCM stock corrected nearly 10% in June based on the Samsung concern, exacerbated by the short selling. Given Samsung is a South Korean stock, many hedge funds look for derivative local plays to play the Samsung S4 shortfall. Enter BRCM, a liquid large cap semiconductor company with heavy Samsung exposure, especially within the new S4 model that is struggling. Hedge funds increased their shorts on BRCM from a total of 8.0 million to 19.6 million shares as of June 14th, representing a 145% increase. So besides it being a crowded idea, which doesn't necessarily mean it's wrong, why isn't a short in BRCM a smart trade on light Samsung S4 sales? Read on.
Samsung eclipsed Apple (NASDAQ:AAPL) in 2012 to become BRCM's largest customer. For the year, Samsung represented 17.3% of revenue versus 14.6% for Apple. In 2010 and 2011, Samsung represented around 10% of revenue, overshadowed by Apple's low teens contribution. Samsung is widely expected to increase for BRCM given their content in an increasing number of phone models, especially in the midrange. For high end smartphones like the Samsung S4, BRCM receives roughly $6 in content per phone for their BCM4335 (5G Wi-Fi, Bluetooth, and FM), BCM 2079 (NFC), and BCM 47521 ((NYSE:GPS)). At the William Blair Conference on June 13th, CFO Eric Brandt commented on the content increase-
With the advent of 802.11AC and 2x2 and dual band, you are seeing an up-tick in price, and I would say double-digit up-tick as a percentage in price. So, what does that mean the chip goes from $3 to $4 or $4 to $5, it can go up.
My rough estimate for BRCM's combo chip in the S4 is $6 given 5G Wi-Fi (aka 802.11ac) and NFC are now included. The $6 of content is likely up 40% versus BRCM's content in the S3 as neither 5G Wi-Fi nor NFC were included. The 5G Wi-Fi chip is currently in a very small percentage of smartphones, really one in two high-end smartphones recently introduced - HTC One and Samsung S4. CEO McGregor has stated that he expects 5G Wi-Fi will be in over 50% of handsets by year end. McGregor's bold prediction seems very telling in that to reach 50%, the new Apple iPhone(s) must include an 802.11ac combo or standalone chip. The 802.11ac standalone chip has a 50% content increase versus its predecessor 802.11n module. Carriers are clamoring for 5G Wi-Fi as it helps with Wi-Fi offload so expect it to move from high end down to midrange phones soon. The 5G Wi-Fi cycle is just getting started and should more than offset any high-end unit weakness.
Thus, a 15% reduction in S4 shipments as forecast by the sell side, roughly 70 million to 60 million units, would reduce BRCM's revenue 2% ($40 million on $2.1 billion base). On a standalone basis assuming no content increase, which we know is not the case given 5G Wi-Fi, the $40 million hit would hurt and it resulted in sell side analysts cutting their BRCM revenue estimates by 2-3% on average. When a sell side analyst pressed CEO McGregor on the purported S4 weakness, he played down the importance making the point that different component companies are at different points in their build. McGregor then went to point out that similar concerns were raised with BRCM and the food chain in Q1 related to the iPhone 5 but BRCM managed through it fine. Interestingly, BRCM stock got hit down to the $32 level in early April only to quickly rally to $38 after a solid Q1 print led by significant upside from wireless baseband and connectivity, very similar to the current trading pattern.
Real Key is Samsung Low-Mid Range Phones
Low to midrange phones is where the real BRCM exposure lies, presumably low teens percentage of overall revenue. On average for these Samsung 3G phones, like the S2+, Galaxy Ace, Ace 3 and the Galaxy Grand, BRCM has content for their combo chip and/or baseband. Combo chips, where BRCM has 75% share according to Gartner, for midrange phones bring in around $4 in content while baseband contribution can range from $7-9 for a low-end phone to upwards of $15 for HSDPA+. Samsung has confessed that S4 is seeing some weakness but it is being offset by strength in the midrange, tablets and some other product lines. The wireless supply chain is confirming the Samsung strength outside of S4. The most recent positive data point from the food chain was Synaptics (NASDAQ:SYNA) with their big positive pre-announcement. Synaptics blew away estimates coming in with revenue of $227-230 million versus prior guidance of $190-205 million. According to Synaptics press release, the strength was attributed to:
Higher than expected revenue from mobile products, reflecting strong demand from a broad range of leading-edge designs across multiple mobile customers.
Synaptics has a touch screen controller IC in the S4 that probably represents around $1 in content. Based on Synaptics' upside, it appears that there was about 30 million units of upside in the quarter, that's a very broad based indication of low-midrange strength. Net net, Synaptics has content in other Samsung smartphones and tablets very similar to Broadcom's composition. BRCM's stock rallied early in the day after the SYNA beat only to reverse to the downside shortly thereafter indicating investors' continuing skepticism around what it means for Samsung and BRCM.
One important lever that BRCM has in Q3 is the release of Apple's new iPhone, likely named the 5S. While early indications suggest a modest feature upgrade of the iPhone 5, it should also serve to ramp volume of the iPhone 5 and older models as Apple lowers their respective pricing. A new low end iPhone that has long been rumored would be a nice development for BRCM as they would likely have the combo chip with an outside chance of 5G Wi-Fi if Apple includes it.
Well Positioned to be Number Two LTE Supplier
LTE baseband is the long-term call option for BRCM stock. Clearly, Qualcomm (NASDAQ:QCOM) is the leader but there is a clear need for a strong number two. Broadcom has invested a tremendous amount of resources in developing an LTE baseband with current samples in the hands of customers now with shipment planned for next year. Qualification of LTE baseband with carriers by year end is their goal. Currently, BRCM is doing functional testing after completing phase one at AT&T (NYSE:T). According to CFO Eric Brandt at the William Blair Conference it appears that BRCM will offer a comparable LTE baseband to QCOM but will seek to be price competitive-
High-end LTE chipset is probably $40, $45 when in fact it probably should be close to $20 or $25, probably $25. And so those opportunities exist and I think you see that battle in 3G in China, and I suspect that, that battle will occur in LTE and to the extent that we can bring a viable leading edge LTE product, not only you get the benefit of having the viable LTE product, you also get the benefit of the drag through of all the rest of the products, because you become a broader supplier to these companies.
BRCM remains focused on winning sockets at one or more of the leading two suppliers- Apple and Samsung- for LTE handsets. BRCM remains adamant that they are on track to win at least one important socket while investors remain extremely skeptical. If BRCM can secure a win here, it would serve as a massive vindication that their wireless strategy has finally paid off. BRCM seems to be on equal footing with QCOM after their initial foray into wireless baseband in 2007 when they were chasing from behind. Clearly, time will tell who wins the important Apple and Samsung LTE sockets, but this time BRCM seems to have a fighting chance and there is no related revenue built into sell side models and little if any upside backed into the stock. Many investors would argue that Intel (NASDAQ:INTC) is poised to grab that vaunted number two LTE supplier status. BRCM argues that Intel does not have the IP or SOC expertise, rather strong radio expertise alone that is insufficient. Intel's LTE chip will be in phones before BRCM's; however, Intel's chip lacks important features such as carrier aggregation, envelope tracking, full five mode, etc. If BRCM wins an LTE socket, the stock will shock shorts and investors.
Networking Improvement
The networking group consists of service provider, data center, and enterprise/SMB network spending and represents 24% of overall revenue based on 2012 financials. The networking segment carries the highest operating margin of the three main segments, in the high 20% to low 30% range. Networking spend has been weak over the last few years and declined again in 2012 year over year when backing out the NetLogic acquisition. CEO McGregor at a recent sell side event stated that steady state networking spend is above current depressed levels. Service providers represent about 30% of networking revenue with a large portion of that being backhaul. Based on recent strong results and commentary about carrier spending improving from the likes of Ciena (NASDAQ:CIEN) and Juniper (NYSE:JNPR), it appears that this segment may finally be poised to improve. Second half of 2013 looks to be the time when carrier spending is set to inflect with many analysts predicting could be up low teens versus 1H '13. A key area of focus for carriers' incremental spend is on backhaul where BRCM is well positioned. Broadcom themselves have noted that the last few years of underspend has resulted in an abundance of old equipment that is due to come off of warranty. When asked at the William Blair Conference on networking trends, CFO Eric Brandt responded-
Broadly speaking, I would say, there seemed to be and I read the same things you do some signs from our customers indicating they think that markets are getting better certainly on the infrastructure side, and I hope that's true and I would say we are cautiously optimistic.
In the age of regulation FD commentary like this is as close as you will get to management confirming that yes, they are seeing a pickup in networking.
Valuation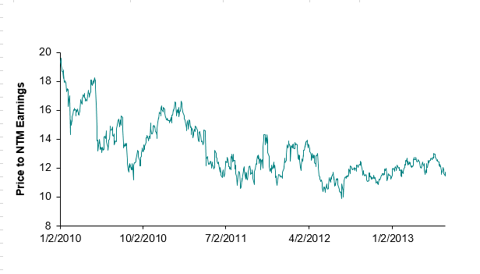 BRCM stock is trading at the low end of its historic forward P/E level at 11.7x versus its 3 and 5-year average of 13.2 and 17.5x, respectively. BRCM has $3 per share in cash and sports a 10% FCF yield. Technically the stock triggered a Demark 13 buy signal and rests at strong support levels with limited downside. The low end the stock has seen following an earnings miss or heightened macro concerns is 10-11x, representing 5-10% downside which should be cushioned given the elevated short interest. With skepticism at extremes due to Samsung S4 concerns, it appears that a solid quarter and outlook could result in a return to high $30s or 20% upside. At that level, BRCM would still trade below its 3 and 5-year averages. Shorts have it wrong focusing on S4 weakness, when the real driver of BRCM is midrange which appears strong. The 802.11ac (5G Wi-Fi) and LTE baseband product cycles have massive upside with little expectation built into the stock. I suggest accumulating BRCM at these levels with a $40 price target, which represents 20%+ upside over the next 6 months. Beyond a trade to $40, longer-term upside rests with them winning an LTE baseband socket, which I think they have a very good chance of accomplishing.
Disclosure: I have no positions in any stocks mentioned, but may initiate a long position in BRCM over the next 72 hours. I wrote this article myself, and it expresses my own opinions. I am not receiving compensation for it (other than from Seeking Alpha). I have no business relationship with any company whose stock is mentioned in this article.