Over the past ten years, MGC Diagnostics (NASDAQ:MGCD) has given investors little reason to cheer, with uneven revenue growth and no cumulative net income. All of that may be about to change. As you can see in the two charts below, movements in the stock have had a long term correlation with sales growth. If new management can consistently drive sales higher, which we think it can, shares should follow.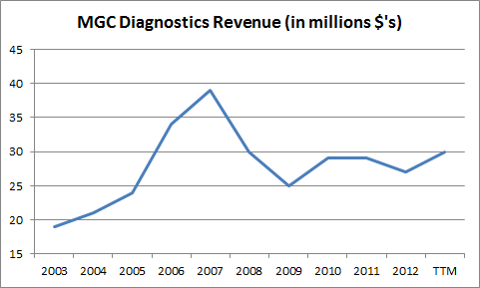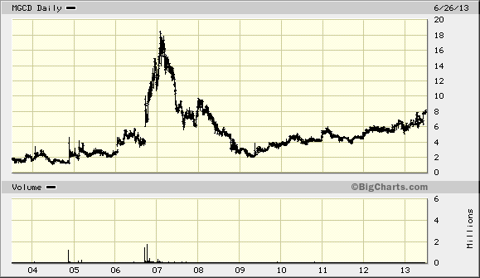 Overview
MGC Diagnostics' product line consists of a series of devices that test the cardiorespiratory functions of patients. Early detection of cardiac and pulmonary issues can end up saving healthcare systems more money down the line. For this reason, we don't see reimbursement for tests run on their equipment as a significant potential headwind to be concerned about. Additionally, the company gets paid by the hospital and/or facility and is not directly reimbursed by Medicare, Medicaid, Commercial payers etc.
In 2011, amid struggling sales at the company, the board brought in a new CEO who spent the next 12 months brining in new executives and board members to breathe new life into the company, in addition to changing the company's name from Angeion in August of 2012. Since then, the new CEO, Gregg Lehman, has helped focus the company on profitable growth. One way this was accomplished was by divesting a non core business segment, which increased the company's liquidity. Additionally, new investments have been made throughout the company to position it for growth. Over the next 12 months, we will see if those investments pay off...
Growth
We think that there are four primary pillars of growth for the company, namely, gaining market share, benefiting as the market grows, expanding into new indications and selling more service contracts.
The company plans to gain share through offering product updates and expanding visibility among its target market. The company has inked agreements with the top 5 GPO's (Group Purchasing Organizations) in the hospital sector, which should build visibility. The size of the market should grow for two reasons: baby boomers hitting the age, over next twenty years, that requires a higher acuity of care and the affordable care act. The baby boomers retiring has long been discussed, but it is worthy to note that this subset of the population will require more healthcare services as they get older. The affordable care act should extend insurance coverage to tens of millions more people (up to 40 million, but estimates vary as to how many will actually sign up for programs) starting in 2014, as the law requires people to have health insurance or acquire a waiver (usually income related) or face steep penalties. It's important to note all of these new entrants into the healthcare system because of the spot that MGC is in. While these patients were receiving emergency care prior to the law, they will only now be utilizing preventative services, like the tests MGC offers.
The company has expressed a desire to expand their technology so that it can be used pari passu with home healthcare and sleep centers. These are both large and growing markets. While the company has the ability to expand internally, it is on the lookout for technologies that can be sold through its existing sales infrastructure and compliment, to some extent, their current product lineup. The company should have more than $6.5 million in cash at the end of the coming quarter and no debt. This capitalization should enable them to make at least one notable acquisition in the next 12 months.
As the company's products have a fairly long shelf life (5-10 years depending on the product and iteration), the new management team realizes that they need to do a better job of not only selling the equipment, but selling the service contract with it. They currently cross sell 27% of the time and see plenty of room for improvement in this area. Service margins, at over 70%, are significantly higher than equipment margins (52%), which will benefit the overall margin profile of the company if they are successful in expanding this segment of the business.
Competition
The company's products range in price from $8,000-$40,000. Carefusion (NYSE:CFN) is the company's main competitor with 58% share in the U.S. while MGC has 25%. Outside of the U.S., Carefusion stands at 65% with MGC at 8%. Clearly, there is a larger discrepancy outside of the U.S. The company owes this to Carefusion having a larger physical presence OUS than MGC. The company will continue to work with its distributors OUS to further penetrate those markets.
Within the U.S., the company has 14 sales reps. vs. Carefusion's 30 (estimate). As a result of the market being dominated by three competitors, as well as the size of the market being relatively small ($200 million, estimate), we don't see price competition and new competitors as being a significant threat to the company's business.
What To Expect
As is illustrated in the chart below, the company has experienced double digit revenue growth on average over the past fours quarters. You'll also take notice that revenue growth has not been linear. This isn't just a seasonal phenomenon. The company still generates the bulk of its revenue from capital equipment. As such, revenues tend to be lumpier than service based businesses. This is something to be careful of if you are thinking of purchasing the stock ahead of a quarter. As such, it is likely a better idea to dollar cost average into this stock than buy your entire position upfront.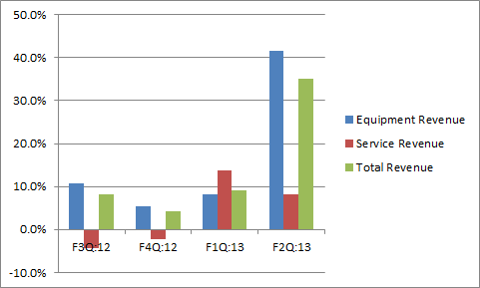 Valuation
The company's shares are not particularly cheap. I estimate the company can produce EPS of $0.15-$0.20 next year, which puts shares at 30x-40x forward EPS after backing out cash. One factor to consider is that the company is sitting on $14.5 million in NOL's (Net Operating Losses). This means that for the next five to ten years, the company should not be paying much cash taxes. This will be of vital importance to investors as the extra cash flow from not having to pay taxes can instead be put towards acquisitions.
Conclusion
I have laid out a host of ways the company can thrive in the coming years, but everything will not play out overnight. The first chart(s) I showed in the article illustrates the close relationship between sales and stock price. If the company can continue driving sales, and increase their operating margin in the process, there is a good chance the stock can make significant strides in over the next 12 months. If they don't and sales languish, downside should not be significant. When backing out cash, shares currently get a valuation of less than 1.0x sales, considered a good support for most medical device companies.
Disclosure: I am long MGCD. I wrote this article myself, and it expresses my own opinions. I am not receiving compensation for it (other than from Seeking Alpha). I have no business relationship with any company whose stock is mentioned in this article.