As someone who covers a lot of short ideas on this site, one of the most important items I follow is short interest data. One must always be aware of the short interest in a stock. A large short base could spark a short squeeze on good news, while low short interest could spark a huge drop on bad news. Every couple of weeks, we get an update from Nasdaq on short interest data, and I report on what I am seeing. Today, I'm here to discuss the middle of June numbers. I'll discuss five names that short sellers are going after, whether just recently or over the longer term.
BlackBerry (BBRY):
Short interest in BlackBerry raced to another new high. Stop me if you've heard that before, as I've only said it about a dozen times in the past 8 months. Short interest in the phone and tablet maker cracked 175 million and 180 million this time around, now standing at 182.6 million. A year ago, it was at 73.4 million, as you can see below, and in April 2012, stood at just 53.7 million.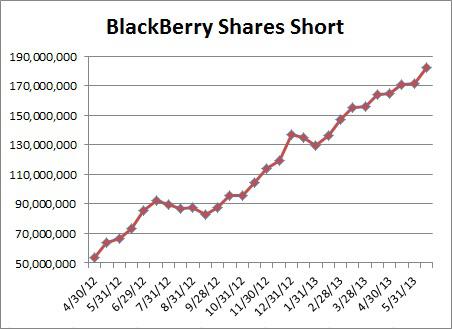 The big event is coming Friday, as BlackBerry will report quarterly earnings. According to Zacks' Investment Research, current estimates are for $3.348 billion in revenues and an adjusted profit of $0.14. This should be the highest revenue quarter for the company in more than a year. Everyone will be keying in on BlackBerry 10 unit sales. Anything around 3 million will be seen as a disappointment, while a number closer to 4 million or more would be seen as decent or pleasantly surprising. With the short count surging higher, BlackBerry bulls are waiting for a good report to spark a giant short squeeze. That day could be coming very soon.
Google (NASDAQ:GOOG):
Google short interest popped by about 13.5% during the first few weeks of June. As I've mentioned in past articles, Google's short interest moves almost in tandem with its stock at times. When Google initially raced through $800, short interest popped, then declined when the stock dropped back down towards $750. Short interest soared when the stock rallied through $900, and then came down again when the stock dropped back to $875. I've said in the past that you can almost guess where short interest will go based upon the stock, and the stock was up a little in early June, leading to the short interest rise.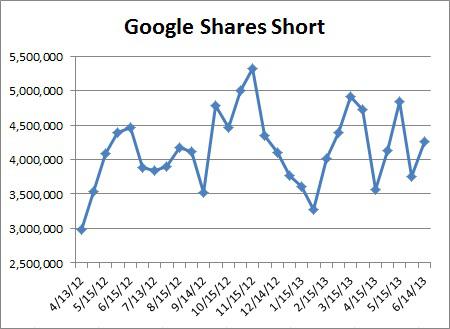 The next month will be a very interesting one for Google shares. When Google announces second quarter results, it will be the first Motorola to Motorola comparable quarter. Last year's Q2 was the first quarter in which Motorola Mobility results were included. That has provided an artificial boost to Google's revenue growth, and that boost will start to fade now. Google has raced higher as Apple (NASDAQ:AAPL) shares have crumbled, but one must wonder if Google will start to decline as its revenue growth slows like Apple's did.
Tesla (NASDAQ:TSLA):
After five straight declines in Tesla short interest that brought the count down from 32.3 million to 18.6 million, Tesla short interest has reversed. A rise of 1.34 million shares, or 7.22%, doesn't seem like much when the five-update drop was 42.5%. But it is significant given the recent plunge in short interest to a new low (before this update).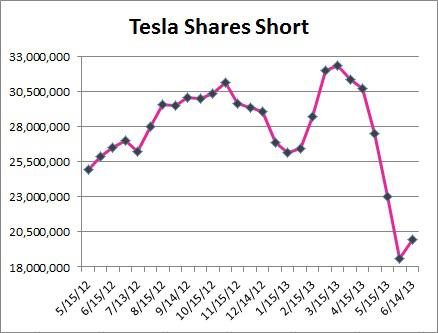 Now we all know that part of the stunning rise from $35 to $115 in Tesla was due to a short squeeze. I think the chart above shows that quite clearly. What are some other reasons? Well, a solid earnings report, a debt/equity raise, and the payback of the DOE loan have been discussed. Many investors think that Tesla's growth is just starting, and that the electric car maker could be the next blockbuster. Could this be a repeat of First Solar's (NASDAQ:FSLR) epic rise in 2007-08? So far, the comparisons are there. We'll see if it plays out. Tesla shares are back over $105, less than $10 from their recent and all-time high.
Clearwire (CLWR):
The recent rise in short interest might not seem like much as you see the chart below, but Clearwire's short interest is up 134% since its recent low. With more than 17.5 million shares short, Clearwire short interest is at a 5-month high. Short interest is still well down from its year ago highs, but you can't say that a 134% rise is insignificant.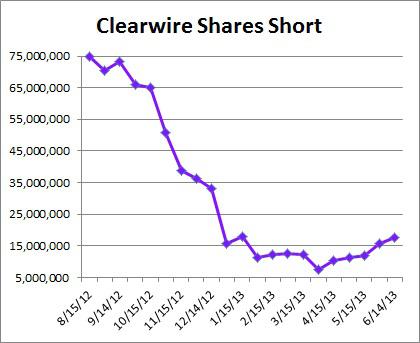 Most of the short covering has been due to the epic battle between Dish Network (NASDAQ:DISH) and Sprint (NYSE:S) over Clearwire. The bidding war has a lot to do with Clearwire's run from $0.83 to more than $5.00. On Wednesday, Dish abandoned its bid for Clearwire, paving the way for Sprint's victory. I've mentioned in the past that I thought some concerns over a deal eventually going through was one reason why short interest has soared recently. Now that this bidding process seems to be ending, I would expect short interest to reverse.
Amazon (NASDAQ:AMZN):
Amazon has now seen short interest rise for a third straight time. Nearly 1.4 million additional shares have been shorted, a rise of 22.5%. Amazon's short interest is back above 7.5 million shares for the first time in six months, marking a new 2013 high, as you can see below.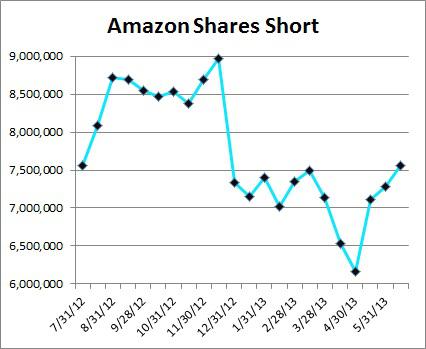 One reason why short interest is rising is the potential for an earnings miss or guidance disappointment, a case laid out by SA contributor Paulo Santos. Amazon's guidance has disappointed in several recent quarters, but yet the stock keeps rising. The company, which sports a market cap of over $126 billion, actually lost money in 2012. Profits are expected to rebound a bit this year, but estimates continue to come down. They could come down further on a guidance disappointment, marking another year of limited earnings. I've argued that Amazon should trade on sales and not earnings, but even Amazon's sales estimates for 2013 are close to the lowest point I've seen. At some point, the valuation won't stick if this company continues to disappoint.
Final Thoughts:
All five of these names have seen significant rises in short interest, whether in the most recent update or over a longer time period. BlackBerry short interest hit another new high ahead of this week's earnings report. Google short interest spiked as we get closer to a very interesting quarterly report. Tesla saw its first short interest rise in a few months, reversing a huge downward trend. Clearwire short interest is up 134% since its recent low, but Sprint's potential victory to acquire the rest of Clearwire could stop that trend. Amazon short interest is rising again, ahead of what could be an earnings disappointment. Will any of these names make the list next time? Come back in a few weeks to find out.
Disclosure: I have no positions in any stocks mentioned, and no plans to initiate any positions within the next 72 hours. I wrote this article myself, and it expresses my own opinions. I am not receiving compensation for it (other than from Seeking Alpha). I have no business relationship with any company whose stock is mentioned in this article.
Additional disclosure: Investors are always reminded that before making any investment, you should do your own proper due diligence on any name directly or indirectly mentioned in this article. Investors should also consider seeking advice from a broker or financial adviser before making any investment decisions. Any material in this article should be considered general information, and not relied on as a formal investment recommendation.