As someone who covers a lot of short ideas on this site, one of the most important items I follow is short interest data. One must always be aware of the short interest in a stock. A large short base could spark a short squeeze on good news, while low short interest could spark a huge drop on bad news. Every couple of weeks, we get an update from Nasdaq on short interest data, and I report on what I am seeing. Today, I'm here to discuss the middle of June numbers. Today, I'll discuss five names that short sellers are running away from, whether just recently or over the longer term.
Apple (NASDAQ:AAPL):
While Apple did not see a tremendous move in short interest from its last update, the significant move has been over time. Since we saw that huge spike at the end of April, Apple's short interest has come down three updates in a row. Just under 85% of that spike has been eliminated, and that is significant. It is also interesting to see short interest come down, mirroring a move in Apple's stock. On Wednesday, Apple shares closed below $400 for the first time since April 22nd. The post-earnings rally to $465 has been completely eliminated and then some. Part of the reason may have to do with Apple analysts getting bearish before the company's fiscal Q3 report in July. The chart below shows Apple's short interest since the first spike started in April 2012.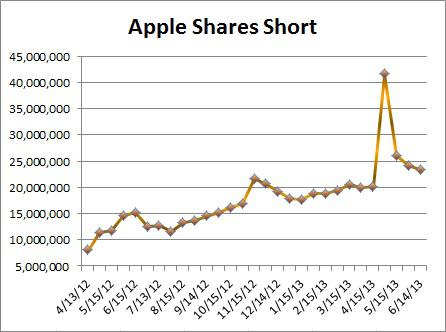 But there is another significant point I'd like to make when it comes to Apple's significant decline in short interest. Apple's days to cover ratio has hit another new yearly high. For those that are not familiar with it, the days to cover ratio is the amount of days it would take all short sellers to cover their positions given an average volume amount. So if there are 20 million shares short and Apple's average volume is 10 million shares, the days to cover ratio would be 2.00. I've mentioned in the past that as we got further away from Apple's Q2 report in April, and into the slow summer trading period, Apple's average volume would decline. It has, and with short interest not moving too much over the past month, the days to cover ratio has jumped to 1.87. The previous high was 1.73, and that was when Apple had more than 41.5 million shares short at the end of April. On April 13th, 2012, the days to cover ratio stood at just 0.31. That's a tremendous spike in the ratio, as you can see below. This shows not only increased short interest in Apple, but lower trading volumes as well.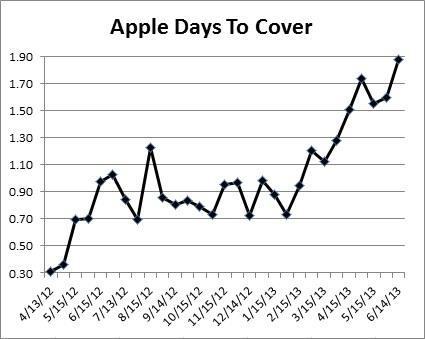 First Solar (NASDAQ:FSLR):
The solar giant has seen short interest decline to its lowest point since the middle of February 2012. More than 54% of shares short have been covered since the August 2012 high, when short interest nearly hit 32 million. Now, it is at 14.6 million, as you can see below.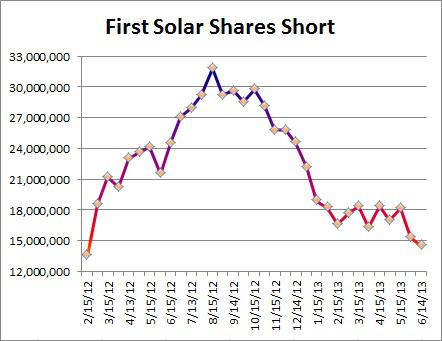 First Solar's short interest at the next update (end of June update) will be one I am very interested in. First Solar recently sold stock to raise more than $427 million, which resulted in dilution of more than 11.1%. For every 9 shares that were outstanding, an extra share was added. The equity sale put a stop to the stock's tremendous rally from a low of $11.43 last year. After racing to a high of $59 in May, the stock nearly broke $40 last Friday, losing a third of its value in a month. Shares have bounced back to $45.12, but are still about a dollar below where the share sale was priced ($46), and well below the recent high. With the outstanding share count rising, it will be interesting to see if the short count starts to rise again as well. If this stock heads back into the $50s, I would expect to see shorts pile back in over the next couple of updates.
lululemon (NASDAQ:LULU):
Short interest in the Canadian apparel maker has come down for the fourth straight update. At roughly 18.4 million shares, short interest in lululemon is at its lowest point since the end of January. Overall, these four updates have seen a decline in short interest of more than 8.17 million shares, or 30.77%. As you can see in the chart below, short interest had seen a huge rise over the past year, before the recent two month decline.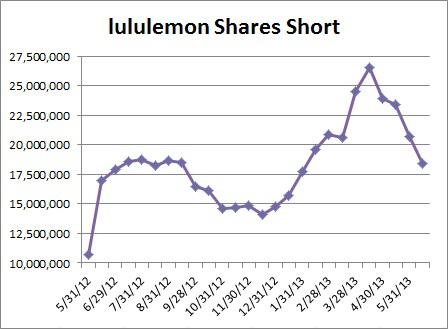 The main reason why short interest is declining is that shares are too, allowing a number of shorts to cover at lower prices. The stock has lost nearly $20 since its recent earnings report, where CEO Christine Day announced she is leaving. This sparked a tremendous overreaction in my opinion, as the company had a solid beat for the quarter and guidance was well above expectations. I did not like this stock in the low $80s, which is why I was bearish into earnings. But in the low $60s, the short case isn't there, and the stock should start to level off and start higher. We were in the low $60s right after the "pants problem", and the stock went much higher from there.
Microsoft (NASDAQ:MSFT):
Short interest in the tech giant reversed their recent pop and then some. Microsoft's short interest in the middle of June was just 94.8 million shares, the lowest it has been (and first time under 95 million) since the middle of February 2013. Why do I make such a big deal about 95 million? It happens to be the average short interest number over the past year. Short interest in Microsoft is now below the past 52-week average, and below the point we were at exactly one year ago (100.77 million), as you can see below.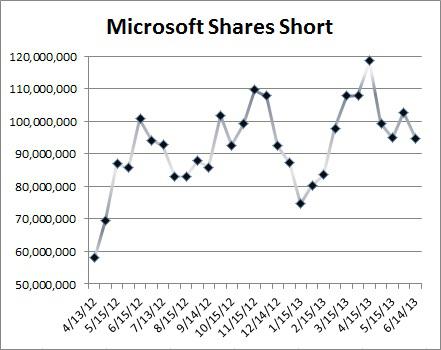 Microsoft shares are also close to their 52-week high, as they have rallied from $28 to $35 in the past three months. Windows 8 was off to a very slow start, so it seems unusual to have such a large rally. This may be a case of buy the rumor, sell the news, as Microsoft is set to report earnings on July 18th, after the bell. Given the rise in the stock, the company will need a solid report to maintain its gains. Should they disappoint, I wouldn't be surprised to see a decline in the stock, as well as a rise in short interest.
Sirius XM (NASDAQ:SIRI):
Sirius saw a large drop in short interest over the first two weeks of June. The 29.5 million share drop was the largest short interest drop since August of 2012. Over the past three months, nearly 75 million shares short have been covered, about 18.4% of the February high. Short interest in Sirius is now at its lowest point since the end of November 2012. That's quite significant, as you can see below.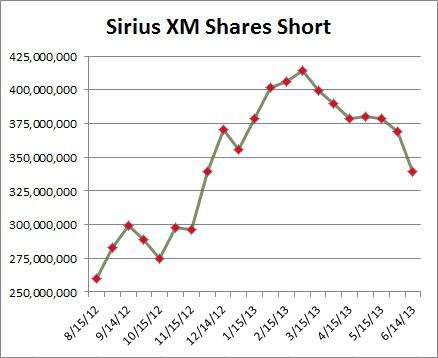 Why has short interest in Sirius declined? Well, I'll defer to Sirius expert Stephen Faulkner, who covers this name quite extensively. He provides the following key reasons:
Share price decline. After hitting a 52-week high of $3.63, shares came down to $3.21 in mid June. They recently touched $3.04, but that impact won't be seen until the next short interest update in a few weeks.
Liberty Media (LMCA) was buying, which had pushed shares to new highs, allowing more shorts to get skeptical.
Sirius is buying back its own stock, and a fair amount of it.
These are good reasons in my opinion, and the first one is one I've talked about in recent short interest updates. With shares backing off their highs, those who shorted around $3.60 could take a $0.30 or so profit, and those who maybe gambled at $3.00 or lower could take a smaller loss. If shares make another run at $3.00 by the end of this month, it will be interesting to see short interest at the next update.
Final Thoughts:
All five of these names have seen significant decreases in short interest, whether it be since the last update or over time. The large spike in Apple's short interest during April has almost been eliminated, but low volume has pushed the days to cover ratio to a new high. First Solar's short interest is at its lowest point in a year, but the addition of nearly 10 million new shares outstanding could push that higher soon. Canadian apparel maker lululemon has seen its short interest come down as shares have fallen to post-pants issue levels. Microsoft short interest is back under 95 million, the past year's average short interest number. Sirius saw a large decline in short interest this time around, continuing the recent trend. Will any of these names make the list next time around for either rises or falls in short interest? Come back in a few weeks and you will find out.
Disclosure: I have no positions in any stocks mentioned, and no plans to initiate any positions within the next 72 hours. I wrote this article myself, and it expresses my own opinions. I am not receiving compensation for it (other than from Seeking Alpha). I have no business relationship with any company whose stock is mentioned in this article.
Additional disclosure: Investors are always reminded that before making any investment, you should do your own proper due diligence on any name directly or indirectly mentioned in this article. Investors should also consider seeking advice from a broker or financial adviser before making any investment decisions. Any material in this article should be considered general information, and not relied on as a formal investment recommendation.