It looks like there's a short term trade possibility developing in the stock market on the long side, a window of about two or three weeks duration. It could possibly go longer than that, though it's much too early to say. If correct, it could also represent another divergence between sentiment and reality, so don't fall in love with it. If you're looking for something to hold for three years or longer, look at a new car. The equity sale season should come later this year.
The sharp decline in the wake of Chairman Ben's effusively greeted press conference last week merits a bit of discussion as background. While it was certainly a sentiment changer, the subsequent price dynamics were as artificial as the first half of May. That period saw the combination of an ECB rate cut and better-than-expected jobs report catch the market leaning the wrong way, in particular short sellers, whose positions had reached a calendar peak.
The parabolic nature of the move, very characteristic of a short squeeze, was the subject of much misinformation. Not only did most of the media get it wrong, it also sent the wrong signal to the investing public. The stock market wasn't running away, the shorts were, helped along by the usual bandwagon of short-term trend traders and high-frequency-trading (HFT) programs and algorithms.
The two-step process of puncturing that move began with Bernanke's May 22nd revelation that the Fed was actually rather looking forward to a time when it could stop buying Treasury bonds. It finished last week with an affirmation that included a timetable that, however tentative, was the most frightening object the Street has seen this year.
Just as the early-May move caught leveraged trades leaning the wrong way (shorts are inherently leveraged), the Fed move caught out a lot of derivative and complex trading strategies. The sudden disruption in bond yields was aggravated by other trades coiled around each other, leading to some heavy position unwinding and wipeouts in other asset classes. It's quite possible that there are still some trading disasters floating around out there like icebergs, barely visible now but ready to sink the market at a later date. Even so, markets have settled down a bit for the time.
I try not to predict economic releases, but my own inclination - surely the majority thinking, as well - was that good news would arrive on Tuesday from durable goods and housing. The reassuring delivery of the glad tidings was able to restart a market that had become technically quite oversold. I want to emphasize that it was only oversold on a short-term basis, as markets are still overbought from a long-term perspective.
The good news from a trading point of view is that it could take stocks a few weeks to get overbought again. In the meantime, a few currents in the economy could fire up spin machines into building up a rosier outlook again, thereby fueling a move back to short-term overbought conditions.
The two main currents are coming out of housing and manufacturing. The first is of course the market's champion this year. In the case of the latter, although the longer-term trend of a slowing sector appears to be still intact to me, recent reports indicate that we have entered a spending episode, consisting partly of the periodic disbursement of budgets and partly of inventory rebuilding in select areas.
The regional business surveys have turned suddenly and distinctly positive in the last ten days, even if some of the underlying components remain weak. The New York survey comes first to mind, with its dramatic recovery coming on top of negative trends in nearly every subcategory. But Philadelphia, Dallas and Richmond have all followed with similar snapbacks in their surveys (and better breadth underneath). The Chicago PMI produced the first reversal last month, and all the evidence suggests that it will follow with another encouraging number this Friday.
The durable goods data for May exemplify the divergence. The numbers were all a bit better than expected, and the headline result of 3.6% looked good against expectations for 3.3%. April was revised higher too. Coming after the positive Dallas result and followed shortly afterwards by positive surprises from Richmond, home prices and new home sales, suddenly the economy seems better.
The longer-term trend is another story. If you look at the latest update to my chart on business investment spending, the overall momentum has been soft and the trend is not encouraging.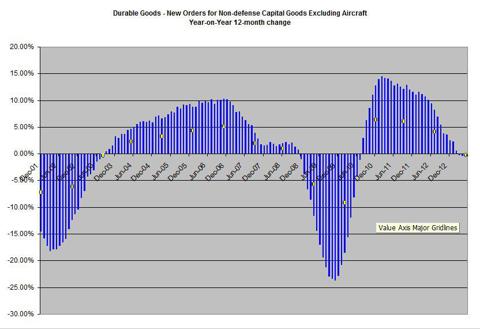 Yet things aren't collapsing, either, and Wall Street has never hesitated to seize upon any positive data point and extrapolate it forward into a major new trend. I have been wondering if we weren't due for some sort of reload and while it's not possible to be definitive yet, this may well be another one of the episodic pulse of reordering that has characterized the economy for the last few years.
The latest GDP revision (Q1 of 1.8%) showed that nonresidential fixed investment wasn't as strong as thought in the first quarter, which lends support to the idea that some catch-up may have been due. The changes certainly weren't as broad-based as the initial sunny conclusions had been, but they were enough that any rebound would help lift a reorder cycle. Investment is always lumpy anyway, and these episodic increases can be quite consistent with a gradually slowing economy.
And retail spending wasn't as strong as previously thought either. Here is another look at the annual change in rolling 12-month retail sales.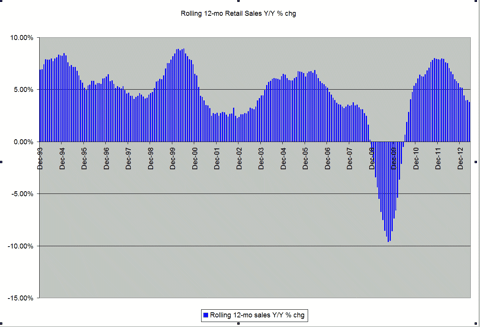 You may be wondering by now how I can be saying that prices could move higher over the next couple of weeks. It's really a mixture of that old Wall Street magic. One of the motivators in Wednesday's rally was the 1.8% print on GDP - maybe the Fed won't be in such a hurry after all to be dialing back on bond purchases. At the same time, data out of housing and manufacturing could strengthen belief in the US as the least-bad alternative and encourage a move back towards the "Goldilocks" paradigm.
The latest BEA data also showed first quarter declines in personal income and disposable personal income, due in large part to the front-loading of dividends in the fourth quarter. Recent monthly data still hasn't shown much improvement, though, and Thursday's release of personal income for May might not help much matters. It's a problem. But should the June jobs report at the end of next week could come in with another print similar to April and May, that would strengthen the Goldilocks camp. No change in the unemployment rate, or even a tick higher alongside a print near 170,000 could be a perfecta.
At some point next month the market will have to come to grips with second quarter earnings. Although I haven't personally noticed a lot of high-profile earnings warnings, it appears that the ratio of negative-to-positive has been running much higher than usual. A lot will hang on management outlooks. Estimates for the quarter have been properly dialed down to 1.1%, but by the time Dupont (NYSE:DD) kicks off the season don't be surprised if the consensus has fallen into the red, just to be safe.
Lowered expectations should help delay the onset of any nastiness, and anyway the rigged nature of estimates (on average, two-thirds of earnings reports will beat estimates in any given quarter) means that stock prices usually hold up until the third or fourth week of the reporting month. So that presents a window of opportunity for prices to float back up, perhaps not back to the highs but close enough, so long as the jobs report isn't an outlier.
In keeping with the closer-to-home theory, I would expect the financial ETF XLF and the small-cap ETFs (IWM, IJR), as well as the mid-cap MDY and the transports IYT ETFs to outperform the S&P on the way back up.
But don't fall in love with anything. Besides the charts I've shown above, the latest GDP revision shows four-quarter nominal GDP falling to 3.3% (rounded up), down from 3.6% originally. 2010-2012 nominal GDP ran at 4%, and the second quarter doesn't look it's going to be better than the first. An awful lot will have to go right in the second half to get back to 4% nominal growth - or to make those routinely quoted forward earnings estimates on the S&P 500 come true. At some point the stock market will have to face the music.
Disclosure: I am long XLF, SPY. I wrote this article myself, and it expresses my own opinions. I am not receiving compensation for it (other than from Seeking Alpha). I have no business relationship with any company whose stock is mentioned in this article.