Investors argue: Which is the better strategy - Value or Growth? I think that is like arguing if the "Chicken or Egg" came first. How I try to think about the market is: What companies are being priced incorrectly? This can sometimes be a very difficult question to answer, and some would argue that the market is too efficient for this type of thinking. But, I have found for various reasons, this strategy can be very successful.
Einstein Noah Restaurant Group (NASDAQ:BAGL), the premiere bagel chain in the US, is an example of a company that is being valued based on its current business model and not its future potential. The company is in the process of growing its franchise and licensing businesses at a rate much faster than its traditional, company-owned stores as the company pushes to become more of a "capital light" business model that earns a greater portion of its profits from royalty streams. Whether you believe this is a good strategy for the company or not, I will show in this report through the analysis of comparable companies that BAGL only needs a fraction of the multiple expansion achieved by other restaurants using the franchise model in order to see a return of almost 100% over the next 2-3 years. And as a bonus, the company will pay you a 3.5% dividend yield while you wait for this transformation to play out.
I will also show that the stock provides a "margin of safety" through a sum-of-the-parts analysis and will suggest a different business model for the company - an aggressive refranchising campaign.
Company History and Management Actions
Since re-entering the public markets in 2007, Einstein Bagel has struggled to provide much of any value to shareholders. The company IPO'ed in June 2007 for $18 per share. At the time of the IPO, David Einhorn's Greenlight Capital owned almost 100% of the company (Greenlight Capital owned the corporate bonds of BAGL when it went into chapter 11 bankruptcy and received the stock through the reorganization. Einstein originally went into bankruptcy in 2000 after loaning too much money to franchisees). After the IPO, Greenlight Capital owned approximately 60% of the company, retaining its majority shareholder stake. Obviously, the timing of the IPO did not end up being ideal. After the market crash of 2008-2009, the stock did not return to its IPO price until late 2012. To date, Greenlight Capital is still the majority shareholder, though Greenlight did file a shelf registration in March of this year in order to have the ability to sell all or a portion of their stake in Einstein Noah.
In 2011, management announced a quarterly dividend of $.125 per share (a 3% annual yield at the time of the announcement) that has remained in place since that time (currently a 3.5% yield). In May 2012, the company announced that its Board of Directors had authorized a review of strategic alternatives of the business, including a possible sale of the company. As part of this review, the company hired Piper Jaffray to serve as its financial advisor. In December of the same year, the company announced the completion of the strategic review, with an ending result of the company leveraging the balance sheet and issuing a one-time, $4 per share special dividend.
The company has also started to promote a "capital light" business model focused on royalty revenues from its franchising and licensing businesses. Management still plans on growing the company-owned store base, but will do so at a much slower rate than the franchise/licensing growth. This is another way management is trying to show that they are "shareholder friendly."
Unit Economics
One of the most intriguing aspects of BAGL is the unit economics of the concept: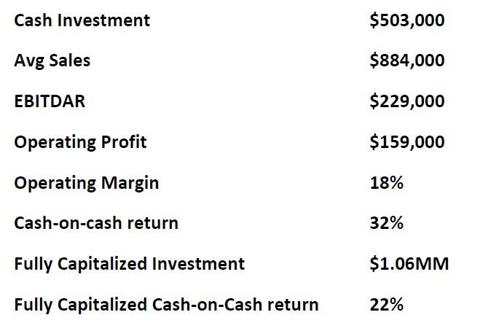 Over 30% cash-on-cash returns make BAGL one of the best unit economic stories in the entire restaurant space. What makes this important is that these economics should keep a healthy interest in the company from potential franchisees, making the probability of finding enough new franchisees to keep up the company's projected growth rate more likely.
Catering
One area investors may be overlooking is the strength of BAGL's catering business, which makes up 30% of the company-owned stores revenue and has been growing 20% annually. Considering the tepid environment for business spending over the last several years, there could still be a good amount of upside to the business as the economy improves and demand for business catering increases.
In 2012, the company launched a new online ordering system (ebcatering.com), expanded and outsourced their catering call center, and optimized their packaging. Goals for 2013 include expanding the catering sales team, using search engine optimization to drive traffic, and building up the lunch catering business. The company hopes to keep up the 20% annual growth, but this could be a stretch. On the Q1 2013 call, management noted that catering grew 11%, which is still impressive off a tough comp, but this give us more conviction in our opinion the company will not be able to hit the 20% mark.
Franchise Business
Einstein Bagel has two different franchise plans - One for the Einstein Brand ($35,000 upfront fee and 5% of revenue annually) and for the Manhattan Bagel Brand ($25,000 upfront and 5% of revenue annually). Average blended revenue from franchise stores is $650,000 annually. Average unit volumes should grow dramatically over the next several years as the company intends to focus on growing the Einstein brand franchises (AUV $860K), not the Manhattan Bagel franchises (AUV $600K). The goal is to grow its Einstein Bagel franchise units by 30% annually from its current base of 29 stores (guidance is for approximately 47 stores by the end of this year).
There are currently 136 franchise commitments in the pipeline. Management has highlighted several times that demand from franchisees has remained strong, and even mentioned on the last quarterly call that there has been a pickup in interest from new franchisees.
Licensing Business
Einstein Noah licenses out locations in college universities, airports, hospitals, and military bases to the major food service companies (Aramark, Sodexo, etc.). BAGL receives an up-front payment of $12,500 per store and 6% of annual sales. These "licensing" units typically do $450,000 in revenue annually, so BAGL makes about $40,000 per store in the opening year, followed by payments of $25-30K thereafter. The company expects licensed units to grow 20% annually from the current base of 258 stores.
These smaller concepts, especially the airport concepts (which management is trying to grow more aggressively - avg unit volume of $2MM), have been performing well and management believes there should be no problem finding enough demand and real estate to open up enough stores annually to meet its growth target of 20% annually. Guidance for 2013 was to grow the license base approx 15%, and I will use this as a proxy for annual growth going forward in order to be conservative. Note - avg revenue per unit should increase as they open more airport concepts, but I am not including that in this analysis in order to be conservative.
Manufacturing
The company operates a California-based dough facility where they produce frozen dough, partially-baked frozen bagels, and fully baked sweets. The dough produced is sold to the stores in the western half of the US at cost (both company-owned and franchise stores). Profits from this business result from the company's use of excess capacity to produce bagels for sale to third party resellers (Costco is the largest reseller, followed by Wal-Mart). Last year, manufacturing revenues made up approximately 7% of sales and 20% of profits. The company has excess capacity at the plant, with which they could grow sales to 3rd-party resellers. Profits could also increase if the company decided to take a small profit on sales of dough to franchisees.
Unit expansion
We noted above that management has laid out long-term, annual unit growth objectives: 3% company-owned unit growth, 20% licensing unit growth, and 30% franchise unit growth. As I noted above, I have trimmed the licensing growth in order to be conservative and come more in line with the company's 2013 unit growth guidance. Below is a pro-forma look and the unit expansion of BAGL and its impact on the composition of EBITDA: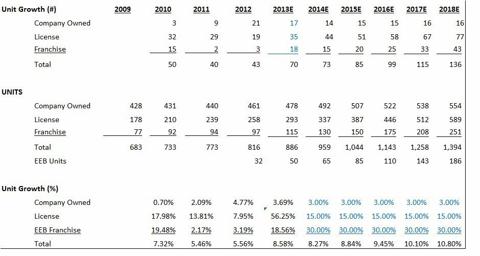 Valuation
When valuing restaurants, I prefer to use the EV/EBITDA metric as it levels the playing field on capital structures and focuses on the business economics. Some would argue that EBITDAR (which includes rent) would be a better metric for understanding straight business economics, but I believe that rent costs have a correlation with revenues, so they are somewhat intertwined. Others would argue the straight free cash flow analysis would be the best metric, and though I would not argue against this opinion, I would suggest looking several years out to compare companies, as to not unfairly penalize a company like BAGL which is growing faster than the industry. I also believe that EV/EBITDA is the correct metric to use in this analysis because it is a very common metric used by investors in the space, which will highlight the premium market participants pay for capital light/franchise business models.
First, I would like to present a comparable analysis of BAGL. Compared to other franchise-based businesses in the restaurant space (Dunkin' Donuts (NASDAQ:DNKN), Domino's Pizza (NYSE:DPZ), AFC Enterprises (AFCE), Burger King (BKW), Tim Hortons (THI), Denny's (NASDAQ:DENN), Jack in the Box (NASDAQ:JACK), and Panera Bread Co (NASDAQ:PNRA), Einstein Noah seems quite attractive: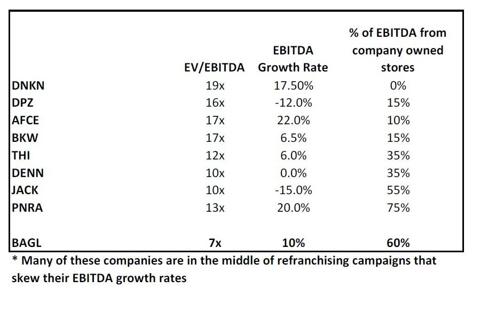 In the chart above, we see a correlation between a greater percentage of royalty-like EBITDA and a higher EBITDA multiple. PNRA is somewhat of an outlier in this analysis, but it is growing EBITDA at a very high rate compared to the overall industry, thus justifying the higher EBITDA multiple. BAGL will grow its EBITDA at about 10% annually.
As the company's composition of EBITDA shifts over the next couple of years, the stock should get some multiple expansion. I have included a sensitivity analysis of 2015 EBITDA below:

As you can see, using my projected 2015 EBITDA, even multiple contraction would get you an annual all-in return of 8%. I believe that the company's business model will be revalued in the 8-10x range, resulting in a 22-33% annual return.
It should also be noted that companies such as Jamba Juice (NASDAQ:JMBA) have promoted a more "capital-light" strategy and have seen multiple expansion similar to what BAGL could see.
Sum-of-the-Parts Analysis of Refranchising Strategy
Though I believe the "capital light" strategy will turn out to be successful in unlocking shareholder value, I believe the company should also consider an aggressive refranchising strategy that unlocks the real value of the store base in a shorter time frame, reduces company risks, and allows the company to be revalued on a long-term royalty stream.
The following sum-of-the-parts analysis shows the potential upside of initiating a refranchising strategy: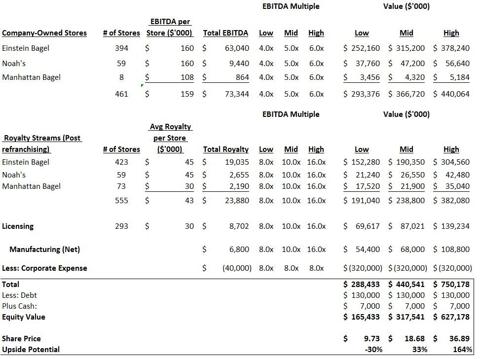 Note: The 4-6x EBITDA range for store sales was used after looking at comparable refranchising transactions. The 8-16x EBITDA range for royalty revenue was used after looking at comparable companies.
In this analysis, we show the sum-of-the-parts could be worth more than the current business. If the company were to bring in the mid-range of our sensitivity analysis (5.0x EBITDA), they would receive after-tax proceeds equal to the market cap of the company, with which they could pay down debt (50% debt-to-equity ratio currently) and redistribute cash to shareholders (which management has been willing to do). The business would be left with reoccurring EBITDA stream of approx $50MM. Management believes there is ample room to expand the business, so they could continue to grow the franchise/licensing store base at this point, thus enhancing the cash flow stream. This type of business model would take risks (such as cost inflation) and operating costs out of the business and allow for a faster revaluation of the business. The other opportunity in this strategy would be through the manufacturing business. First, the company could shift its focus to filling/increasing capacity. Second, the company currently sells the dough to franchisees at cost. If they instead took a small profit on their entire store base (say a 10% margin), they could increase their royalty-like operating income by approx. $3MM (6% incremental growth or almost $2/share in equity value).
Even without a refranchising strategy, the sum-of-the-parts analysis shows why the stock provides a "margin of safety" at its current price, and what a downside scenario could look like. Overall, we can see that the company has valuable assets that should support the stock price at these levels.
In-store Initiatives and Enhancements
Even without any in-store initiatives, I believe that Einstein Bagel provides great value at its current share price. But, to give potential investors a more well-rounded idea of what is going on with the company, I want to go into detail on some of the initiatives the company is in the process of implementing and factors that affect the business.
POS Systems
In-store kiosks were installed into all of the Einstein Bagel stores in Q1 of this year. The systems will drive faster service, improve order fulfillment, and reduce operating costs. The company will have the ability to leverage integrated functionality, including point-of-sale (POS) software, back office monitoring, systems management tools and kitchen production capabilities. We should get an update on the performance of the kiosks on the next quarterly call.
"Best in Bagels, Win at Coffee, Compete at Lunch"
The management team's motto is "best in bagels, win at coffee, compete at lunch." I would like to go into more detail about each of these categories.
Approximately two-thirds of the store revenues occur during breakfast hours. This is the bread and butter (no pun intended) of the business. The biggest initiative in this part of the business is to use coffee as a traffic driver for volumes and as a tool to increase avg check in the morning ($1.99 price point for premium coffee).
But there are other strategies the company has taken on, such as pushing whole grain and seasonal brand bagels, as well as adding healthy choices to the breakfast menu. One of the other company promotions is the $3.99 value meal, which includes a bagel, cream cheese, and a coffee (12% savings compared to buying all items separately).
The company has recently pushed into the premium coffee space. As noted above, the price point for a premium coffee starts at $1.99. As part of the push, the company has extended the closing time of the stores from 3pm to 5pm and launched a "Happy Hour" campaign. During this time, customers get 25% off premium coffees. I think this is a great idea - I think the "afternoon coffee" is very common for business people, and considering these are new hours for the company, it represents incremental sales. There is also a chance that this traffic driver then could push more lunch product during the extended hours (snacks, sandwiches, etc.). Q1 2013 was the first quarter of extended hours, so we will hopefully get an update on performance during the next quarterly call.
Lunch (or any time after breakfast) is really an interesting growth piece of the business. First, the company is promoting $5.99 value meals that include a deli sandwich (on a bagel), soda, and chips. The price point seems pretty good - more quick serve than Panera Bread so a lower price point, but a more quality product than a subway value meal. Second, pushing lunch promotes the opportunity to gain share in the lunch catering space. Lastly, as noted above the 3-5pm happy hour could push more sales of lunch food during the extended hours.
Cost Savings
Management has proactively tried to take costs out of the business over the past several years. In 2012, the company was able to save $8MM in SG&A by closing its commissionaires, transitioning to reusable egg boats, and creating more efficiency in its packaging. For 2013, the company expects to find another $2.5-5.0MM in cost savings through distribution center rationalization, contact negations on coffee, and further efficiencies in packaging. As we talked about above, they will use these savings to offset cost of goods sold (COGS) inflation. Considering COGS should increase $2.5-$3.5MM this year (a 2-3% increase from last year's amount), if they are able to reach the high end of the cost savings guidance, they could improve operating margins by 30 Bps (projected 6.9% to 7.2%).
Food Inflation
When you think of a bagel company, you would assume that they would be highly sensitive to the price of wheat. But in fact, wheat only makes up 10% of the company's cost of goods sold (COGS). On the latest quarterly conference call, management said they expected a 2% to 3% increase in food costs, but that these would be offset by SG&A cost savings. Note - They did NOT say they would be taking price to offset, and when questioned on the call they reiterated this stance.
A breakdown of Einstein's COGS is shown below: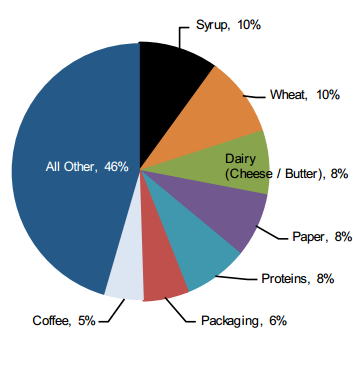 I will also note that one of the great benefits of taking on a refranchising strategy is that you take away your risk of food inflation. In the franchise model, you take a royalty on revenues and are not impacted by margin contraction.
Risks/Catalysts
When looking at the company's risk section of their latest 10-K, I notice that most of the risk associated with the company deals with operating company-owned stores. This further strengthens the idea that the company should at least consider a refranchising strategy.
That being said, I believe that the biggest risk to the stock price of BAGL is not company related, but in fact related to the 60% stake owned by Greenlight Capital. With an average daily volume of 45,000 shares, Greenlight's ownership of 10.7MM shares could weigh heavily on the stock price if the fund chose to sell all or a portion of the stock. Furthermore, David Einhorn is one of the premiere hedge fund managers in the world and we have seen that his calls on stocks can have market-moving implications. If the stock were to selloff for this reason, I would use it as opportunity to increase my position, but this is a key item that owners of the stock should be watching.
One of the other major catalysts for the stock would be positives results from the in-store initiatives, which we would be able to see in improvements in same-store-sales.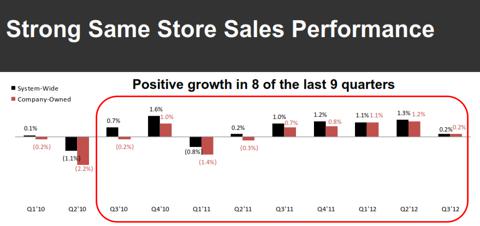 I have included this chart from the company's ICR presentation to show the comps the company is now up against. I would also like to note that company-owned store comps have underperformed the franchise stores.
The other major catalyst will be growth of the franchise and licensing businesses. The company must show that they have found the demand and locations necessary to keep up the growth of these royalty businesses. If they do, I believe the market will have to start to re-value the business model.
Overall
If it very difficult in a market like this to find a name that is growing store units, reducing its risk and increasing its ROI through a franchise model, paying a 3.5% yield, and trading at a multiple well below its peers. With BAGL, you get a proactive management team that is streamlining the business and making moves to change the business model. As the risk profile of the company is reduced, we should see the multiple move towards the multiples of other companies in the industry. If they are unsuccessful with this strategy, the stock still provides a "margin of safety" through a valuation of its parts.
I have included pro-forma projections of the company's current "capital light strategy below: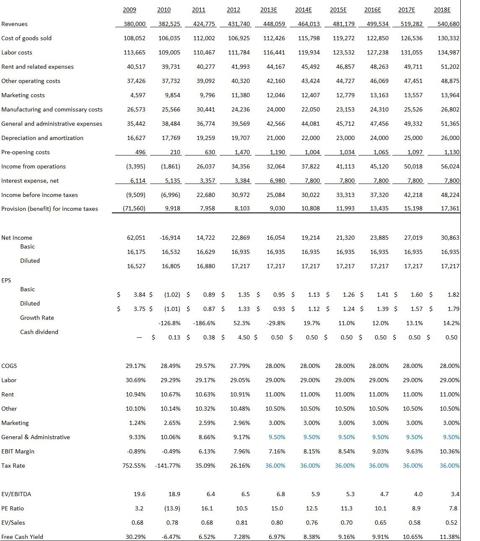 Disclosure: I am long BAGL. I wrote this article myself, and it expresses my own opinions. I am not receiving compensation for it (other than from Seeking Alpha). I have no business relationship with any company whose stock is mentioned in this article.