There is a saying, "Those who fail to study history are doomed to repeat it."
In recent weeks, we have seen treasury rates and mortgage rates spike up very rapidly in a short period of time; causing some damage to financial assets in the market. GLD and SLV have certainly taken a beating due to rising rates and so has the equity market. Some people argue that a rise in rates is a good thing because it means that the economy is getting better and that the market can now stand on its own two feet. According to them, the recent decline in equity markets is just a short-term knee jerk reaction. However, I beg to differ; in fact in my previous article, I explained why rising treasury and mortgage rates is a bad thing. You can read it here.
In fact, I believe the recent decline in equities will prove to be the start of a bigger decline in the future. Let's analyze and look at some charts and see what history tells us regarding rising rates.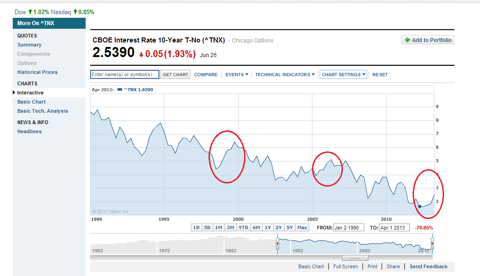 The chart above me is the 10 year US treasury note. I have circled the past and current rise in rates.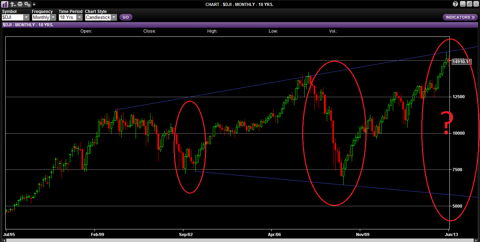 Above is a chart of the Dow Jones Industrial Average. I have also circled what happens not long after those rates rise. You can also see that we have hit long term monthly resistance. What do you think will happen next? Sometimes basic common sense works.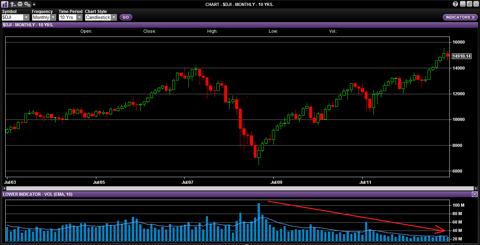 In the chart above, you can see that the Dow has been rallying with declining volume. Not good at all folks....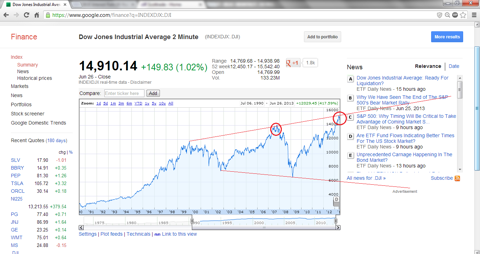 Buy the dip? In the above chart, you can see that buying the dip now would be like those people buying the dips in mid 2007.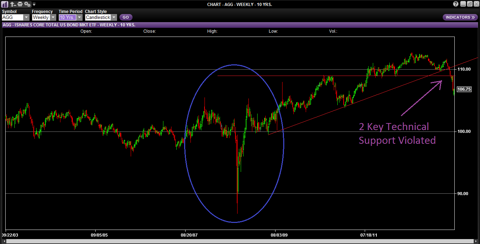 The picture above is bond ETFs (NYSEARCA:AGG). AGG is an ETF, Barclays Bond Fund.
I have circled in blue the 2008 bloodbath capitulation in the bond market. The purple arrow is where we are now and it looks like we are in a holding position; meaning that we can get a short-term bounce and decline further. Do you believe Bernanke can come out and calm the markets and stop this bloodbath from continuing? I personally am not sure if Bernanke can when the panic really sets in. You decide.
Finally... This is what my face looks like when I see this market.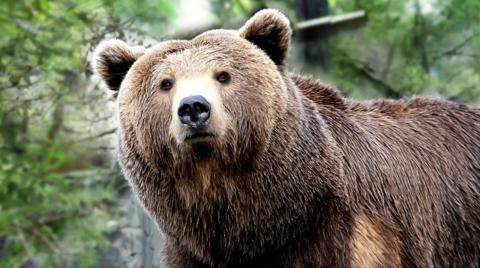 Bottom Line: I do not have a crystal ball and I don't know what will happen in the future. This article is meant to inform and enlighten people of past history, what happened then and what history tells us that could potentially happen in the near future. Sometimes we get so involved in the every day-day trading that we forget to take a step back and take a look at the bigger picture.
Disclosure: I have no positions in any stocks mentioned, and no plans to initiate any positions within the next 72 hours. I wrote this article myself, and it expresses my own opinions. I am not receiving compensation for it (other than from Seeking Alpha). I have no business relationship with any company whose stock is mentioned in this article.