During the BlackBerry (BBRY) conference call after the last earnings report on March 28th, 2013, BlackBerry stated forward guidance for fiscal Q1 2014 as a breakeven quarter. BlackBerry earnings will come out before the market open this Friday, June 28th. The breakeven guidance was paired with a statement that the company will nearly double their SG&A expenses to essentially have a near billion dollar advertising budget in efforts to increase consumer awareness on the software changes, improvements, and benefits that BB10 offers.
Based on those statements and working back through the income statement, I've arrived at the following estimates for breaking even:
Revenue of 3.54 Billion
Gross margin of 44.2%
Shipments of 6.5 million total including 3.5 million BB10 devices
These are very achievable numbers. The table below walks through the math.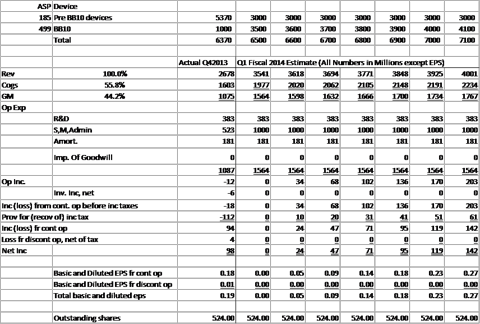 With the Z10 out for only a month in some regions and not available at all in other regions in the previous quarter, I believe a large portion of Z10 sales will be in the quarter being reported this Friday. The Q10 is the most recent device BlackBerry launched and it went on sale in the UK in April and in Canada at the beginning of May. The Q10 was recently launched in the U.S. this month on AT&T (NYSE:T) and Verizon (NYSE:VZ). This is the phone that most analysts are expecting sales from.
Final Thoughts
This analysis talked more about devices as far as what will provide the revenue for BlackBerry. However this is only a part of the company overall. Many people continue to only focus on the devices part of the business, but fail to look at the entire company.
QNX is now integrating itself into the automotive industry.
BBM Channels will allow for future partnerships like this one along with a plethora of other uses between users and corporations.
MDM known as Secure Work Space that can manage Android and Apple (NASDAQ:AAPL) devices is going to be a very profitable product going forward and will likely add $0.02 to the quarterly EPS per 1 million non BlackBerry devices at $99/year per device managed.
The management team that is now in place has a plan to keep moving forward. They understand the landscape and they will let the numbers speak for themselves.
BlackBerry closed Wednesday, June 27th at $14.91 and still allows for significant upside. My main concern will be if there is a significant loss in subscribers reported this Friday.
Disclosure: I am long BBRY. I wrote this article myself, and it expresses my own opinions. I am not receiving compensation for it (other than from Seeking Alpha). I have no business relationship with any company whose stock is mentioned in this article.