I recently discussed how the Fed pullback may be an opportunity for some. When it comes to dividend champions, many have seen their annual yields rise as their stocks have come down. As I discussed in the article, that provides an opportunity for investors to grab extra income and add to their core holdings. One name I'd like to expand on today is Procter & Gamble (NYSE:PG). The consumer products giant has seen its yield rise about 20 basis points since the stock's recent high, allowing investors to add to their core holdings at a yield above 3.10%.
Recent dividend history / 2013 raise:
This company has increased its dividend nicely in recent years. The chart below shows the dividend since 2005, with the dividend value for that year representing the raise the company announced in that year. For example, the 2013 value is the $0.6015 quarterly payment after the most recent 7% raise.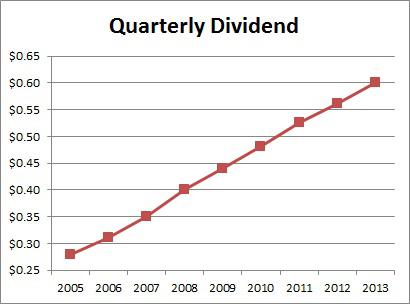 As you can see in the chart above, the dividend has more than doubled since 2005, at which point it stood at just $0.28. Even during the financial crisis, Procter & Gamble raised the dividend nicely. A lot of the dividend names I follow did not raise their dividends during the crisis. With the dividend now at $0.6015 per quarter, the annual yield is 3.11% based on Wednesday's close.
The pullback / comparisons:
It was about two months ago when I encouraged investors to take advantage of Procter & Gamble's fall. My thought process is the same here, that investors should take the opportunity to get in a high quality name at a lower price. Why pay $82 when you can pay $77? The extra income is also nice, as the lower stock price means a higher dividend yield. A 3-month chart of P&G shows the previous fall, the rebound after, and the recent fall.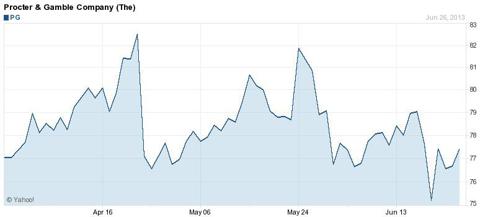 (Source: Yahoo! Finance)
At that time, I compared Procter & Gamble against three other dividend champions: Johnson & Johnson (NYSE:JNJ), PepsiCo (NYSE:PEP), and Colgate-Palmolive (NYSE:CL). I showed a table that detailed each name's pullback from their recent respective highs, as well as the associated dividend yield rise in each name. I've updated that table today, which you can see below.

Procter & Gamble has seen the second largest decline from its recent high, trailing only Colgate-Palmolive. The recent stock price decline has pushed Procter & Gamble's yield up by 19 basis points, not only back above the 3.00% yield level, but 3.10% as well. Johnson & Johnson is the only other name with a yield above 3.00%, and that yield still trails Procter & Gamble's by about 8 basis points.
Extra income and safety:
With the stock coming down by more than 6.2% from its high, investors can buy shares at a lower price. That seems rather obvious. But the added yield provides some nice extra income. An extra 19 basis points means an extra $19 a year on a $10,000 position. That might not seem like much, but over time, the compounding will surely make it worth it. This is especially true if you've taken advantage of the two pullbacks in this name.
But one other item to consider is the extra safety you get with Procter & Gamble. In the Fed pullback article I started with above, I showed two groups of stocks: the momentum names and the dividend champions. Due to the recent Fed pullback, the momentum names had pulled back by an average of 17%, while the dividend group was down by about 9.5%. Procter & Gamble had fared even better, only down 7.22% from its high at the time of that article.
I mentioned that if the markets were to continue lower, Procter & Gamble, along with the other dividend champions, would be safer names to be in than some of the momentum names. Also, we've already pulled back 6.2% in the name. The stock is less likely to pull back tremendously from $77, less so than at $82 or more. Procter & Gamble's pullback has provided more income opportunities to investors, and during some uneasy times, the extra safety is nice as well.
Final Thoughts:
The recent Fed pullback has given investors an opportunity to enter Procter & Gamble at a lower price or accumulate more. Procter & Gamble's dividend yield is 19 basis points higher than it was at the 52-week high, giving investors more annual income. The name also adds a layer of safety to any portfolio, so if markets continue to decline, it won't get crushed.
Disclosure: I have no positions in any stocks mentioned, and no plans to initiate any positions within the next 72 hours. I wrote this article myself, and it expresses my own opinions. I am not receiving compensation for it (other than from Seeking Alpha). I have no business relationship with any company whose stock is mentioned in this article.
Additional disclosure: Investors are always reminded that before making any investment, you should do your own proper due diligence on any name directly or indirectly mentioned in this article. Investors should also consider seeking advice from a broker or financial adviser before making any investment decisions. Any material in this article should be considered general information, and not relied on as a formal investment recommendation.