Announcements for new streaming content deals seem to be a weekly occurrence of late, with many coming from Amazon (NASDAQ:AMZN) and Netflix (NASDAQ:NFLX). Both companies are spending hundreds of millions trying to outpace each other in adding new content for subscribers. Content news from one company seems to excite the market more than the other.
Netflix vs. Amazon Streaming - Different Business Models, Heavy Investments
Content is the heart and soul of the Netflix's business model; without content, the company does not exist. As such, a greater emphasis is placed on having the largest quantity and best quality of content. This requires Netflix to spend a relatively larger percentage of revenue on content.
In fact, Netflix makes direct mention of its large content budget relative to the competition in its Q4 letter to shareholders. "When it comes to competition, we not only have a superior content offering due to our larger budget, but we are further along the experience curve when it comes to improving our user interface and delivering great quality streaming." The company then goes on to compare competitor overlap with its top 200 shows and movies: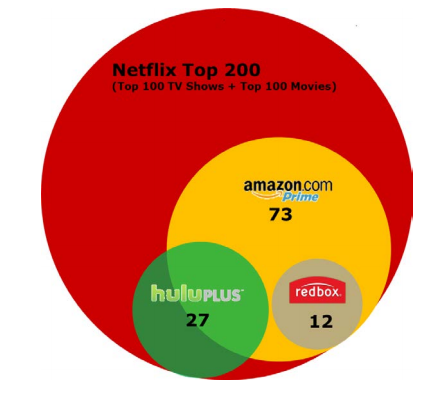 Of the most popular shows on Netflix, Amazon has the most overlap by a healthy margin over Hulu Plus and Redbox streaming. Piper Jaffray gives the overall quality edge to Netflix, claiming that Netflix offers 33% of the top 75 TV shows and 14% of movies available for streaming over the last four years. This compares to just 11% and 7%, respectively, for Amazon Prime.
For Amazon, content is one piece of a nebulous business model, working in conjunction with other Amazon Prime value props as a customer loyalty play. Since Amazon Prime offers more than just digital streaming, Amazon doesn't necessarily have to be the market leader in content offerings, it just has to be "in the ballpark." In fact, the $79 annual Prime membership fee is about $17 less than the $96 Netflix members spend for streaming on an annual basis. Regardless, Amazon has been investing heavily in content offerings over the last couple of years.
Overall, Amazon Prime still has only about half the content as Netflix, but has been growing rapidly, going from 5,000 titles in February 2011 to around 40,000 as of May 2013. Netflix, by comparison, had roughly 60,000 titles in its streaming library at that time. Assuming Amazon Prime continues on a similar trajectory and Netflix continues its current churn, Amazon could overtake Netflix by this time next year.
While Netflix has a large content budget, it actually spends less per subscriber than Amazon. A Business Insider article from last October cites analyst estimates that Amazon spends ~$1 billion per year on streaming vs. ~$2 billion for Netflix. For Amazon, that comes to about $110 per member (given the 9 million Prime member estimates in the article). At that time, Netflix had about 25 million subscribers, which equates to about $80 per subscriber, or $30 less than Amazon.
*Data from Business Insider
Short Term Stock Market Reaction
Since the beginning of the year, the market seems to react relatively more to content news from Netflix vs. Amazon. On average, year to date, the Netflix stock price jumped 4% the day of a content announcement vs. just 0.4% for Amazon. In fact, the lowest jump for Netflix was greater than the highest jump for Amazon.
Since Netflix has all of its eggs in the content basket, the company's price will likely vary more with content news - one way or the other. Amazon's stock price won't likely fluctuate as much on specific content news since it has much more diverse and expansive business model. Amazon investors are already conditioned to expect continual investments in many facets of its business model. Also, not all content deals are created equal. The sheer size and level of exclusivity of some deals could move the market more than others.
Longer Term View
Over the last year, Netflix's ability to continue growing its subscriber base and expand margins in the face of the competitive onslaught has helped its stock grow 213% versus 23% for Amazon.
*Google Finance
That said, the longer term horizon for Netflix could be a bit murky. Bernstein recently downgraded Netflix to underperform, citing "unrealistic expectations" built into the current stock price. It estimates the current price to have built-in expectations of growing the subscriber base to 50 million and contribution margin to 40%. Bernstein expects the subscriber base growth to reach 43 million with margins expanding to only 32%. If Bernstein is correct, Netflix would likely have to ratchet up investment to attain the built-in subscriber growth expectations.
While there may be short term boosts to the Netflix price driven by positive content announcements, the worry of a shortening subscriber runway will keep me on the sidelines from the long term investment perspective.
Disclosure: I have no positions in any stocks mentioned, and no plans to initiate any positions within the next 72 hours. I wrote this article myself, and it expresses my own opinions. I am not receiving compensation for it (other than from Seeking Alpha). I have no business relationship with any company whose stock is mentioned in this article.