Around my circle of friends, I'm known as "Mr. Fixit" – of course, when your house is 200 years old, you almost have to be.
Fortunately for me, taking things apart and putting them back together again – in working order, of course – is something that comes naturally to me. Most of the time, I have the tool or tools to handle the job. If not, I'll either buy it or rent it, depending on the likelihood of my ever needing it again.
Of course, in the business world, companies large and small have Mr. Fixits too. The maintenance guys are the ones that are called to handle the inevitable broken pieces of equipment, leaky pipes, frayed wires, and stuff that just stops working for some reason.
And while I'd hazard a guess that their "toolboxes" are fairly comprehensive, management is often faced with the decision to buy or rent a necessary tool that they don't have.
It's not too surprising that in this environment most companies are in serious capital preservation mode, spending little if anything on acquiring new machinery or equipment.
They're choosing instead to repair and maintain existing equipment, and if they need a tool they don't have, they rent it.
As a result, the tool rental business is flourishing.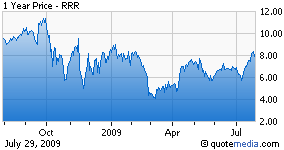 Erik Olsson – the CEO of the second largest tool rental company, RSC Holdings (NYSE: RRR,) is declaring a bottom: "The construction industry is far from recovering, but we think we've found the bottom in our business."
With all the money being directed into infrastructure by the Obama administration, you would think RSC's revenue would be reflective of that. But the reality is that even though infrastructure is receiving money now, it will be 6-12 months before any of that percolates down to companies like RSC.
So where's the company doing well? It turns out that RSC's non-construction industrial customers like petrochemical, food processing, mining, entertainment and others are spending more on maintenance and repair services.
These activities are necessary, less cyclical and carry higher margins than construction rentals. Right now they account for 55% of RSC's sales, and that number is growing, along with the company's profitability.
Since last Spring, the company has been ruthlessly cutting costs, reducing debt, and aggressively moving into many of the lucrative markets for rentals. While investors who want to get a jump on the end of the recession may want to consider adding a few shares of RSC to their portfolio, a word of caution is in order.
The stock has had a 33% run up in just the last week or two. The company will announce earnings on July 30, and it's highly likely shares will sell on the news – regardless of whether it's good or bad – although expectations are for continued good news.
Look to the days following the earnings announcement as a possible opportunity to take a position.